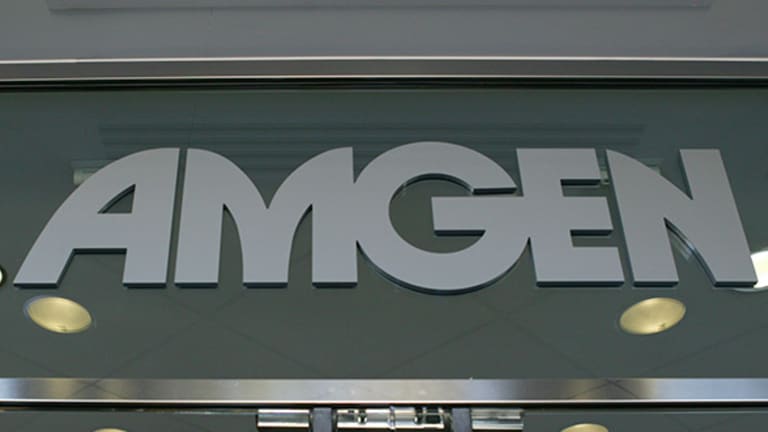 Amgen Cholesterol Drug Cuts Risk of Heart Attack, Stroke but Not Enough to Quell Value Debate
Is Repatha's $14,000 price tag justified by the magnitude of the drug's benefit to patients, measured by a lower risk of heart attacks and strokes?
Is Repatha's $14,000 price tag justified by the magnitude of the drug's benefit to patients, measured by a lower risk of heart attacks and strokes?
Amgen's (AMGN) - Get Report new cholesterol drug Repatha reduced the risk of heart attacks, strokes and other heart-related health problems by 15% compared to a placebo, according to results from a highly anticipated, 27,000-patient clinical trial reported Friday.
Investors were expecting Repatha to show a cardiovascular risk reduction of 20-22%, so the drug's true performance in a population of higher-risk patients is a disappointment from the market's perspective.
Amgen shares fell 6% to $168.58 in Friday trading.
Sean Harper, Amgen's head of research and development, pushed back against anticipated negative investor reaction.
In an interview Thursday, Harper pointed to additional evidence from the study -- adjusted for what he calls a "treatment lag" -- showing Repatha reduced the risk of heart attack and stroke by 33%.
"There is no legitimate criticism you can make about the efficacy outcome, though you do have to be able to interpret the data," Harper said.
The Amgen study, known a FOURIER, did demonstrate a statistically significant cardiovascular benefit for patients treated with Repatha, part of a new class of injected cholesterol lowering drugs known as PCSK9 inhibitors.
But is the cost of Repatha -- more than $14,000 per year before discounts -- justified by the magnitude of the drug's benefit to patients, measured by a lower risk of heart-related death and illness like heart attacks, strokes and angina?
Until today, insurance companies had said no. An estimated 75% of prescriptions written for Repatha are rejected. Sales of the drug, touted as a potential blockbuster when approved in 2015, totalled just $141 million last year, of which $101 million were recorded in the U.S.
By 2021, Repatha sales are expected to reach $3.9 billion, according to the consensus estimate compiled by FactSet.
Amgen set up the FOURIER study to deliver the clinical evidence needed to remove the insurance reimbursement barriers and accelerate Repatha sales. The company believes the study results meet that goal.
"The prices that are actually being paid by payers in the U.S. marketplace today, after the rather large rebating that goes on, are right in the middle of the value range for a product like this. It is a very good story in that regard," said Amgen's Harper.
Some independent observers disagree with Amgen, and insurance companies have yet to weigh in.
"These Repatha results are disappointing," said Dr. Ethan Weiss, a cardiologist and associate professor of medicine at the Cardiovascular Research Institute, University of California San Francisco.
"A 15% relative reduction in risk for the primary endpoint is much lower than predicted based on prior trials. The top line here is that for this population, it is going to be hard to justify the cost of these [PCSK9] medicines for the magnitude of the risk reduction, Weiss added.
"Insurance companies are going to act like insurance companies, which in this case, probably means they'll want to see risk reductions of 20% minimum, maybe more like 25%," said Salim Syed, biotech analyst at Mizuho Securities. Syed spoke to me before the Repatha FOURIER results were reported.
Amgen's FOURIER study enrolled 27,564 patients with a prior medical history of heart attack, stroke or other coronary artery disease. All the patients were taking cholesterol-lowering statins, most at high doses. The patients were randomized to receive injections of Repatha every two weeks or once monthly, or a matching placebo injection.
Repatha, like other PCSK9 inhibitors, do a very good job lowering cholesterol. The FDA approved Repatha and Regeneron Pharma's (REGN) - Get Report Praluent on that basis. In the FOURIER study, Repatha dropped LDL cholesterol in patients by 59% compared to placebo.
The main goal, or primary endpoint, of the FOURIER study was to determine if longer-term use of Repatha could reduce the risk of cardiovascular death, heart attack, stroke, hospitalization for unstable angina or coronary revascularization.
After a median follow up of 2.2 years, 9.8% of Repatha patients experienced one or more of these adverse cardiovascular outcomes compared to 11.3% of placebo patients. The difference equates to a 1.5 percentage point absolute reduction in cardiovascular outcome risk and a 15% relative reduction favoring Repatha.
The Repatha study results are being presented and discussed today at the American College of Cardiology annual meeting. The study was also published Friday in the New England Journal of Medicine.
Based on prior studies and the size and statistical powering for FOURIER, sell-side analysts and investors were expecting to see a greater risk reduction in the range of 20-22% for the primary endpoint.
A key secondary endpoint of the study narrows the list of bad patient outcomes to cardiovascular death, heart attack and stroke. On this measure, Repatha performed better, showing a 20% relative risk reduction compared to placebo. There was no difference in death rates between Repatha and placebo, all the benefit comes from changes in the rate of heart attack and strokes.
PCSK9 inhibitors and statins start lowering LDL cholesterol almost right away, but the beneficial effects on harder outcomes like heart attack and stroke take longer to emerge in clinical studies.
The investigators who conducted the FOURIER study noted Repatha's benefit grows over time. At one year, there was a 16% relative risk reduction for the combination of cardiovascular death, heart attack and stroke. After one year, that risk reduction rose to 25%.
Amgen's Harper says this "treatment lag" was even more pronounced in the FOURIER study because the median patient follow-up of two and half years was shorter than most cardiovascular outcomes studies.
To compensate, Amgen had the FOURIER study analyzed to look at the Repatha benefit starting at one year, focused on just heart attacks and strokes -- the two adverse outcomes doctors care most about.
This alternative analysis -- not included in the NEJM publication but presented at the cardiology conference Friday -- showed Repatha reduced the risk of heart attack and stroke by 33% compared to placebo, Harper said.
Weiss, the UCSF cardiologist, takes issue with Amgen's interpretation of the Repatha data. "Amgen chose to stop the trial early and they chose the endpoints they chose, so they need to live with them. You don't get to cherry pick the results you like," he said.
Amgen hoped the FOURIER study results would help it win the debate over the cost-benefit of Repatha. More likely, the data presented Friday will only fuel more arguments on both sides of the issue.
Watch the lastest videos from Jim Cramer:
Here Is What Jim Cramer Expects From Trump's Meeting With Angela Merkel
Adam Feuerstein writes regularly for TheStreet. In keeping with company editorial policy, he doesn't own or short individual stocks, although he owns stock in TheStreet. He also doesn't invest in hedge funds or other private investment partnerships. Feuerstein appreciates your feedback; click here to send him an email.