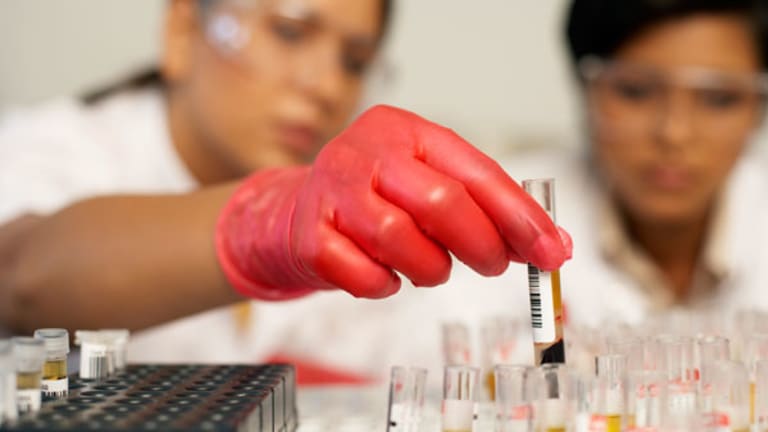 Amgen Banks on New Drug: Best in Class
Amgen sees denosumab, the late-stage osteoperosis drug, which it will market as Prolia, as a game-changer.
Amgen sees denosumab, the late-stage osteoperosis drug, which it will market as Prolia, as a game-changer.
THOUSAND OAKS, Calif. (
) -- Biotechnology company
Amgen
(AMGN) - Get Report
suffered a major blow to its largest profit center in recent years, but its potential game-changer is inching closer and closer to market.
Amgen executives said last November at a business meeting that they intended to become one of the top three performers in biopharma in the next five years. But they'll need denosumab, which will be marketed as Prolia, to do it.
Denosumab, the late-stage osteoperosis drug on which Amgen pinned its growth hopes, faced an FDA advisory panel last week. While it didn't elicit positive recommendations across the board, some market observers believe it's still the desperately needed hit the biotech was banking on.
The panel voted unanimously to recommend approval for the drug for the treatment of bone loss in postmenopausal women and also voted to recommend approval to treat osteoporosis in patients on hormone ablation therapy for prostate cancer, but not to approve it for patients with breast cancer or as a preventive treatment in any of those populations.
The panel also voted for a proposed risk evaluation and mitigation strategy (REMS) plan to educate doctors and patients. While the FDA isn't obligated to follow the advice of its panels, it usually does.
Denosumab is administered by an injection just under the skin once every six months. It will compete with
Merck's
(MRK) - Get Report
Fosamax (now generic and administered as a daily or weekly pill) and
Novartis'
(NVS) - Get Report
Reclast, a once-yearly intravenous infusion, among other treatments.
Glenn Begley, vice president for hematology oncology research at Amgen, told
TheStreet.com
last year that existing therapies have problems, such as gastrointestinal upset and constraints around how the tablets are taken, that discourage patients from staying the course in addition to other safety risks. As a result, "approximately 50% of patients that start treatment on oral biphosphonates, the current gold standard, do not continue their treatment for the course of a year," he said.
Amgen Builds Body of Evidence for Bone Drug
(Analyst estimates for patients who fail or can't tolerate biphosphonates -- a class of drugs used to prevent loss of bone mass -- based on physician surveys are more modest).
"What I don't know is how big the opportunity is in osteoporosis nor how big it is in cancer, but what I do know is that in both of those areas there is considerable unmet need, and for patients with cancer, bone metastasis, there is a real problem that needs to be addressed," Begley said in that interview.
But without a recommendation for approval in some areas that Amgen had hoped to secure, the full potential for denosumab has come into question.
The panel voted against recommending approval for the prevention of postmenopausal osteoporosis -- what Bernstein analyst Geoffrey Porges calls its "most material negative" vote.
"While this takes a slice of the drug's potential addressable market (about 10-15%), and puts Amgen at a disadvantage vs. incumbent competitors, this indication covers the least severe end of the market, and therefore the end that we and most investors viewed as the least likely to be captured by denosumab," wrote Porges.
Many of the currently approved PMO therapies are indicated for both the treatment and prevention of PMO, including Fosamax, Reclast,
Procter & Gamble's
(PG) - Get Report
Actonel,
Eli Lilly's
(LLY) - Get Report
Evista, and
Roche's
Boniva, but Porges estimates that 85-90% of the revenue generated by those medications is for the treatment end of that equation.
Deutsche Bank's Mark Schoenebaum estimated peak sales in this missed population were $127 million in the U.S or $200 million worldwide for denosumab.
"We believe there is significant investor confusion around the market sizes for these indications." The panel in total "might have eliminated about $250M in peak d-mab sales, which is 7-9% of the peak potential."
The panel also would not vote to recommend approval for a breast cancer indication because of a lack of clarity on safety and denosumab's effect on tumor progression. While Amgen has said tumor progression in previous studies was balanced between the arms receiving the drug and those that did not, the data in relevant studies will not be available until it is presented in mid September.
"While it wasn't a perfect day for Amgen, the company did score wins on the most important indications," wrote Porges, who has a price target of $78 and an outperform rating.
Also, Morgan Stanley's Steven Harr, who has a price target of $77 and an overweight rating, estimates that denosumab will have $2 billion in peak sales in the treatment of osteoporosis -- or as much as $3 billion in a bullish scenario.
It's important to point out, however, that not everyone thinks denosumab is going to be a home run for Amgen. Citi analyst Yaron Werber found the panel's vote to be more discouraging and subsequently downgraded the stock to a hold with a $68 price target.
Aside from the negative panel votes, Werber is also less bullish on denosumab in post menopausal osteoporosis, an area for which the panel recommended approval. He argues that physicians will be discouraged by the time requirements of the REMS program, a more restrictive label than biphosphonates, and a financial risk in holding inventory of the drug.
Further, Werber isn't exactly confident in how regulators will respond to data on tumor progression in cancer patients taking denosumab to be presented in mid September. "We are concerned that the bar is high at FDA as any small numerical differences may lead to a more restricted label than expected," he wrote.
"We believe d-mab will have a slow launch given that other niche drugs for PMO (e.g. Forteo) took many years to reach meaningful sales," he wrote. With that, Werber reduced his estimates for denosumab worldwide sales in 2012 to $670 million, from $1.1 billion previously.
For comparison, Deutsche Bank's Schoenebaum's worst-case scenario estimate is for $1.1 billion in peak sales.
Amgen has been fighting sharply declining sales in its key anemia drug franchise over the last few years, due to safety and reimbursement concerns and label changes. Just two years back, mid-stage prospect denosumab was rightfully assessed as far less than a sure thing.
Denosumab didn't start to gain investor confidence until positive study results in the second half of 2008. Prior to that, in March 2008, the stock dipped below $40 a share.
The downturn in the economy made things worse for Amgen -- as it did for just about everyone -- and the biotech posted an alarming first quarter as patients had difficulty paying for medications.
But what made Amgen a contender for our "best in class" list is that, by developing denosumab, even if it is only approved in some of its intended indications, the biotech has maneuvered a potential a game-changer -- a desperately needed one at that.
Does Amgen deserve to be on the list? Tell us what you think by
.
--
Written by Elizabeth Trotta in New York
.