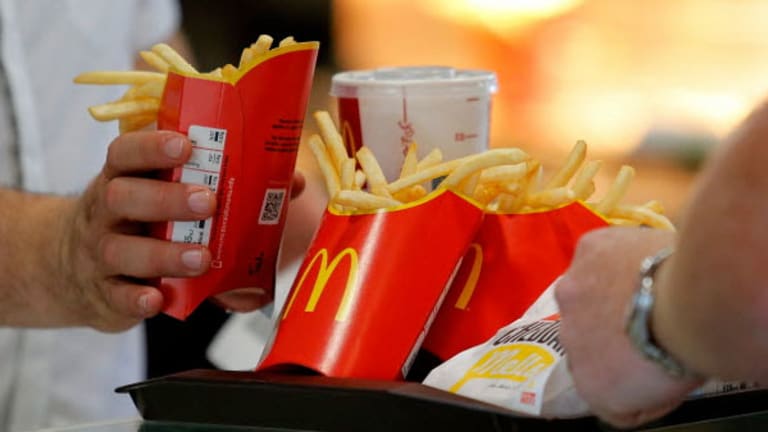 America's Best 10 Favorite Fast-Food French Fries
Most of the usual suspects appear on a new list ranking the country's best fries, but one popular version stands above the rest.
NEW YORK (TheStreet) -- Americans may be infatuated with pricey "better" burgers from the likes of  Shake Shack (SHAK) - Get Shake Shack, Inc. Class A Report and Five Guys, but the French fries are more significant than just any side item.
In spite of consumers continuing to cut calories, which often means reducing their carb intake, the potato-based French fry is still a dominant force in the fast-food industry.
Americans ordered a whopping 10.7 billion servings of french fries at restaurants and food service outlets in the 12 months ending May 2015, according to NPD Group. The average North American eats nearly 29 pounds of french fries per year, according to How Stuff Works. 
Right now may be the golden age for the oily, fried potato as fast food chains struggling to grow sales seek to exploit a notoriously profitable side item.
Wendy's (WEN) - Get Wendy's Company Report recently introduced "Baconator Fries," a limited-time item that takes toppings from Wendy's Baconator burger and loads them on to a plate of French fries. Struggling McDonald's (MCD) - Get McDonald's Corporation Report is also getting involved in jazzing up its extremely popular French fry. According to a report from Burgerbusiness.com, McDonald's is introducing the ability to customize its fries via seasoning packets on the side.
The "Shakin' Flavor Fries" are available now in northwest Ohio and southeast Michigan, and McDonald's says it's viewing them as a local limited-time item for now.
A new poll from ranking site Ranker.com, released Monday -- National French Fry day -- captures America's large appetite for the high-calorie side item. Ranker's poll asked voters to pick their favorite from among 32 different fries, with more than 24,000 votes piling in from across the country by July 11 to determine who is the French Fry king.
Apart from the overall rankings, Millennials preferred French fries from Dairy Queen and Chik-fil-A, while Baby Boomers chose more classic destinations for French fries such as Arby's and White Castle. Women loved Rally's/Checker's seasoned fries, but men enjoyed the bigger potato wedges from Yum! Brands  (YUM) - Get Yum! Brands, Inc. Report-owned KFC chain.
TheStreet counts down the 10 most popular French fries in America per Ranker.com's poll. The list starts at number 10 and concludes with the post popular; calories and nutrition information are all for a large order of fries. Perhaps not surprisingly, the sodium content for many of the items is sky-high, with several coming fairly close to theFDA's recommended daily sodium limit of 2,300 milligrams a day (and 1,500 mg for individuals in certain groups) all on their own.

#10
Name: Rally's/Checker's Fries
Signature Ingredient/Feature: Undisclosed secret seasoning
Calories: 590
Total Fat: 38g
Cholesterol: 40mg
Sodium: 1,410mg
#9
Name: Popeye's Cajun Fries
Signature Ingredient/Feature: Cajun seasoning
Calories: 770
Total Fat: 41g
Cholesterol: 25mg
Sodium: 1,710mg


#8
Name: Dairy Queen French Fries
Signature Ingredient/Feature:Thick fries that hold up well for dipping
Calories: 480
Total Fat: 19g
Cholesterol: 0mg
Sodium: 1,040mg
#7
Name: Five Guys' Cajun Fries
Signature Ingredient/Feature: Skin-on fry
Calories: 1,314
Total Fat: 57g
Cholesterol: 0mg
Sodium: 1,327mg



#6
Name: Burger King French Fries
Signature Ingredient/Feature:Thick-cut French fry
Calories: 500
Total Fat: 22g
Cholesterol: 0mg
Sodium: 710mg

#5
Name: KFC Potato Wedges
Signature Ingredient/Feature:Wedge-shaped fry
Calories: 290
Total Fat: 15g
Cholesterol: 0mg
Sodium: 810mg


#4
Name: Chick-fil-A Waffle Fries
Signature Ingredient/Feature:Skin-on waffle cut fry
Calories: 520
Total Fat: 27g
Cholesterol: 0mg
Sodium: 240mg

#3
Name: Arby's Curly Fries
Signature Ingredient/Feature: Curly Cut Fry
Calories: 637
Total Fat: 34.3g
Cholesterol: 0mg
Sodium: 1,419mg



#2
Name: Wendy's Natural Cut Fries
Signature Ingredient/Feature: Sprinkled with sea salt
Calories: 500
Total Fat: 24g
Cholesterol: 0mg
Sodium: 540mg



#1
Name: McDonald's French Fries
Signature Ingredient/Feature:Cooked in a canola oil blend
Calories: 500
Total Fat: 25g
Cholesterol: 0mg
Sodium: 355mg