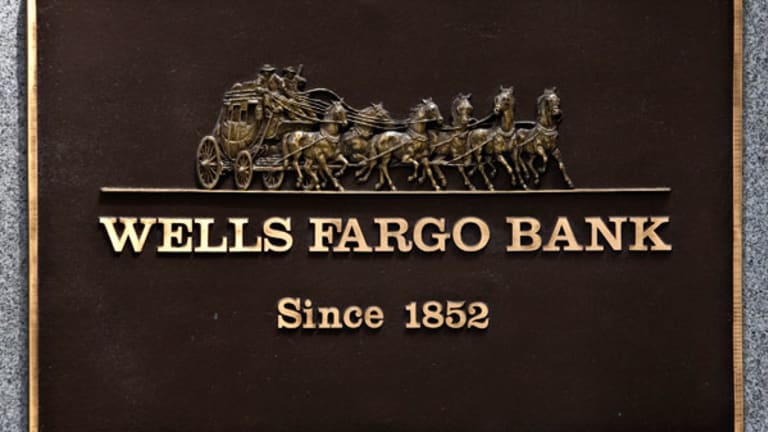 America's Most Profitable Bank Could Be Wells Fargo
Litigation and fines hit JPMorgan hard enough to allow Wells Fargo to become the nation's most profitable bank.
NEW YORK (
) --
JPMorgan
(JPM) - Get JP Morgan Chase & Co. Report
last year narrowly edged
Wells Fargo
(WFC) - Get Wells Fargo & Company Report
as America's most profitable bank, as it weathered a $6 billion trading loss and posted a profit of over $21 billion.
This year may turn out to be Wells Fargo's time to rise to the pinnacle of the banking industry, as the nation's largest mortgage lender continues to steal market share across traditional banking businesses from its far larger rival JPMorgan.
The consensus estimate among analysts polled by
Bloomberg
is for JPMorgan to earn over $23 billion in 2013 profits, while Wells Fargo is expected to earn about $21 billion. However, going into the second half of the year, Wells Fargo seems to be in an excellent position to outperform its more Wall Street oriented competitors, including JPMorgan,
Bank of America
(BAC) - Get Bank of America Corporation Report
and
Citigroup
(C) - Get Citigroup Inc. Report
.
Wells Fargo has continued its strong upward path, posting
a fourteenth straight quarter of earnings growth
in the second quarter. The bank's earnings have risen this year on signs of a recovery in the housing market and a continued drop in its provisions for loan losses.
Wells Fargo's credit provisions for mortgages continue to fall, its underwriting backlog may hold up steady as mortgage rates rise, and the bank has not yet been forced to greatly increase provisions for mortgage repurchases or litigation expenses.
"Given our belief that mortgage banking strength will continue driven by higher purchase volumes, we expect that it will continue to support Wells Fargo's earnings in an otherwise tough banking environment," Paul Miller, a FBR Capital Markets analyst, said in a note in July, following the firm's second quarter earnings announcement.
In contrast, JPMorgan's second-half outlook becomes more muddled by the week as regulatory authorities investigate the bank's practices in trading, lending and credit card collections.
Since its second-quarter earnings announcement, JPMorgan has disclosed that the
U.S. Department of Justice
is looking at civil and criminal charges relating to disclosures the bank made when bundling mortgage bonds. In late July, JPMorgan paid $410 million to the
Federal Energy Regulatory Commission
for its alleged manipulation of energy markets. The DoJ has now opened its own probe.
Media reports on Tuesday indicated that the
Federal Housing Finance Agency
would seek $6 billion to settle lawsuits over loan sales to
Fannie Mae
(FNMA)
and
Freddie Mac
(FMCC)
. Other media reports peg settlements related to JPMorgan's "London Whale" trading loss at over $500 million.
JPMorgan is facing a slew of costly legal probes, and said in a quarterly filing with the
Securities and Exchange Commission
that its possible legal losses could exceed reserves by $6.8 billion, up from from $6 billion in the first quarter.
If JPMorgan chooses to resolve its legal headaches in the second half of 2013, the affect on earnings could help Wells Fargo to end the year as America's most profitable lender -- a significant coup.
Wells Fargo has been able to use a healthy balance sheet to win a leading mortgage market share during the housing recovery. Other firms such as JPMorgan and Bank of America are admittedly trying to catch up. Meanwhile, Wells Fargo's larger competitors continue to rely on trading and banking revenue to support their overall revenue.
The outlook for mortgage-based earnings appears to be stronger than the outlook for Wall Street activity for the second half of 2013. If Wells Fargo can surpass JPMorgan in profitability by year-end, it might give investors the most tangible proof yet that the banking industry has changed dramatically in the five years since the onset of the financial crisis.
-- Written by Antoine Gara in New York