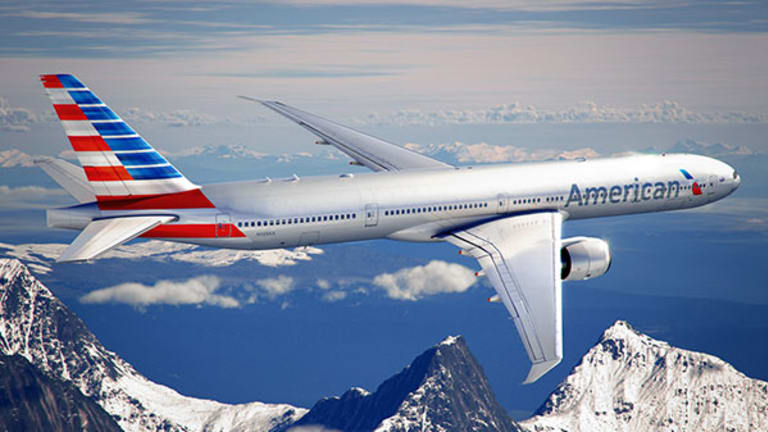 American/US Airways Shares, Up 1,000% in Three Years, Take a Break
American Airlines, a top stock market performer for three consecutive years, has hit a rough stretch after projecting a current quarter unit revenue decline.
NEW YORK ( TheStreet) -- On the day Delta (DAL) - Get Delta Air Lines, Inc. Report reported earnings, its shares rose 7%. On the day Southwest (LUV) - Get Southwest Airlines Co. Report reported earnings its shares rose 8%. On the day United (UAL) - Get United Airlines Holdings, Inc. Report and Alaska (ALK) - Get Alaska Air Group, Inc. Report reported earnings, their shares rose 4%.
But when American (AAL) - Get American Airlines Group, Inc. Report reported on Tuesday, investors were less enthusiastic. The carrier's shares fell 4% from the previous day's close.
A key factor was that American said passenger revenue per available seat mile (PRASM) will decline between 2% and 4% in the current quarter.
President Scott Kirby, speaking on Tuesday's earnings call, said American faces competitive pressure in Dallas from Southwest at Love Field, in Chicago and Philadelphia from Frontier, and at Washington National from new operators who took over slots that American divested in its merger with US Airways. Internationally, American's PRASM declined in every region, just as Delta's did.
On Wednesday, after several analysts downgraded American or cut estimates, shares fell another 4%. Shares closed Wednesday at $50.62, down 6% year to date. For comparison, the S&P 500 is down 3% year to date, Delta is down 1.5%, United is up 6%, Southwest is up 8% and Alaska is up 15%.
Credit Suisse analyst Julie Yates downgraded American to neutral from outperform, with a target price of $65, despite raising her 2015 earnings estimate to $10.80 a share. Analysts surveyed by Thomson Reuters estimate $10.26.
In a note titled "Stepping to the Sidelines for Now," Yates wrote: "There is more compelling upside elsewhere in our coverage over the next six to twelve months. Until investors are assured PRASM underperformance isn't going to persist and or integration risk is retired, we see limited scope for AAL's (depressed) multiple to re-rate."
Yates rates Delta, Southwest and United as outperform.
American's future, Yates said, is clouded by multiple factors. They include integration risk; continued PRASM underperformance due to lingering Latin America headwinds; pricing pressure due to competitive capacity on domestic and international routes; potential forecasting "hiccups," higher than expected non-fuel unit cost growth due to higher labor costs, and American's strategy of not hedging fuel, which is great when fuel costs are falling but would lose its luster when fuel costs rise and competitors are hedged.
Meanwhile, Gimme Credit analyst Vicki Bryan downgraded American to outperform from buy. Bryan wrote that American trailed both Delta and United "in (revenue) growth trends and in most markets both domestic and international" for the second consecutive quarter.
Bryan said American may lose passengers as it adds seats to many of the aircraft in its fleet, which translates to "higher fares for reduced personal space for flyers."
Also, UBS analyst Darryl Genovesi cut his first-quarter earnings estimate to $1.94 a share. Analysts surveyed by Thomson Reuters estimate $1.81. Genovesi has a neutral rating and a $56 price target.
"We think AAL could continue to underperform its peers over the near term as yesterday's below-consensus unit revenue (PRASM) guide brings above-average competitive growth to forefront while (in) year two following merger (this year) is when rubber meets road on IT integration activity," Genovesi wrote in a report.
Despite the pessimism, American still has strong backers. Imperial Capital analyst Bob McAdoo rates American his top pick in the airline sector. He has an outperform rating and a target price of $92.
"While competition in some domestic markets is likely to pressure unit revenue trends early in the year, we suspect that in coming months, these issues will pass as promotional fares return to more normalized levels," McAdoo wrote.
"More than offsetting any RASM pressure are substantially lower jet fuel costs, which we expect American to fully participate in given its no hedging policy," he added. "Much of the earnings impact of this decline has yet to be included in the current 2015 consensus estimates."
If American 's share price appreciation has in fact come to a pause, it comes after an extremely long and successful run, which CEO Doug Parker discussed at the start of the earnings call.
"We produced a total shareholder return of 113% in 2014, and had we been in the S&P 500, that would have been the second best amongst all the S&P 500, behind by the way only Southwest Airlines, our competitor," Parker said.
"But this is not our first year of really strong returns," he said. "Our predecessor ticker, LCC, was up nearly 90% in 2013 and over 170% in 2012. So on a three-year basis, we produced a total shareholder return of over 1000%. And that is by far the best of the S&P 500."
Parker, by the way, said American will have a record year in 2015.
-- Written by Ted Reed in Charlotte, N.C.
To contact this writer, click here.
This article is commentary by an independent contributor. At the time of publication, the author held no positions in the stocks mentioned.