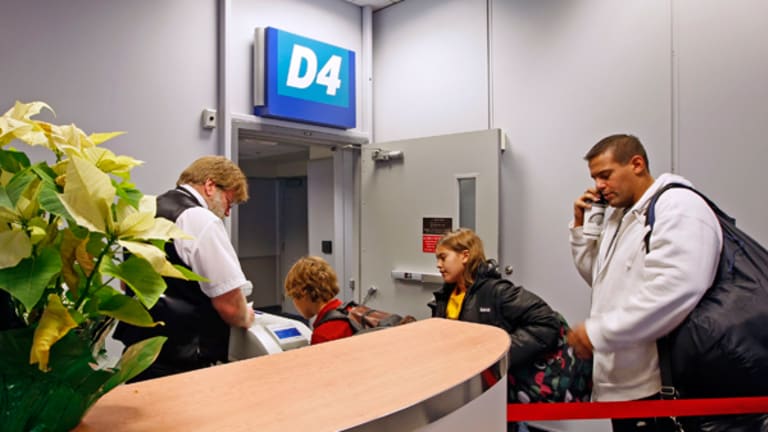 Americans Still Hate Bag Fees and Most Lack a Preferred Airline: Poll
More than two-thirds of Americans say they still find bag fees annoying, and nearly two-thirds have no brand loyalty to any airline, a new poll shows.
NEW YORK (TheStreet) -- Despite the airline industry's best efforts to encourage brand loyalty and to convince passengers that paying for checked bags is logical, most Americans neither favor a single airline nor willingly accept baggage fees.
A new poll, conducted for TheStreet by GfK, showed that 63% of Americans do not have an airline they prefer to fly and only 5% consider getting frequent flier miles to be an important consideration when selecting a flight. Frequent flier miles are the key element in airline loyalty programs.
Additionally, 70% of Americans said they find bag annoying. The fees are the second most annoying component of airline travel, slightly behind high ticket costs -- which annoy 73% of Americans -- but ahead of cancelled or delayed flights, which annoy 68% of Americans; uncomfortable seats, which annoy 64% and rude staff, which annoys 63%.
The poll, in which 1,004 people were interviewed by telephone, was conducted July 25 through July 27.
Americans who live in a hub might be expected to have loyalty to the hub carrier, given the range of destinations and flight frequencies that a hub provides. However, "people in hubs usually have a love/hate relationship" with the hub carrier due to the high fares, said aviation consultant Bob Mann.
The lack of brand loyalty isn't necessarily significant, Mann said, as long as road warrior business flyers remain committed. "For airlines, 30% of the customers are business customers who represent 70% of the revenue," Mann said. "Those 30% have loyalty; the other 70% just want a low price."
In general, airlines seek to pamper their most loyal frequent passengers, primarily with upgrades and also with airport club access. Frequent flier miles, intended to encourage passenger loyalty, can be redeemed for upgrades or free flights.
As for the high level of dislike of baggage fees, Mann declared that "70% of Americans find everything annoying."
The airline industry likes to think that passengers have come to accept the logic of allocating the cost of transporting bags to the passengers who transport bags.
In May, speaking at an airline investor conference, American Airlines (AAL) - Get American Airlines Group, Inc. Report President Scott Kirby bristled when an airline analyst mentioned that some passengers view airlines as businesses that "nickel and dime" their customers.

Kirby said that charging extra for extra services is "the way many other business price, (yet) an airline charging ancillaries or extra for extra services gets characterized for nickel and diming ... It's inconsistent with how other industries get characterized."
The widespread belief of the airline industry is that customers most desire on-time performance, not only because on-time performance meets expectations but also because it leads to better baggage handling, fewer missed connections and an overall better experience. In 2012, nearly 82% of all U.S. flights arrived on time, the best total since 2003. The number slipped back to 78% in 2013 as a result of sequestration and bad weather.
Asked whether they had an airline they preferred to fly, 63% of respondents said no while 35% said yes.
The lack of brand loyalty was also clear from a question about the most important consideration in selecting a flight outside of the ticket price.
Most important was non-stop service, which was favored by 28% of respondents. Time of departure was next, with 20%, followed by the airline's reputation, with 15%; frequency of service, 11%. Of the options, getting frequent flier miles was least important, with just 5%.
Asked whether they had ever complained to an airline, 23% of respondents said they had. Of those, 60% said they were satisfied with the response.
-- Written by Ted Reed in Charlotte, N.C.
To contact this writer, click here.