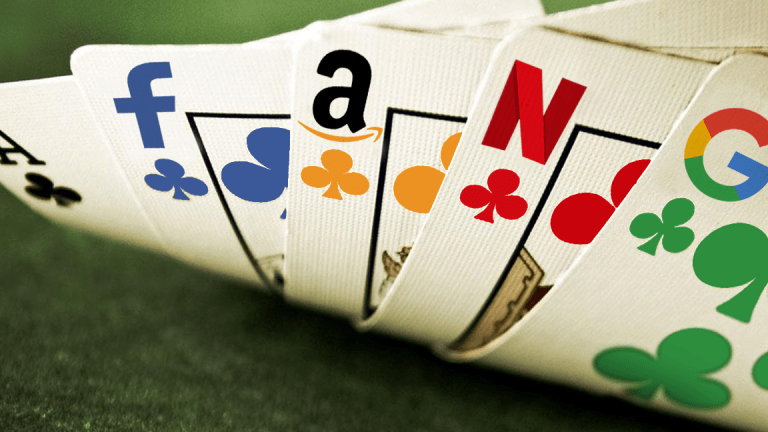 Expect Google, Facebook and Others to Face More Challenges From Europe in 2018
From taxes to data privacy to 'controversial' content, EU regulators remain at odds with U.S. tech giants on several key issues.
European regulators were easily more aggressive than their U.S. counterparts in 2017 when it came to challenging the business practices of U.S. tech giants. And the contrast could become even sharper in 2018.
Depending on how the dust settles, some of Brussels' actions could have an impact on the top and bottom lines of big-name U.S. tech firms -- Alphabet (GOOGL)  and Facebook's (FB) , particularly. And while there's little reason for investors to panic, the stakes involved are meaningful.
Arguably the EU action that deserves the most attention is the May 25 arrival of new data protection rules especially bear watching. Among other things, the rules require internet services firms to get the explicit permission of consumers to use their data for ad targeting. For Google and Facebook, who tower over the online ad landscape in both the U.S. and Europe, the rules could impact quite a few lucrative businesses -- from Google's search and YouTube ad sales, to the feed ads sold by Facebook on both its core apps and Instagram, to the ad networks run by both companies.
As an analysis by ad tech firm PageFair notes, Google's core AdWords search ad platform could still show ads to users who don't agree to have their data used, but at the cost of some of its effectiveness. For example, Google could show search ads related to keywords that a user just typed, but couldn't use data from prior search activity, or from activity on other websites and apps, to improve its targeting. Likewise, YouTube and Google Maps could still run ads, just as long as data stemming from prior activity isn't leveraged.
As for Facebook, PageFair thinks the company could get away with providing an "opt-out" option for its news feed and Instagram ad targeting that puts the onus on users to specify that they decline to share their data. Still, it's not hard to imagine many privacy-sensitive consumers choosing to opt out when presented with the option.
The stakes: Google gets close to a third of its revenue from the EMEA region, and Facebook gets close to a quarter of its revenue from Europe. While this revenue certainly won't evaporate if a large percentage of EU consumers don't allow their data to be used for targeting -- smaller ad tech firms such as Criteo (CRTO)  might be hurt more -- it's bound to take a hit.
For Google, the EU's ongoing antitrust suit over the company's Android app and service bundling policies also bear watching. Among other things, the EU wants Google to stop denying access to the Play Store to smartphone and tablet makers who refuse to exclusively pre-install Google Search, make Google the default search engine on Android devices, or choose to launch a phone featuring an alternate version of Android such as Amazon.com's (AMZN) Fire OS.
While allowing OEMs to use other versions of Android probably wouldn't do much damage, given the overwhelming popularity of Google's version, giving them the option to choose a default search engine other than Google could, given the huge role search ads play in Google's Android monetization strategy. Though Google's dominant European search position would still give it a lot of leverage, OEMs could easily use their newfound freedom to pick another default search engine to demand larger ad revenue cuts (i.e., traffic acquisition costs) from Google. Much as Apple  (AAPL) does in return for making Google the default search engine for its Safari browser and iOS' search tool.
Jim Cramer and the AAP team hold positions in Apple, Alphabet and Facebook for their Action Alerts PLUS Charitable Trust Portfolio. Want to be alerted before Cramer buys or sells AAPL, GOOGL or FB? Learn more now.
To some extent -- not so much for the revenue impact, but the impact on public sentiment -- attempts by European regulators to crack down on the spread of controversial online content also bear monitoring. Germany just began enforcing a law that allows social networks to be fined up to 50 million euros ($60.3 million) if they fail to take down content such as hate speech and fake news within 24 hours of being notified. The law's arrival coincides with a U.S. uproar over YouTube celebrity Logan Paul's sharing of a video showing the body of a Japanese suicide victim.
Finally, the EU's attempts to crack down on the use of tax havens by U.S. multinationals has by no means let up. In September, 10 EU countries floated a proposal to tax tech multinationals based on their local revenue rather than their local profits. In October, Amazon was ordered to pay $295 million in back taxes to Luxembourg, and in December, Apple -- following an adverse 2016 ruling on the matter that it continues to appeal -- agreed to pay $15.4 billion in back taxes to Ireland.
Going forward, M&A reviews could also become a flashpoint between U.S. tech giants and Brussels. Should the return of hundreds of billions in offshore cash (thanks to a recently-passed U.S. tax reform bill) lead to a flurry of tech M&A activity, chances are that some of the deals will be closely scrutinized by the European Commission.
To reiterate -- it would be a mistake for investors to panic over the EU's more hands-on approach to regulating U.S. tech giants. But it would also be a mistake to overlook just how nervous regulators and politicians on the other side of the Atlantic have become about the economic and cultural power wielded by U.S. tech firms.
More of What's Trending on TheStreet: