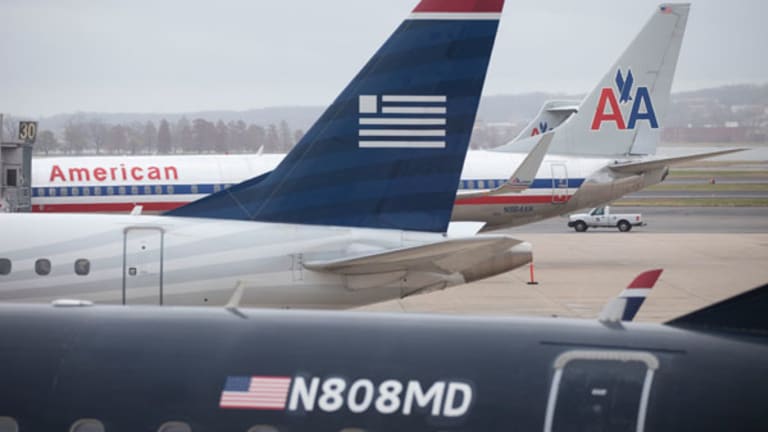 American Merger Brings Another Seniority Battle for US Airways Pilots
American Airlines' merger with US Airways means another seniority battle for US Airways pilots, who still have not resolved seniority issues raised in the 2005 merger with America West.
Charlotte (TheStreet) -- Once again, US Airways pilots find themselves in a tough spot on seniority.
In 2005, a merger with America West led to a controversial seniority ruling, never implemented, that continues to divide pilots from the two airlines because a key provision appears to favor west pilots. Now, it appears, another divisive seniority conflict could result from the 2013 merger with American (AAL) - Get American Airlines Group, Inc. Report.
Last week, talks between the Allied Pilots Association, which represents American pilots, and the U.S. Airline Pilots Association, which represents US Airways pilots, broke down over the issue of the timeline for when APA takes over as the sole union representing pilots at the new American.
No airline merger has been more tarnished by a seniority dispute than America West/US Airways, which led the US Airways pilots to leave the Air Line Pilots Association after 57 years, forming a new union called the U.S. Pilots Association and dragging reluctant American West pilots along with them.
This time, the pilots from the pre-merger US Airways, still known as "the east," are where the west pilots were eight years ago -- in the minority. That could make their situation more difficult. APA has about 8,800 active members, while USAPA has about 4,400. About a third are from AWA and do not generally support the union.
The merger between American and US Airways closed on Dec. 9, 2013. That started a 30-day clock on negotiating a protocol agreement involving the logistics of seniority negotiations. Two extensions were granted, which took the deadline to Feb. 18. The conflict surfaced the next day.
An agreement between the three parties, negotiated before the merger occurred, said the two unions would begin seniority integration talks as soon as possible after the merger occurred. That agreement provided that if a seniority protocol deal could not be reached, seniority would be determined by the 2007 McCaskill-Bond statute, which requires arbitration if negotiations cannot produce an integrated seniority list for groups represented by two different unions.
The agreement also said that seniority arbitration would occur after the parties agreed to a joint contract and after the National Mediation Board finds that American and US Airways are a "single carrier."
APA interpreted that to mean that once the NMB finds the combined airlines have single-carrier status, then USAPA will go away even if no seniority deal is in place, which is something the east pilots had not expected. APA filed for single-carrier status on Jan. 14.
The first signs of conflict appeared in a series of pilot communications that began on Feb. 19, when the USAPA merger committee told members that APA had changed its position. Until then, talks had appeared to be going smoothly. However, USAPA said, the APA merger committee demanded that APA and the airline have the option to modify the protocol agreement once the NMB certifies APA as the sole pilot representative. That modification could enable APA to take over before a seniority agreement is reached.
On Feb. 20, APA wrote to its pilots saying that despite the Jan. 14 filing, USAPA wanted the NMB to delay single-carrier status until a new contract is signed and a seniority list is completed. Yet "we are all already operating under a single collective bargaining agreement," said APA.
On Feb. 21, USAPA President Gary Hummel wrote a letter saying that with the two sides at impasse USAPA filed with the NMB to begin arbitration on seniority integration. Hummel said that is what the McCaskill-Bond Act contemplated.
"The company and APA appear to be attempting to accelerate the NMB procedures for determining the bargaining representative of the pilots in order to subvert the authority of USAPA in the seniority integration process," Hummel wrote. "APA is asserting that once it becomes the bargaining representative for all of our pilots, it will have the right to control the process and the merger committee that will represent the USAPA pilots in the arbitration."
It appears that the next step is up to the NMB, which must choose which to honor first-- APA's request for single-carrier status or USAPA's request for arbitration to begin shortly. If single-carrier status comes first, then USAPA could go away before arbitration begins.
In their communications, America West pilots seem pleased that USAPA now appears to be on the defensive. In fact, APA's letter to pilots cited findings by U.S. District Court Judge Roslyn Silver in Phoenix, who ruled in January that USAPA had not breached its duty of fair representation to west pilots and that west pilots need not be separately represented in seniority list discussions with APA, but who also showed disdain for USAPA in her opinion.
APA quoted Silver as saying, "The court's patience with USAPA has run out ... When USAPA is no longer the certified representative, it must immediately stop participating in the seniority integration." APA added: "USAPA's continuing effort to maintain its role in the McCaskill-Bond process even after APA becomes the certified representative of all pilots at the 'new' American Airlines runs directly counter to Judge Silver's unambiguous directive."
Spokesmen for APA and USAPA declined to comment for this story. An American pilot, who declined to speak for attribution, said APA wants to avoid litigation and does not want a repeat of the long conflict with TWA pilots following American's 2001 purchase of TWA.
Potentially, arbitration offers the best path for APA, because any negotiated seniority deal would likely result in litigation by somebody. As APA said in its letter: "If we cannot negotiate a list, then we will arbitrate a list; in either case, the objective of the process will be a list that recognizes and maintains the pre-merger career expectations of every pilot at the 'new' American Airlines."
Still, some US Airways pilots worry that after eight years stuck in a seniority dispute they are beginning a new one in which they will suffer if USAPA cannot represent them. "APA wants to do to us what they did to TWA," an east pilot said.
Written by Ted Reed in Charlotte, N.C.
To contact this writer, click here.
Written by Ted Reed in Charlotte, N.C.
To contact this writer, click here.
Follow @tedreednc