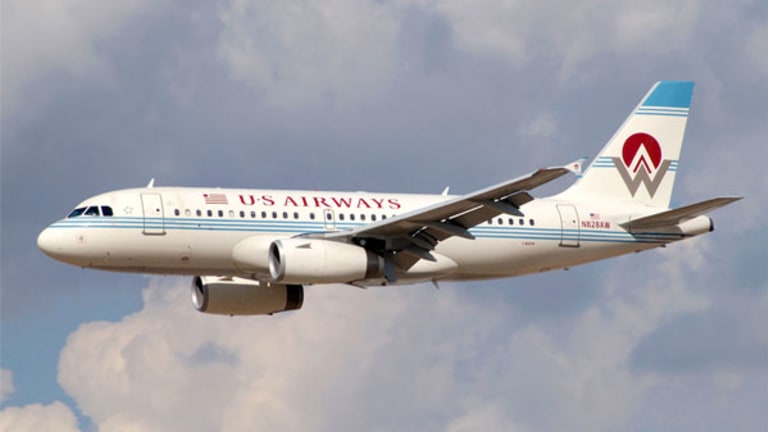 Publish date:
American Honors America West, the Airline That Took Over the World
American Airlines will honor America West, the little Phoenix airline that somehow managed to take over the world.
American Airlines will honor America West, the little Phoenix airline that somehow managed to take over the world.
PHOENIX (TheStreet) -- The first heritage airplane in the American Airlines (AAL) - Get Report fleet will be a symbol of CEO Doug Parker's own heritage -- an America West airplane.
America West is where Parker assembled the team that in the brief span of a dozen years managed to put together the biggest airline in the world.
As CEO of US Airways, Parker understood that airline employees often treasure their heritage, a realization that many in the airline industry seemed to ignore. Parker authorized painting US Airways A319s in the colors of four predecessors: Allegheny, America West, Piedmont and PSA.
Parker brought the concept to American following its 2013 merger with US Airways, and he discusses it in his column, published in the August issues of in-flight magazines at American and US Airways. Parker writes of his plans to paint the aircraft over the next few years.
"As we move forward, we will remember to embrace our past," Parker wrote. "We plan to paint some 'heritage' aircraft -- modern planes painted with logos from the past from airlines that have formed today's American.
The first heritage airplane (pictured) in the American fleet, as distinct from the current US Airways fleet, is an Airbus A319, with tail number N838AW. Painting was completed on Aug. 31, and it has operated on flights serving the Charlotte and Washington Reagan National hubs.
Next in line for the American fleet is a PSA heritage aircraft, said spokesman Matt Miller. Painting should be completed this month, he said.
America West Airlines, founded by airline entrepreneur Ed Beauvais and a team he assembled, started in Phoenix in 1981 and flew its first flight in 1983. America West "was one of the few post-deregulation startups not to shut down," according to the book "American Airlines, US Airways, and the Creation of the World's Largest Airline," by Dan Reed and me, which will be published by McFarland & Co. in November.
"After deregulation, the key to starting an airline was to have a good hub," the book said. "In Phoenix, America West had an adequate hub, one that enabled it to survive until a 2005 merger with US Airways and to retain its Tempe headquarters until the 2013 merger with American. Probably its most important contribution to commercial aviation was to nurture a management team, headed by Parker, which chased mergers for eight years."
America West built Phoenix into a major hub, serving about 30 West Coast cities and connecting them with Midwest and Eastern destinations. It became the second largest post-deregulation airline, exceeded in size only by People Express.
The airline was absorbed by US Airways after a 2005 merger. Its memory has been kept alive partially because of a bitter seniority battle between the pilots from the two airlines, but the possibility exists that the battle will be resolved as American's Allied Pilots Association develops a merged seniority list following the American/US Airways merger.
We can hope, can't we?
-- Written by Ted Reed in Charlotte, N.C.
To contact this writer, click here.
At the time of publication, the author held no positions in any of the stocks mentioned. This article is commentary by an independent contributor, separate from TheStreet's regular news coverage.