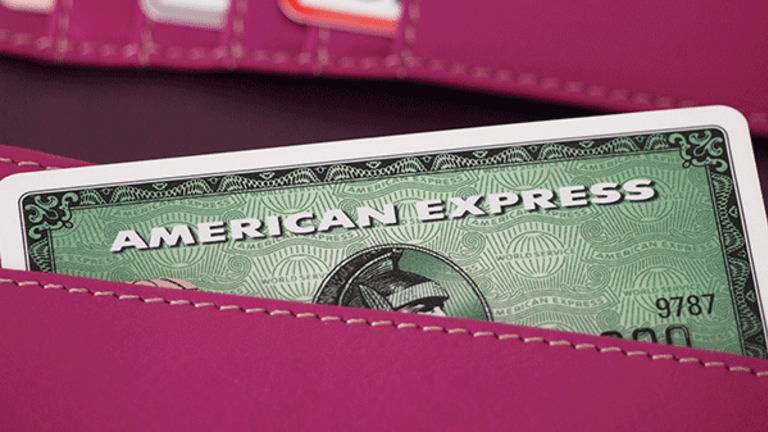 AmEx Pays $96 Million to Cardholders to Settle Discrimination Claim
More than 200,000 cardholders in U.S. territories from Puerto Rico to Guam were harmed, the Consumer Financial Protection Bureau said.
American Express Co.  (AXP) - Get American Express Company Report  is resolving a government watchdog's discrimination review by paying at least $96 million to customers in Puerto Rico and other U.S. territories who were charged higher fees and interest rates than cardholders in the rest of the country.
The New York-based lender must also develop a plan to ensure it provides comparable terms on loans and collections of past-due accounts to customers in its Atlantic and Pacific territories going forward, the Consumer Financial Protection Bureau said in a statement on Wednesday, Aug. 23.
"Consumer financial protections are not confined within the 50 states," said Richard Cordray, the director of the agency established after the 2008 financial crisis to safeguard consumers against exploitation by lenders.
The settlement between the bureau and AmEx, which hasn't been charged any civil penalties because it reported the matter voluntarily, eliminates at least one of the challenges facing CEO Kenneth Chennault. The 66-year-old has been working to replace revenue lost with the lucrative Costco portfolio since 2015, in part through rewards programs such as Plenti and an upgrade to its signature Platinum charge card.
American Express rose 8 cents to $85.36 on Thursday, maintaining a gain of 15% this year. The company has already provided $95 million in payments and other forms of relief for 221,932 customers affected over a 10-year period and has agreed to pay at least $1 million more, the bureau said.
The consumer agency's review began in 2013, after the lender reported worse pricing for services offered in territories including the Virgin Islands and Puerto Rico as well as poorer account management services and more aggressive collection practices than in the 50 states.
For example, more than two thirds of the American Express credit cards and platinum credit card available in Puerto Rico from 2005 through 2013 didn't have a 0% introductory interest-rate offer, while 90% of the comparable products in the mainland U.S. did, the bureau said.
On average, cardholders in the territories who defaulted on their debt had to pay at least 73% of what they owed to settle the matter, compared with 55% in the mainland U.S., the bureau determined. Officials also also found a disparity between services for some Spanish-speaking customers and English speakers.
The review, which the bureau expanded to include Pacific territories such as Guam and American Samoa, "did not find that American Express intentionally discriminated against its customers but rather found that these differences were the result of American Express' card management structure, which had different business units overseeing" varied portions of the market, the bureau said.
American Express said in a statement that its offerings in the U.S. territories were "very competitive with local offerings," but they should, by law, have been in line with continental U.S. offerings.
The lender said it disagrees with the consumer bureau's conclusion that the disparities in customer treatment amounted to discrimination.
"American Express does not tolerate discrimination in any form," the card-issuer said. "The company is committed to making its products available to every qualified person regardless of race or ethnic background, and it does not use race or ethnicity as a determining factor for credit."
More of What's Trending on TheStreet: