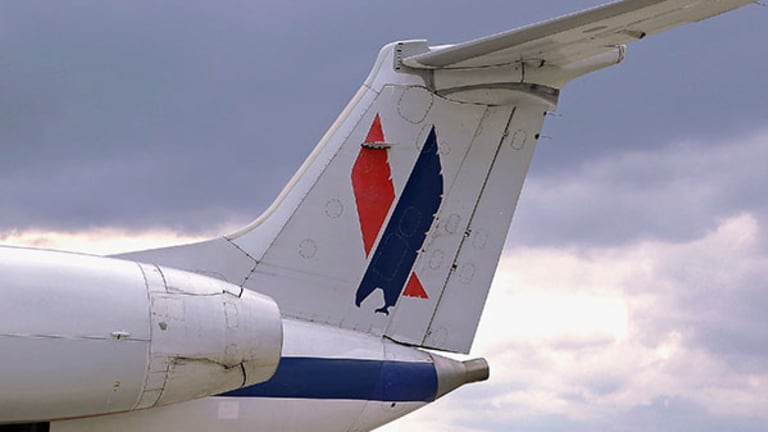 Publish date:
American Eagle Pilots Overwhelmingly Reject Contract Proposal
American Eagle pilots reject the airline's contract proposal for the second time as 70% vote to oppose.
American Eagle pilots reject the airline's contract proposal for the second time as 70% vote to oppose.
DALLAS (TheStreet) -- Pilots at American Eagle, the regional partner of American Airlines (AAL) - Get Report, have overwhelmingly rejected a contract proposal by a wide margin
About 70% of voters opposed the contract, with 92% of the approximately 3,000 Eagle pilots voting, said the Eagle chapter of the Air Line Pilots Association. 
Last month, union leaders voted to reject the proposed agreement, which would have frozen pay rates and guaranteed new aircraft for the airline. Afterwards, some union members sought a vote by all the pilots.
"The Eagle pilots made a clear choice today, and it was not an easy one," said Bill Sprague, chairman of the Eagle chapter, in a prepared statement. "Despite threats from (American) management that they would seek other express carriers to conduct our flying, today's vote demonstrates that the demands for contract concessions were not acceptable."
In a letter to employees following the vote, Eagle president Pedro Fabregas said he was disappointed by the outcome but pleased that the pilots had the opportunity to vote.
"Now it the time for us to collectively accept our pilots' decision and move forward," Fabregas wrote. "We will operate our currently fleet in accordance with our business plan. ...Our fleet will downside as smaller, less-efficient aircraft, such as the Embreaer 140s, are scheduled for retirement."
Fabregas noted that American has said it will award flying on newer Embraer 175 aircraft to one or more competing regional carriers. "The opportunity for us to fly these aircraft has passed and we need to focus on doing our best with the aircraft we have," he said.
The union said the proposed contract changes included a combination of pay freezes, reduced per diem payment and increased health care costs, in exchange for a promise to enhance the Eagle fleet and provide improved opportunities for pilots to move on to mainline American Airlines. 
The contract proposal followed the implementation of a bankruptcy contract which the union said involved $43 million of concessions. That contract will remain in place.
Written by Ted Reed in Charlotte, N.C.

To contact this writer, click here.