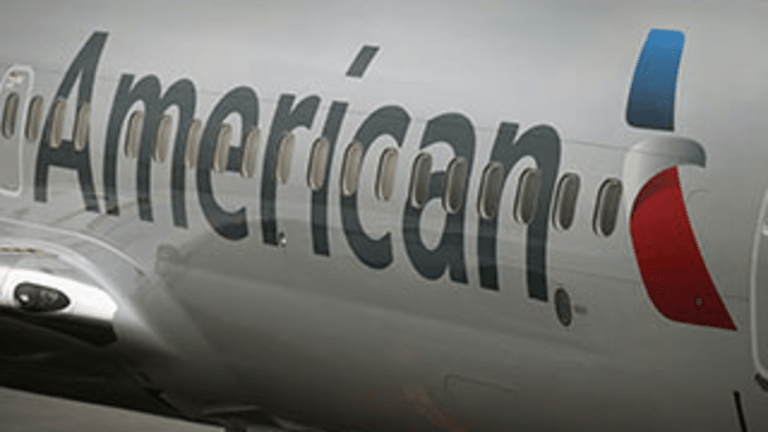 American Airlines Workers Get 4% Raises While Envoy Pilots Take Cuts
American Airlines says it will give employees 4% pay raises on top of raises they negotiate in contract talks. Meanwhile, pilots at regional subsidiary Envoy agreed to a concessionary contract.
NEW YORK (TheStreet) -- American Airlines (AAL) - Get American Airlines Group Inc. Report capped off the most successful year financially in its history by awarding most employees two days before Christmas with a 4% pay raise, on top of negotiated pay raises.
But during a busy midday flurry of labor announcements at the world's biggest airline, the jubilation was mitigated for pilots at American Airlines Group subsidiary Envoy Air, who overwhelmingly approved a concessionary contract in recognition of the harsh new reality of the regional airline industry.
"We do have a new tentative agreement," said James Magee, spokesman for the Envoy chapter of the Air Line Pilots Association. "But for us, it's not a time to celebrate."
On the one hand, American and Delta (DAL) - Get Delta Air Lines Inc. Report , two of the three global U.S. carriers, are engaged in a competition to see who can play their employees more.
In a letter to employees announcing the pay raises, American President Scott Kirby noted that flight attendants will have hourly pay rates 7% higher than their peers at Delta and United (UAL) - Get United Airlines Holdings Inc. Report  while other employees can look forward to similar premiums. For pilots, currently in negotiations, "the company's proposal in regard to pay rates is now 7% higher on average than the rates in place at Delta."
Unlike American, Delta offers profit sharing -- on two separate days last week, Delta used an employee Web site to post stories chiding American for not paying profit sharing, and in October, Delta CEO Richard Anderson declared in a recorded message that "Delta folks are by far the best paid in the industry."
The competition is a sign that in one of the country's most heavily unionized industry, which is enjoying its most profitable year ever and looking forward to even more profits in 2015, airlines are eager to share the wealth not only with shareholders but also with employees.
Yet at the same time, the situation of pilots in the regional airline industry is deteriorating. Regional airlines compete on price for contracts with the major airlines, and much of the burden of that competition falls on employees.
At Eagle, a contract resembling one pilots rejected in March was approved this time by a 75%-25% margin, with about 91% of Eagle's 2,400 pilots voting.
The difference is that in March pilots at several regional airlines had rejected concessionary contracts, said Sam Pool, president of the Eagle ALPA chapter, during a conference call with airline reporters. Since then, American has moved to assign new regional aircraft to Eagle competitors, who "fly with contracts not as robust as ours," Pool said.
He noted that regional airplanes with growing fleets provide hope for their pilots. "Perhaps we should take the path of looking for hope here," Pool said. Airlines have "created this regional model (where) they can whipsaw us vs. mainline (and) force regional managements to compete with each other and then with pilot groups," he said.

The new contract eliminates pay increases that had been promised in 2015 and 2016, then provides 1% increases starting in 2018.
By contrast, mainline pilots at American would receive 23% raises on the day they sign a new contract -- putting them 7% above Delta. That raise would be followed by 3% pay raises every January from 2015 through 2019. The company's offer also includes non-wage enhancements that would increase annual pilot costs by $20 million annually, Kirby said.

In his letter, Kirby also offered pilots the option to go to arbitration, but he noted that the $100 million worth of contract enhancements "would likely go away, as they would have to be offset by reductions elsewhere in the contract" since the scope of the arbitration is limited to adjusting disparities between US Airways and American pilots. Arbitration, it would seem, does not represent a particularly desirable option.
The Allied Pilots Association said it will meet Jan. 2-3 to consider its response to Kirby's proposal. American has set a Jan. 3 deadline to either accept the offer or go to arbitration.
-- Written by Ted Reed in Charlotte, N.C.
To contact this writer, click here.
This article is commentary by an independent contributor. At the time of publication, the author held no positions in the stocks mentioned.