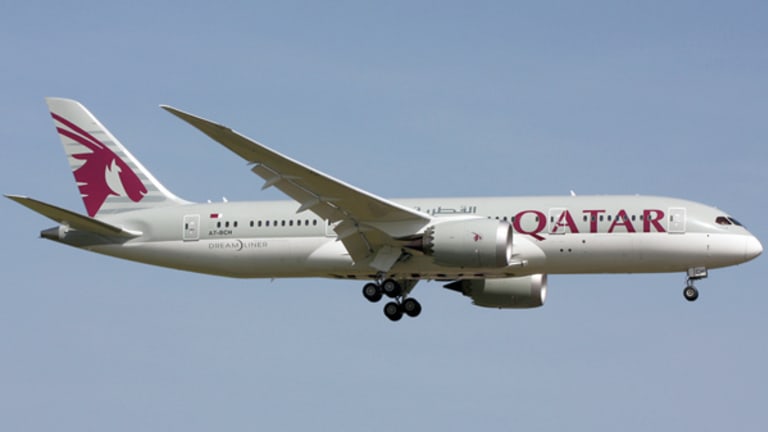 American Airlines Stock Flies on Reports That Qatar Airways Intends to Purchase 10% Stake
Other Airline stocks were also gaining on Thursday morning.
American Airlines Group Inc. (AAL) - Get Report shares were up nearly 2% in early morning trading after the airline said that it received an unsolicited notice from Qatar Airways that the foreign airline intends to make a significant investment in the company. 
Conversations between the two companies indicated that Qatar is looking to invest at least $808 million and purchase approximately a 10% stake in American Airlines, according to a Securities and Exchange Commission 8-K filing. 
Qatar Airways will purchase the shares on the open market.
Qatar Airways made a necessary regulatory filing for a purchase of more than $81 million of American Airlines stock. The purchase is subject to approval by the Antitrust Division of the U.S. Department of Justice. 
The Allied Pilots Association, which represents American's pilots, blasted the offer, saying "This is an action of aggression by the Qatar government and we take strong offense to that."
Delta Air Lines Inc. (DAL) - Get Report shares were up 0.5% to $52.53, Southwest Airlines Co. (LUV) - Get Report rose 0.82% to $61.53, and Alaska Air Group (ALK) - Get Report  was down 025% to $90.60, and Air France KLM SA (AFLYY) was up 1.17% to $12.40 in morning trading Thursday. 
What's Hot On TheStreet
Tesla still doesn't deserve its valuation: Tesla (TSLA) - Get Report fanboys have just gained their daily pound of flesh. The electric car company has reportedly reached a deal with officials in China to open a production facility in the world's biggest clean-energy car market. The deal would likely allow it to form a joint-venture with a China-based partner and avoid the 25% tariff applied to imported vehicles. The move would also substantially cut shipping and production costs when compared to Tesla's facility in Nevada, TheStreet's Martin Baccardax reports.
Tesla is now valued at an insane $61 billion...and counting.
What was this Kroger exec drinking: Maybe this Kroger (KR) - Get Report fella has been up too late studying the aftershocks of Amazon's (AMZN) - Get Report big deal for Whole Foods . "I'm glad their stores are finally open," Kroger CFO Michael Schlotman said about German rival Lidl at Oppenheimer's Consumer Conference Wednesday. Schlotman said he is excited, in fact he feels "great about it," to finally start seeing if the preparations Kroger put in place to compete with Lidl will stand the heat. TheStreet's Lindsay Rittenhousewas all over this bizarre exchange.
Having your profit margins crushed by a ruthless German grocer shouldn't be exciting, Kroger.
Don't forget about Intel: Advanced Micro Devices (AMD) - Get Reportmay beat Intel Corp. (INTC) - Get Report to selling the fastest computer chip this year, but the technology giant is working on other projects that are pushing the limits.
From artificial intelligence to drones, Intel is working to connect everything to the internet to collect data that can be used to improve safety, efficiency, and lifestyles. Whether it is helping athletes perform better or making cars autonomous, Intel's technology is working to transform multiple industries. Here's 11 cool projects Intel is working on that investors seem to have forgotten about.
Visit here for the latest business headlines.