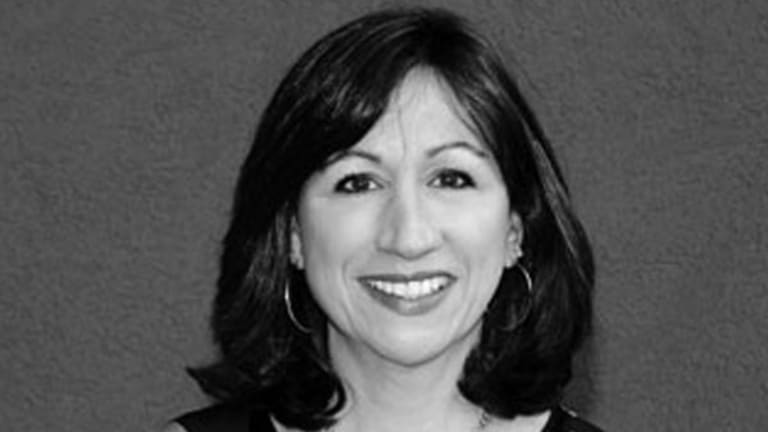 American Airlines Merger Pleases One Union Group: The Flight Attendants
American Airlines flight attendant leader Laura Glading was a key figure in enabling a merger with US Airways, which seems to have pleased her constituents, old and new.
CHARLOTTE, N.C. (TheStreet) -- Four of the five unions at US Airways said they are displeased with aspects of the merger with American (AAL) - Get American Airlines Group, Inc. Report, leaving the flight attendants as the one group that so far has avoided merger pitfalls.
Among flight attendants, "everyone seems happy about the merger," said Laura Glading, president of the Association of Professional Flight Attendants, which will be the surviving union representing 24,000 flight attendants.
"There's a lot of enthusiasm and hope," she told reporters Monday. Flight attendants "are exchanging pins and wings and toppers; they are so excited." Toppers are the aprons worn by some flight attendants.
Glading visited Charlotte to meet with US Airways flight attendants, who will become APFA members once the National Mediation Board finds that the carriers are one. Currently, the 8,000 US Airways flight attendants are members of the Association of Flight Attendants. APFA, which represents American flight attendants, has 16,000 members.
Charlotte is US Airways' largest hub, the second-largest hub for the new American and the third-largest single airline hub in the world.
American, which filed for bankruptcy protection in 2011, initially opposed a merger. Glading became a member of the creditors committee, attended every meeting and was instrumental in convincing the committee to back a merger.
Asked if she has gotten any payback from management for her efforts, Glading responded firmly, "No."
"I think about that often," she said. "What I got was satisfaction that American will survive and that we'll work for a successful carrier. That was all I ever wanted." But she expects joint contract negotiations, which began April 24, will go well. "We've established trust and a good relationship," she said. "That's a good (step) to get the best contract."
Once the merger between airlines was assured, the next challenge for Glading was to seek a smooth merger of the two unions. She was determined to avoid a replay of the aftermath of the union election at United (UAL) - Get United Airlines Holdings, Inc. Report following the 2010 merger with Continental, where AFA won out over the International Association of Machinists, which had represented Continental flight attendants.
After the election, she said, "Both sides went back to their corners. They had a lot of well-intentioned people trying to do the right thing, (but) they didn't want to work together." It would have been better to negotiate a contract than to expend energy on a divisive election, she said.
Initially, following the American/US Airways merger, APFA and AFA exchanged harsh words. AFA agreed to a deal in the summer of 2013, then backed away from it, but ultimately agreed to a similar deal. The numbers helped APFA, which has twice as many members at American as AFA has at US Airways. "It was very intense negotiations," Glading said. "AFA had to dig deeper and come to difficult decisions.
"Flight attendants did not want a representation election," she said. "They wanted life to get better. A representation election would have been a nightmare."
Now flight attendants are represented by a joint negotiating committee, with seven members from each union. The committee made its first proposal April 24; the next meeting is scheduled for May 13. Last week, the two sides agreed to a merger transition agreement that provides protections during negotiations including continued separate bases in Washington, a no-furlough guarantee, and continued separation of flying for the two unions.
One change since the merger, Glading said, is an influx of younger flight attendants at both airlines. The average tenure at both is around 20 years, but recent contract agreements allowed for early retirements. About 2,600 American flight attendants and 300 US Airways flight attendants took them. The crew lounge on Monday morning was full of "very enthusiastic" new hires, Glading said.
Roger Holmin, president of the US Airways AFA chapter, said Monday that APFA and Glading have been "received well." Last month, Holmin was among the leaders of the five US Airways unions who, in a letter to CEO Doug Parker, said they had generally supported the merger, but "now months later, many of us are still waiting for critical issues to be addressed and resolved." The issues include job security, seniority, compensation, scope, benefits and working conditions, the letter said.
"I'm part of a labor coalition," Holmin said. "I'm not going to agree with everything the company thinks I should. I support my sisters and brothers."
Written by Ted Reed in Charlotte, N.C.
To contact this writer, click here.