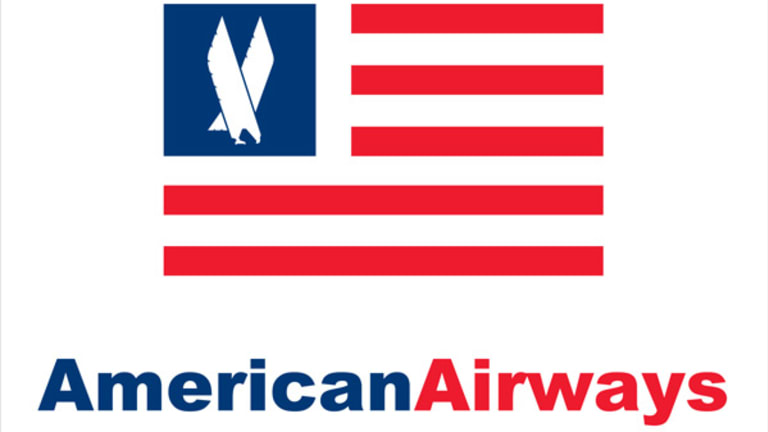 American Airlines Merger Left US Airways Workers Behind, Five Unions Say
American merged with US Airways four months ago, on Dec. 9, 2013, but six US Airways unions say gains for most US Airways workers have been delayed.
CHARLOTTE, N.C. (TheStreet) -- Four months after the completion of the merger of American Airlines (AAL) - Get American Airlines Group, Inc. Report and US Airways, all five of the US Airways unions said workers aren't yet seeing the benefits they expected.
In a letter to American CEO Doug Parker, leaders of the five unions wrote they had generally supported the merger, but "now that the merger has taken place, we expect management to move forward immediately to keep its commitments to all of its employees and make this the best airline in the world.
"While many of our members were understandably concerned about a potential merger, we told you then we would support it, but only if our concerns were addressed," the leaders said. "Now months later, many of us are still waiting for critical issues to be addressed and resolved."
Issues include job security, seniority, compensation, scope, benefits and working conditions, the letter said.
The letter referred to US Airways' history as an airline that, more than any other, grew through mergers: It has been involved in six since 1967. In July 2012, the six US Airways unions, representing more than 30,000 employees, formed a labor council to coordinate on pending merger issues, the letter said.
"At the time, six of our group were in contract negotiations or mediation -- some for as many as seven years," the letter said. "Many US Airways employees had suffered from airline consolidation that too often had been advanced at the expense of airline workers."
The letter cited specific post-merger problems for every union except the Association of Flight Attendants, although AFA President Roger Holmin was a signatory. The letter said contract negotiations with Transport Workers Union Local 544, representing instructors and simulator engineers, have been put "on the back burner," while US Airways dispatchers, in TWU Local 545, earn 25% less than American dispatchers and work more hours.
Mechanics and fleet service workers, represented by the International Association of Machinists, "were in negotiations pre-merger, then ignored by labor relations while it negotiated with stand-alone American employees." The IAM has filed with the National Mediation Board, seeking to be released from negotiations, which would trigger a 30-day period that could be followed by a strike.
Meanwhile, customer service agents, jointly represented by the Communications Workers of America and the Teamsters, said "vendors working for American are encroaching on our work at some locations and forcing the association to file grievances."
Additionally, US Airways pilots said that the airline's labor relations department "has failed to implement the required work rules and contractual provisions to bring equality to the pilots of US Airways."
In a separate letter to pilots, Gary Hummel, president of the US Pilots Association, said a new corporate culture should start "by treating the employees with respect and honoring our contracts, rather than exploiting them, and closing the open contracts still pending."
USAPA has filed four grievances related to contract implementation following the merger, spokesman James Ray said Tuesday. "They keep putting us off, and we're now four months past the date the contract should have gone into effect," he said. "There should be no disparity between the various pilot groups who are covered by the same contract, yet we have three renditions on a theme."
Ray said pilots from American, US Airways and America West  are treated differently from one another despite working under the same contract.
"We understand it takes time to implement some of these things, but they have had over a year since the MOU was signed to work out an implementation schedule," he said. "We should have at least had a date certain for implementation of the various items they were choosing to defer."
-- Written by Ted Reed in Charlotte, N.C.
To contact this writer, click here.