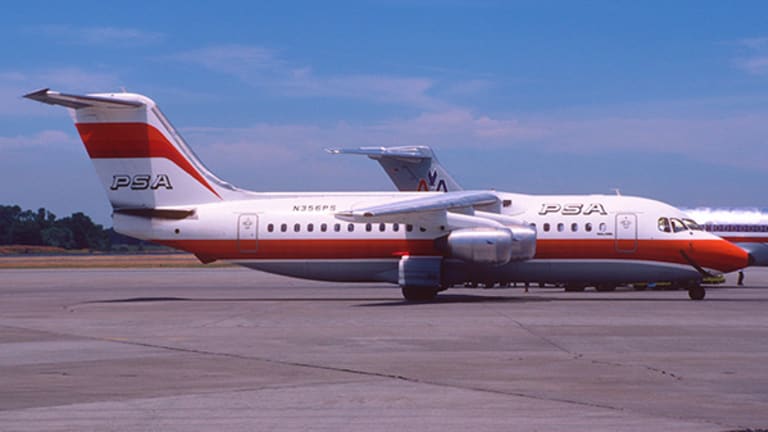 American Airlines Honors PSA, the Model for Southwest Airlines
American Airlines has begun flying its second heritage aircraft in the colors of PSA, which the Southwest founders visited in 1969 as they developed their plans.
DALLAS (TheStreet) -- American (AAL) - Get American Airlines Group Inc. Report has painted its second heritage aircraft, and this one honors Pacific Southwest Airlines, always known as PSA and best remembered for the smile painted on the nose of its airplanes.
Painting of the A319 with tail number N742PS, which is part of the US Airways fleet, was completed Wednesday. On Friday, the aircraft is flying Mexico City-Phoenix, Phoenix-Oakland, Oakland-Phoenix and Phoenix-Baltimore.


US Airways, which merged with American in 2013, acquired San Diego-based PSA in 1987. That acquisition is generally viewed as flawed, both because PSA was known for an informal, cheerful culture -- unlike the US Air culture of the time -- and because US Air eventually stopped flying most PSA routes.
Perhaps PSA's most significant contribution to airline history was as the prototype for Southwest Airlines (LUV) - Get Southwest Airlines Company Report . The story is recounted in the 2002 book, Poor Sailors' Airline, by Gary Kissel.
The book recounts how Southwest executives Rollin King and president-elect Lamar Muse called on PSA President Andy Andrews and his officers in San Diego in 1969. In the mid-1960s, a banker had suggested to King that he look at starting a Texas airline like PSA -- an intrastate airline connecting major population areas.
"King told Andrews they were aware that PSA had been in business for 20 years, was considered to be a very successful intrastate airline, and frankly asked for help in starting Southwest," Kissel wrote.
"Andrews liked the Texans, was flattered by their request and asked his officers and directors to cooperate with Southwest personnel completely, to hold nothing back and show them all the tricks PSA used to make itself competitive in a cutthroat business," Kissel wrote. "Southwest sent its attorney Herb Kelleher and its airline officers to look into every nook and cranny of PSA's (operation)."
A PSA ramp worker known as "Fast Eddie" taught the Southwest scouts to do quick turns, a former PSA pilot told me. "Their pilots trained on our simulators and their flight attendants trained on our airplanes," the pilot said. Also, the pilot said, Southwest borrowed PSA's flight manual and later decided on a name that removed the first word from "Pacific Southwest Airlines."
The pilot told me: "We did our best to teach Southwest how to do it in the early 1970s -- and they're still learning."
For that last flight, a PSA smile was painted on the nose of a US Airways airplane.
Written by Ted Reed in Charlotte, N.C.
To contact this writer, click here.
At the time of publication, the author held no positions in any of the stocks mentioned. This article is commentary by an independent contributor, separate from TheStreet's regular news coverage