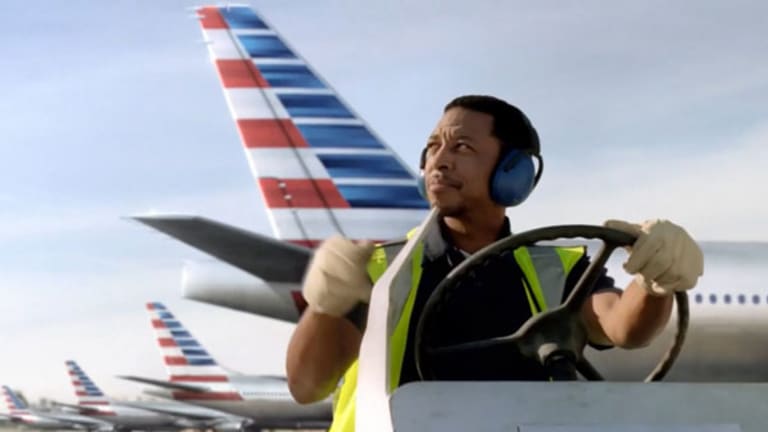 American Airlines Merger Leads to On-time Gains, Says President Scott Kirby
American Airlines President Scott Kirby says legacy American operations were the best ever, a result of improved morale after the December merger with US Airways.
Story has been updated with American share price.
CHARLOTTE, N.C. (TheStreet) -- American Airlines (AAL) - Get American Airlines Group, Inc. Report President Scott Kirby said April was the best operating month in the company's history, providing "just a fantastic way to start the merger" with US Airways. The primary cause, he said, was improved morale.
"The month of April is arguable the best operating month at legacy American Airlines," Kirby said Wednesday morning, speaking at the Bank of America Merrill Lynch airline investor conference.
The most important factor in the improvement, Kirby said, is that "we have a team of 100,000 people that for the first time since 9/11 (is) excited about the future." He described employees as "optimistic" and "positive" as a result of the merger and said "the level of energy is contagious."
American and US Airways began their merger in December under a management team, led by CEO Doug Parker and Kirby, which came from US Airways.
Among the positive operational indicators at legacy American: The carrier had a mainline completion factor of 99.7%, its highest monthly completion factor ever. It had nine days in April with zero cancellations, and seven days in a row with zero maintenance cancellations.
Also, mainline on-time departures, measured by D-zero, which is departing exactly on time or earlier, was at 69.4% of flights, the best April since 2005. Overall on-time departures, measured by D-zero, were at 70.3%, up 8.6 points from the same month a year earlier. Kirby said D-zero is the most important measure of on-time performance, noting: "The key is getting the airplane off the gate on time."
Kirby said three factors account for improved operations. The third, besides improved morale and a series of initiatives to improve operations, is Robert Isom, whom Kirby called "the best chief operating officer in the world." 
Isom can "hold you accountable" if "your station or your facility is not ... getting (airplanes) out in the morning," Kirby said. A key to running a successful airline, experts said, is getting the early morning flights out on time because otherwise delays pile up throughout the day.
Kirby said American has room to continue to make financial gains. Among the planned initiatives: adding seats to Boeing 777-200s and to 737-800s. Additionally, he said, airlines should "fly when the customers want to fly." US Airways cuts capacity Tuesday through Thursday, but American does not. "We're going to change that," he said. "It will start in August. We're going to adopt the same kind of scheduling practices we did at US Airways."
Another example of efficient scheduling, he said, is that on the Sunday after Thanksgiving, the year's busiest travel day, US Airways offered 10% more capacity than it did on the preceding Sunday, while "American flew the same schedule." That too is going to change.
In New York, Delta (DAL) - Get Delta Air Lines, Inc. Report and United (UAL) - Get United Airlines Holdings, Inc. Report offer far more capacity than American does, but Kirby said, "We have more upside in New York than anywhere." He said American has key assets including a strong presence in transcontinental markets, Latin American markets and London's Heathrow. Now it can combine those advantages with US Airways' strong East Coast presence.
"We can win most quickly" in New York, Kirby said. "We maybe can't be No. 1 in New York in totality, but we can be No. 1 in a handful of markets in New York."
Kirby said American expects to be profitable in New York in 2014.  Earlier, Delta President Ed Bastian, speaking at the same conference, said Delta has historically been unprofitable in New York but expects that to change this year.
Kirby warned investors against staying away from American because they anticipate that operational problems will result from merging computer systems. "If you wait until it's proven that we have successfully integrated, you will have missed the run," he said.
Shortly before noon, American shares were trading up 19 cents at $36.86.
Written by Ted Reed in Charlotte, N.C.
To contact this writer, click here.