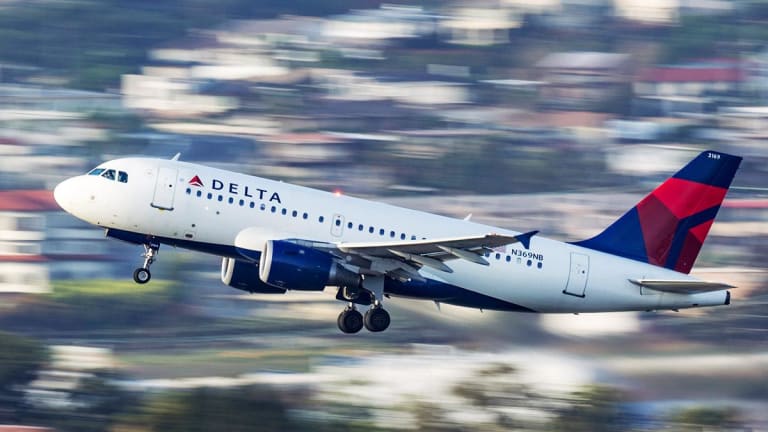 American, Delta Among Airline Stocks Set to Fly High
Here are 3 Buy-rated airline stocks poised to rally, say top analysts.
Here are 3 Buy-rated airline stocks poised to rally, say top analysts.
With harsh winter storms closing airports, and the Federal government's partial shutdown affecting everything from airport security to air traffic control systems, the airlines - and the aerospace industry - should have faced a tough time this winter. But some of the larger players have proven to be more resilient than the doomsayers thought, and are showing a surprisingly upbeat outlook for the near-term. We can get a feel for that optimism from the analyst reports in the TipRanks database, so let's take a look.
American Airlines Group Inc.
(AAL) - Get Report , the world's largest commercial airline - with the largest fleet, the most passengers, the most destinations, and the highest revenues - reported its earnings results on Jan 24. Revenues and earning both were up, but while the EPS, at $1.04, beat the $1.02 estimate, the $10.94 billion in revenues came in just below the forecast - by 0.63%. Revenues, however, were 3.2% higher than the year-ago quarter.
The quarterly report prompted an immediate, albeit modest, bump in AAL's share price, while also getting quick notice from top market analysts. Cowen's Helane Becker, a five-star rated analyst, increased her price target on AAL to $43, with a 19% upside, saying that shares remain undervalued. Regarding the airline's immediate business prospects, she adds, "American will drive the vast majority of their capacity growth in 2019 over Dallas-Fort Worth given the increase in the number of gates to which they have access; gates are increasing by 15 this year, which should drive about 100 additional flights."
Imperial Capital's Michael Derchin also boosted his price target, to $46, in response to the earnings report. He described the stock as "an attractive opportunity with upside potential on earnings and unit revenues." Derchin's price target implies a 27% upside to AAL shares.
Overall, American Airlines holds an analyst consensus rating of 'Moderate Buy,' based on 8 'buy' reviews and 3 'holds.' The stock has an upside potential of 28%, with an average price target of $46 and a share price of $36. Year-to-date shares are up 14%. 
Delta Airlines Inc.
(DAL) - Get Report released Q4 2018 earnings on Jan 15. American's largest competitor - the second largest airline by fleet size and passengers carried - also beat the earnings estimates while slightly missing the revenue forecasts. EPS was $1.30, for a 2.4% positive surprise over the expected $1.27, while the revenues were 0.8% lower at $10.74 billion. As with American, Delta's quarterly revenues were well above last year's Q4, by $490 million.
Delta didn't see a stock bump after the earnings release, but DAL shares have been stable in the range of $47 to $48 since Jan 4. Raymond James analyst Savanthi Syth set a $60 price target and 25% upside the day after the earnings report, based on DAL's "along with its attractive valuation and healthy balance sheet." On the same day, Daniel McKenzie, of Buckingham Research Group, gave DAL a $62 target, which suggests a 28% upside, and said, "Delta's results imply an environment that continues to look good." McKenzie has a 5-for-5 record when recommending Delta's stock, with a 13% average return.
Delta's $62 average price target and $48 share price combine to give the stock a 29% upside potential. Meanwhile DAL's analyst consensus is a 'Strong Buy' based on 9 'buy' ratings and 2 'holds.'
Boeing Co. 
Airlines don't go anywhere unless someone builds them an airplane. In today's market, (BA) - Get Reportis the world's largest supplier of commercial airliners. The company's famous 7-7 series is recognized worldwide, while the recent partnership agreement with Embraer will allow a more direct competition with Airbus in the narrow-body airliner segment. Over the last ten years, Boeing has maintained a slight edge over Airbus - its main competitor - in orders completed and delivered.
Pay attention because Boeing is scheduled to release its Q4 earnings - and full-year results - for FY2018 on Jan. 30. The airplane manufacturer is expected to report around $100 billion in full-year revenue, with quarterly revenues expected between $26.7 billion and $27.1 billion.
Anticipating a strong earnings report, Morgan Stanley analyst Rajeev Lalwani on Jan. 19 boosted his price target for BA stock to $450, suggesting a 24% upside, and upgraded his position to a 'Buy' rating. He bases his positive outlook for the stock on the potential of major sales, saying that Boeing could experience "a major surge in the next 12 months on the back of strong commercial airplane sales." Like McKenzie for DAL above, Lalwani has a perfect record when recommending BA shares, with a 6 out of 6 rating returning an average profit of 29%.
Plus this is a stock with a very bullish Street consensus. Boeing is another 'Strong Buy' stock, based on 9 'buy' ratings and 1 'hold. BA's $407 price target yields a 12% upside to the $362 current share price. That's with shares up 13% year-to-date. 
Score a Touchdown with Jim Cramer's Big Game Special
Get access to the best stock picks in Jim Cramer's investment portfolio by executing a two-minute drill on our Big Game Special on Action Alerts PLUS, Jim's VIP club for investors. Sign up now through Feb. 4 and receive 58% off of the normal subscription price. Now that's a real touchdown!
offers exclusive insights for investors by focusing on the moves of experts: Analysts, Insiders, Bloggers, Hedge Fund Managers and more. See what the experts are saying about your stocks now at
. Author: Michael Marcus.