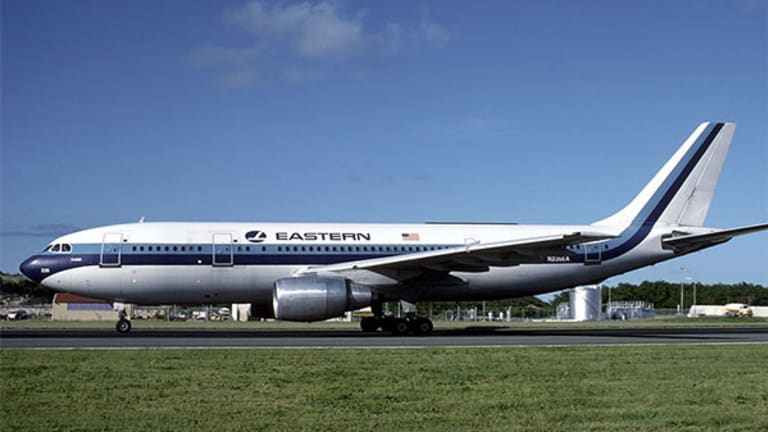 American Airlines Bankruptcy Shaped by Eastern Air Lines Strike 25 Years Ago
The American Airlines bankruptcy case was shaped by the influence of labor, which learned some lessons from the March 4, 1989, Eastern Air Lines strike and subsequent bankruptcy
Miami (TheStreet) -- Twenty-five years ago, on March 4, 1989, the International Association of Machinists struck Eastern Air Lines. Pilots and flight attendants walked out too. The job actions trapped thousands of passengers at Miami International Airport, sent Eastern into bankruptcy five days later and set the stage for 25 years of transformation in the airline industry.
The alteration in airline bankruptcies, from Eastern's to the just completed case of American Airlines (AAL) - Get American Airlines Group, Inc. Report, has been particularly dramatic. In the Eastern case, labor unions opposed nearly everything Eastern management sought to do and were generally a separate voting block on the creditors committee.
In the American case, unions were strategic leaders who worked closely with US Airways to engineer a merger in which US Airways management took over at American. In the American bankruptcy, Laura Glading, president of the Association of Professional Flight Attendants, was a consensus-builder on the creditors committee, which came to back the plan labor preferred.
Read: Why Tesla is Serious About Its European Expansion
"In many ways the Eastern struggle set the course for airline labor relations for the decades that followed," said Mark Richard, a Miami labor attorney who represented flight attendants in the Eastern bankruptcy and the Transport Workers Union in the American bankruptcy.
"Aviation economics, negotiations and even bankruptcy proceedings always labored in the context of the lessons of the Eastern battle," Richard said. In the American case, he said, "We were smart, alert and always trying to be strategic."
Ironically, despite labor's successful transformation into drivers of the American merger, Frank Lorenzo -- labor's key adversary at Eastern -- has also benefited from a re-evaluation of his role.
Read: Tim Cook, Warren Buffett Buck Climate Change
Lorenzo, in fact, may now be viewed as the key architect of the 21st century airline industry. He was the first to use bankruptcy to restructure an airline; now bankruptcies represent a common industry strategy. Combining assets from Eastern and Continental, he started the buildup of the Newark, N.J., hub that became the most profitable hub in the U.S. airline industry. He also redesigned airline fares, introducing both low "peanuts" fares and restrictive, non-refundable fares.
Lorenzo also blazed a path that American CEO Doug Parker followed. Lorenzo started in 1972 at a small, cash-squeezed western airline, Texas International, and 14 years later headed the world's biggest airline holding company.
Similarly, in 2001, Parker took over as CEO of America West, a small, cash-squeezed western airline. It took Parker just 12 years -- two years faster than Lorenzo -- to get to the top of American, the world's largest airline. 

Three unions struck Eastern on March 4, 1989. On March 9, the carrier filed for bankruptcy protection. Thousands of employees crossed picket lines and the airline hobbled along for nearly two years, enabled by a permissive bankruptcy court judge to use its remaining funds to keep flying.
Finally, in January 1991, in its 65th year of operations, Eastern shut down, primarily as a victim of high oil prices, which soared from $16 a barrel in July 1990 to $40 a barrel in September.
During the bankruptcy, unions sought out alternate managements, and eventually Judge Burton Lifland selected Martin Shugrue, a labor-friendly former Pan Am executive, to run the airline as trustee. But in general, labor and other creditors were adversaries throughout the process, with the unions seen as primarily interested in thwarting Lorenzo's plans.
In the American case, as in the Eastern case, three unions worked together. But they also worked with creditors. Glading was the only union leader to attend every creditors committee meeting and she made it a point to bond with other members.
"You can go in there all principled and saying 'this is outrageous and obscene -- the labor unions make sacrifices and the lawyers get rich' or you can go in and try to work with people," Glading said, in an interview conducted for the book
American Plus US Airways: Building the World's Biggest Airline, which will be published by Jefferson, N.C.-based McFarland & Co. and is expected to appear late this year.
"I bonded with everybody, because I went in there thinking I have to know what their interests are too," Glading said. "We needed something where we could all work together, so I tried to recognize their interests and get closer to them."
Over time, she said, she got to know the members of the creditors committee besides the union representatives. "What was great was watching the transformation as they came to understand the employees' role," she said. "At first, they had us in a box as labor unions." Later, understanding and relationships developed.
Read: Marijuana Love Unites Blue and Red States
Cooperation between labor and the creditors committee created an environment that was receptive to the case made by US Airways management. Meanwhile, the ad hoc creditors committee, which held about $2 billion in various AMR debt instruments, some purchased at a steep discount, was focused on securing a high return and then on getting a quick deal.
"Anyone who bought into AMR after the bankruptcy bought at a step discount and made money," said a source who was told of the committee's deliberations. "So they were in a good spot, in a position where they were willing to negotiate and (wanted) a quick deal. There is always a big risk that you will stay in bankruptcy for a long time and the company will fall apart. This case was unique in that the (unions) went behind management's back and, when AMR figured that out, they had to think about doing a deal quickly."
In many ways, it was the opposite of what happened at Eastern.
Looking back on that Saturday 25 years ago, about 9,300 members walked off the job at 12:01 a.m. Most pilots followed them. "Uniformed pilots even established their own picket lines, marching alongside red-shirted machinists," The Miami Herald reported. "Most of Eastern's 3,800 flight attendants also stayed away."
Eastern, then the nation's seventh-largest airline, was able to operate only about 85 flights, or 8% of the total. At Miami International, "Hordes of travelers, many of them unsuspecting innocents who had just disembarked from cruise ships at the Port of Miami, faced long lines and mounting chaos," the newspaper reported.
Meanwhile, leaflet-toting machinists shared cramped airport space with Hare Krishnas. At the Avianca counter, passengers were solicited not only by two machinists by also by Krishna Vijaya Das. "They don't bother us, we don't bother them," Das told the newspaper. "They don't hurt nobody."
Written by Ted Reed in Charlotte, N.C.
To contact this writer, click here.