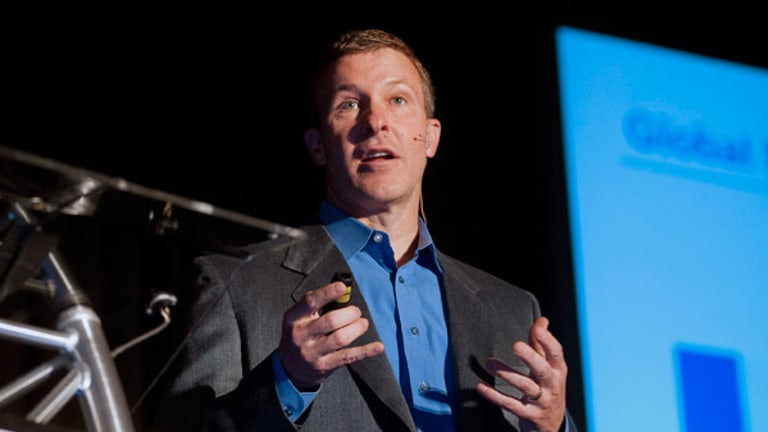 American Air President: 'Don't Call Us Nickel and Dimers'
American Airlines President Scott Kirby says other industries routinely charge fees for services but don't get criticized for doing so.
CHARLOTTE, N.C. (TheStreet) -- American Airlines (AAL) - Get Free Report President Scott Kirby bristled when an airline analyst mentioned that some passengers view airlines as businesses that "nickel and dime" its customers.
"I hate the characterization of ancillary (revenue) as nickel and diming," Kirby said, speaking at the Wolfe Research airline investor conference earlier this week. "I don't think that's what it is."
As an example, Kirby said, "We spend more money carrying bags than we charge in bag fees ... we're not fully passing that on to the customers."
Kirby spoke after Wolfe Research analyst Hunter Keay questioned whether recent improvements in airline industry operational performance give carriers "more freedom to experiment with what (customers) would refer to as 'nickel and diming.'"
The widespread belief of the airline industry is that what customers most desire is on-time performance, not only because they arrive when they expect to but also because on-time performance leads to better baggage handling, fewer missed connections and an overall better experience. In 2012, nearly 82% of all U.S. flights arrived on time, the best total since 2003. The number slipped back to 78% in 2013 as a result of sequestration and bad weather.
Meanwhile, airlines are under assault in some quarters for a reliance on ancillary fees, primarily for checked baggage but also for seat selection and making flight changes after tickets are purchased.
Keay asked whether "running a good operation allows you to take more chances on the ancillary side" and "whether overall complaints about the concept of nickel and diming" have been declining.
First to answer the question was United (UAL) - Get Free Report Chief Financial Officer John Rainey, who declared, "It's nonsensical to charge someone for a bag and then not deliver it on time."
Rainey, accepting the premise of Keay's question, noted that industry on-time performance has improved substantially and noted that "it allows you to do a lot of things including ancillary revenue products."
But Kirby didn't accept the premise that operational performance and ancillary charges are related. Rather, regarding on-time performance, he said, "We just have to do it --it's not optional."
Kirby said that charging extra for extra services is "the way many other business price, (yet) an airline charging ancillaries or extra for extra services gets characterized for nickel and diming ... It's inconsistent with how other industries get characterized."
He added that the airline industry's "regulatory history has not been very good. We're not thought of as an industrial business (by) regulatory." At the moment, he said, the best airlines can hope for from the government is that it "do no harm."  
On Wednesday, the day after the investor day event, the U.S. Transportation Department proposed new regulations that would require carriers to provide more detailed fee information including extensive details of bag fees wherever customers buy tickets, which is to say online, where most tickets are purchased either from airlines or from online ticketing services.
The airline industry, reflecting Kirby's comments, views the new regulations as singling out one sector of the economy for unique pricing regulations.
Airlines for America, the industry trade organization, said, "The government does not prescriptively tell other industries (hotels, computer makers, rental car companies) how they should sell their products, and we believe consumers are best served when the companies they do business with are able to tailor products and services to their customers."
On Thursday, the Air Line Pilots Association publicly sided with the airlines. It said, in a proposed statement, that the DOT's 118-page proposal "claims to benefit the traveling public (but in fact) the regulatory burden may potentially increase airfare costs for consumers and/or reduce air service."
Written by Ted Reed in Charlotte, N.C.

To contact this writer, click here.
>>Read More: Exclusive: United Pilots to CEO - 'Lead or Get Out of the Way'
>>Read More: Ads in American Air's Charlotte Hub Are Aimed at Anthony Foxx
>>Read More: American Airlines Merger Pleases One Union Group: The Flight Attendants