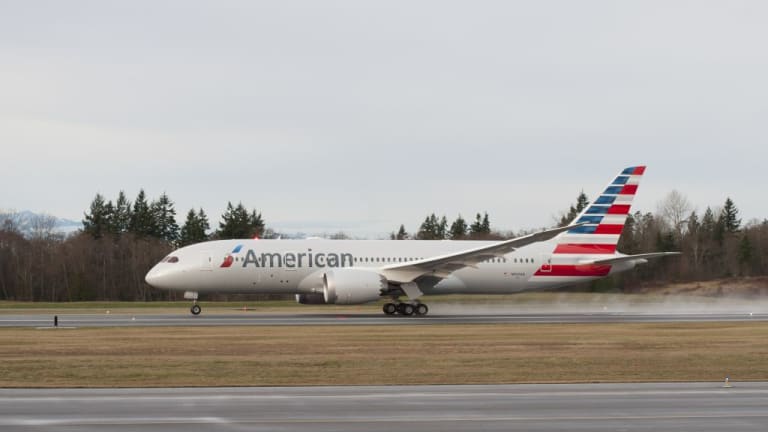 American Air Could Better Utilize Boeing 787s if Contract Passes
American Airlines, which took possession of its first Boeing 787 on Friday, would have more flexibility in scheduling the aircraft on long-haul routes if pilots approve a tentative contract agreement.
NEW YORK (TheStreet) -- As American Airlines (AAL) - Get American Airlines Group, Inc. Report eyes new Pacific routes, quite possibly routes that take advantage of the unique capabilities of the Boeing (BA) - Get Boeing Company Report 787 Dreamliner, it is awaiting the results of an ongoing vote on a new pilot contract that would provide more flexibility in pilot scheduling on long-haul Pacific routes.
A change in a contract clause, proposed by American, would allow the carrier to count pilot time on a different clock than it currently uses, enabling more flexibility and therefore more flying on the 787 and other long-haul aircraft.
The issue is the company's effort to eliminate HBT, or the home base time clock, and to replace it with a Federal Aviation Administration standard that says pilots are acclimated to local time if they are given at least 36 hours of rest within that time zone.
Under the FAA standard "if you fly long-haul, you have crew rest at the base you fly to," the pilot said. "And as soon as you hit 36 hours, you are acclimated."
Long-haul Pacific flights typically require crews of four pilots. But even then, because the HBT rule limits a pilot's on-duty time, it is not feasible to schedule the flights with the operational reliability required, due to the enhanced possibility that an irregularity could cause a pilot to time out.
Contracts at both Delta (DAL) - Get Delta Air Lines, Inc. Report and United (UAL) - Get United Airlines Holdings, Inc. Report  are more closely aligned with the FAA standards, although they have some contractual restrictions.
The Allied Pilots Association, which represents American pilots, has compiled a list of seven hypothetical routes that American could fly using the FAA standards. The routes, which require return flights of 15 to 16 hours, generally involve trips from American international bases in Dallas, Los Angeles, New York and Philadelphia to China and Australia.
American took possession of its first 787 on Friday. On Tuesday, on the airlines's fourth-quarter earnings call, President Scott Kirby said American plans more trans-Pacific from LAX, but he declined to say what routes the 787 will fly.
On Friday, around noon, APA will announce the results of voting on the tentative contract. It is widely expected to pass.
-- Written by Ted Reed in Charlotte, N.C.
To contact this writer, click here.
This article is commentary by an independent contributor. At the time of publication, the author held no positions in the stocks mentioned.