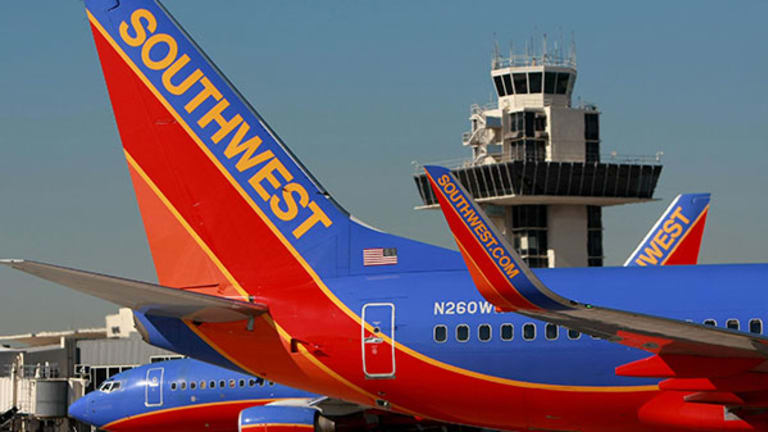 American Air and Southwest Selloffs are Misguided, Analyst Says
American Air and Southwest have both suffered double-digit selloffs since May 19. A veteran analyst says investors are overdoing it.
NEW YORK ( TheStreet) -- A veteran airline analyst said Wall Street's overreaction has triggered double-digit declines in shares of most major airlines over the past 10 days.
Since May 19, shares in American (AAL) - Get Free Report, Delta (DAL) - Get Free Report, Southwest (LUV) - Get Free Report , Spirit (SAVE) - Get Free Report and United (UAL) - Get Free Report have all shown double-digit declines.
Two key events occurred on May 19. First, Southwest CEO Tammy Romo nudged up the carrier's growth rate guidance from 7% to between 7% and 8%. Also, American CEO Doug Parker said American would "compete aggressively" on price with low-fare carriers.
Referring to the remarks by Romo and Parker, Imperial Capital analyst Bob McAdoo said, "In our opinion, investors and some sell-side analysts appear to be misunderstanding these comments and seem to be concerned that management teams have lost discipline in light of lower jet fuel prices. We disagree."
A May 26 story on TheStreet, titled "4 Biggest Mistakes Wall Street Makes When It Looks at Airlines" reflected similar views.
In a report issued Thursday, McAdoo said "most current capacity levels were planned well before the decline in jet prices," particularly Southwest's decision to grow at Dallas Love Field and to use slots at Washington National freed up by divestitures as part of the American/US Airways merger.
During the current quarter, "most carriers will likely report earnings that are 40%-50% higher than their previous historic best quarters," McAdoo wrote.
The selloff, McAdoo said, has created buying opportunities: He has outperform ratings on American, Delta, JetBlue (JBLU) - Get Free Report Southwest and Spirit.
Regarding American's matching, McAdoo looked at fares from Dallas/Fort Worth to Washington National. In the fourth quarter of 2013, American had an average fare of $237 and sold 16% of tickets for below $100. In the fourth quarter of 2014, after Southwest entered the Love Field-Washington National market, American had an average fare of $209 and sold 32% of tickets below $100, while Southwest had an average fare of $100 and sold 52% of tickets for below $100.
But Dallas-National fares are rising. "As these new non-stop routes have matured and the market has adjusted to the increased capacity, Southwest fares are returning to more normal levels." In June 2015, McAdoo said, only 12 days have fares under $100. In July, no days have tickets sold for under $100 and in August, only seven days have fares selling for only $100. "The current scarcity of heavily discounted promotional fares seems to be largely consistent across Southwest's maturing markets," he wrote.
McAdoo said Parker's warning about matching fares "should be viewed as just that, a warning/reminder to competitors but not a cause for investor concern." He noted that fares on the handful of competitive flights doesn't have much impact given American's 7,000 daily flights.
He also noted that Southwest capacity gains partially reflect the carrier's replacement of some Dallas-Houston flying with longer Dallas-Florida flying, which adds available seat miles to the overall total. He noted that Southwest is also pulling capacity from routes that have not worked. The carrier had dropped service from National to Akron, Ohio and Ft. Meyers, he said, and has eliminated 14 weekly trips between Dallas and National.
This article is commentary by an independent contributor. At the time of publication, the author held no positions in the stocks mentioned.