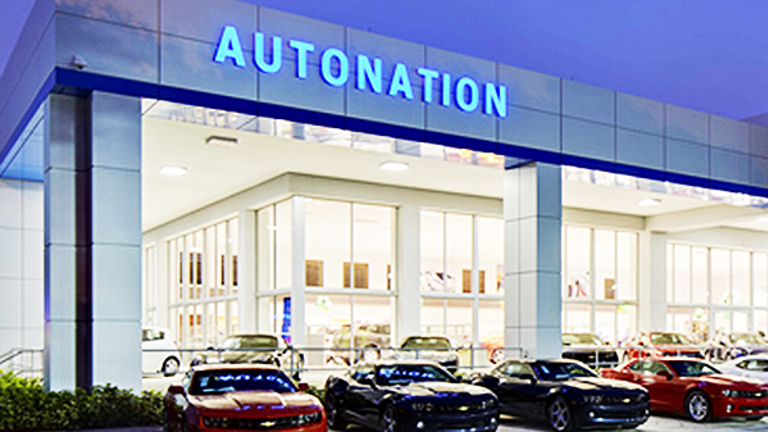 Auto sector bulls may want to take a read through AutoNation's (AN) - Get AutoNation, Inc. Report mixed first quarter results. 
America's largest auto retailer reported flat revenue and gross profits for the quarter on Tuesday. Revenue came in at $5.14 billion, missing analyst estimates for $5.34 billion. Earnings tallied 97 cents a share, surpassing forecasts for 90 cents a share. 
Shares of AutoNation fell 0.5% to $43.86 in Tuesday's trading session. 
Sales of new vehicles fell 0.1% to $2.79 billion, while used car sales also dropped by 0.1% to $1.2 billion. Ford (F) - Get Ford Motor Company Report saw the biggest drop in units sold among American brands with an 8.6% drop. Total domestic units sold fell 1.4%. Sales of imports were unchanged vs. the prior year. 
AutoNation's outspoken chairman and CEO Mike Jackson chose to stay upbeat on the industry's prospects for the year. 
"Most people it has been four, five six years since they've been in a showroom, and they are absolutely amazed at the new technology -- it's a big reason why they step up and buy a new car," Jackson said, hinting the continued advance in car technology -- from autonomous driving features to voice controls -- would keep demand reasonably healthy. 
Recent data would suggest otherwise, however.
Automakers sold 1.56 million new cars and trucks in March, a 1.6% drop compared with the same month a year ago. At an annualized run rate of 16.6 million cars and trucks, 2017 is on pace to trail the record 17.54 million vehicles sold last year.