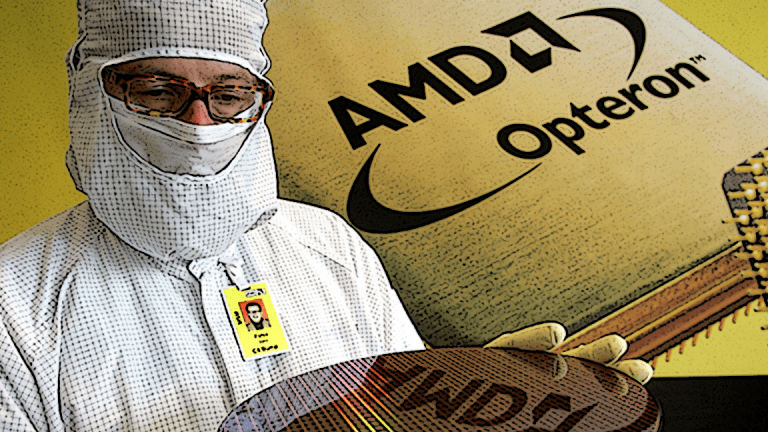 Publish date:
AMD Stock Spikes on Renewed Takeover Chatter
AMD shares haven't rallied this hard intraday since Jan. 3.
AMD shares haven't rallied this hard intraday since Jan. 3.
Advanced Micro Devices Inc. (AMD) - Get Report  is rallying Wednesday, March 7, on rumors it might once again be the subject of a takeover bid.
AMD shares jumped more than 4% to $12.24 by the market close Wednesday on trading volume more than double AMD's average. Earlier in the session, AMD stock was higher by as much as 9%, AMD's biggest single-day climb since Jan. 3.
The sharp increase in the stock prices comes amid unsubstantiated takeover chatter that has been making the rounds among traders Wednesday, according to a number of news outlets. This wouldn't be the first time AMD has become the subject of takeover rumors -- the chipmaker's stock surged in October 2017 on similar rumors.
As the possibility of a takeover sent shares soaring, AMD's total call option volume reached a level more than twice the 20-day average, according to Bloomberg data.
On Wednesday, 20,000 April $13 calls appear to have been sold for about $1.17 vs. open interest of about 64,900, Bloomberg found. At the same time, 20,000 April $13 puts appear to have been bought for $1.37 vs. open interest of about 43,100. Within a minute and a half of the options trades, 2 million shares of AMD traded for about $12.77.
AMD stock has fallen more than 8% in the last 12 months but has rallied more than 19% since the start of this year.
TheStreet has reached out to AMD for a comment, but at time of publication had not yet heard back.