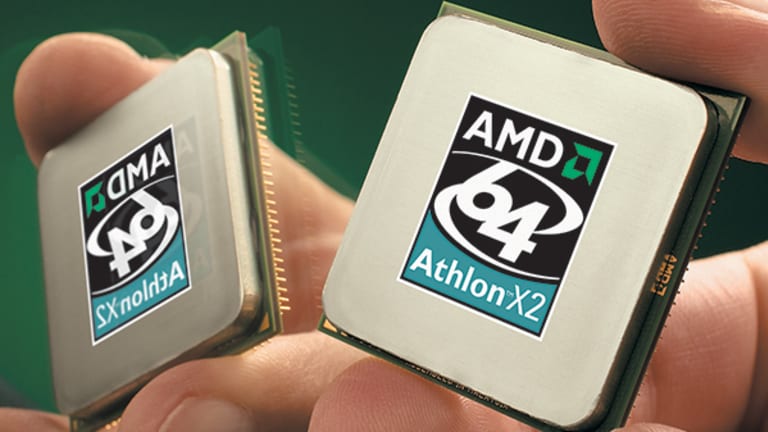 AMD Shares Crash Following Weak Earnings Guidance, Wall Street Downgrade
Analysts appeared disappointed by AMD's conservative earnings outlook, following optimism about a deal with rival Intel.
Analysts appeared disappointed by AMD's conservative earnings outlook, following optimism about a deal with rival Intel.
Shares of Advanced Micro Devices (AMD) - Get Report were riding high on Tuesday on optimism about a rumored licensing deal with rival Intel (INTC) - Get Report  but high times were short-lived.
Shares of AMD plummeted 12%, or $1.55 per share, on Wednesday after the chipmaker gave earnings guidance that largely fell short of analysts' expectations in a meeting with analysts. Shares had risen about 11% on Tuesday. 
AMD said it expects to see earnings of more than 75 cents per share by 2020, as well as low double digit revenue growth and 34% gross margins in 2017. Bernstein analyst Stacy Rasgon said in a note to clients on Wednesday that he believes most analysts were guiding for EPS of more than $1 by 2018, so AMD's forecast was likely viewed as disappointing by most.
"Perhaps they are being conservative (this might be frankly wise; we remember well the negative pre-announcement that followed only a few weeks after the last analyst day)," Rasgon wrote. "But so far they have yet to demonstrate any inflection vs. expectations (the tone of the day was perhaps hopeful, but not certainly bold)."
The semiconductor giant also declined to comment on reports of a licensing agreement reached with Intel that would give it access to AMD's graphics intellectual properties. Intel may be looking to work with AMD because its seven-year licensing agreement with Nvidia (NVDA) - Get Report ended in March. But Loop Capital analyst Betsy Van Hees said on Wednesday that she doesn't think the deal will come to fruition. Van Hees on Wednesday downgraded AMD's stock to Hold from Buy, citing the company's in-line long-term financial model.
"We believe with Intel having 106,000 employees vs. AMD's 8,200 (as of December 2016) and rights in perpetuity (i.e. forever) to every one of Nvidia's GPU patents...that Intel does not need AMD's GPU IP and think it's very unlikely Intel will strike a licensing deal with AMD," Van Hees explained. 
Other analysts weren't as deterred by the earnings forecast, however, believing that AMD's strong product pipeline could lead to earnings upside and higher gross margin targets in the near term. AMD CEO Lisa Su unveiled the company's upcoming Epyc CPU, aimed at unseating Intel's controlling hold on data centers, a market that Su described as being "the single biggest growth opportunity in chips." Epyc is expected to be released in June. 
The company also provided some benchmarks on how its Ryzen desktop products have been shipping since being launched in March, a product that Rasgon believes will help AMD re-enter the premium market and expand its margins. 
"While skepticism around AMD to execute will and should remain, we have all seen the leverage a model can have if the company begins to show success in the data center, both on the GPU, as well as the server side," said BMO Capital Markets analyst Ambrish Srivastava. "Additionally, we believe there is a high likelihood that the company has additional IP licensing opportunities in the pipeline that could potentially materialize and that are not captured in the long-term EPS target."
This article was originally published at 10:07 am ET and has been updated.
More of TheStreet's top stories:
Here's How Home Depot Is Trying to Destroy Dying Sears
The Reckoning: S&P 500 Has Worst Day Since September on Latest Trump Scandal
AMD Shares Continue to Plummet Following Weak Earnings Guidance, Downgrade