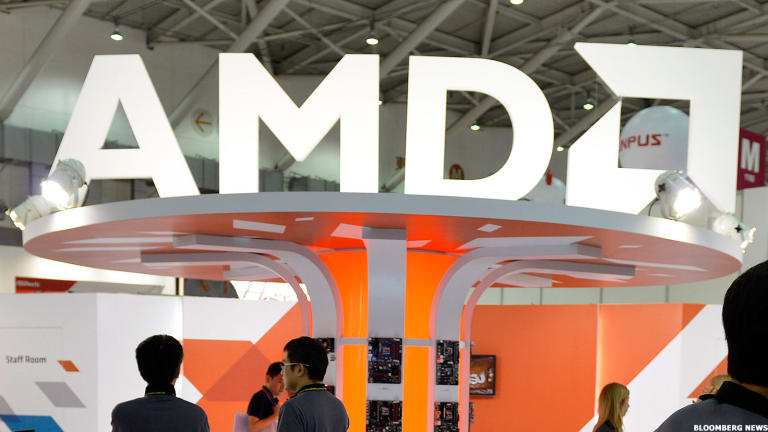 AMD's Zen Chips Should Breathe New Life Into Its Longtime Rivalry With Intel
After years of bleeding share to Intel, AMD's new Zen architecture gives it a chance to fight back.
Less than a year removed from looking dead in the water, AMD (AMD) - Get Advanced Micro Devices, Inc. Report is now bearing many signs of a turnaround story. The story got fleshed out a little more on Thursday, as the chipmaker shared details about a CPU architecture that could make its age-old battle with Intel (INTC) - Get Intel Corporation (INTC) Report more interesting than it has been in years.
At a San Francisco event, AMD made impressive performance claims for Summit Ridge, a desktop CPU line that will feature the first chips based on the company's long-anticipated Zen architecture. It also showed off a server running upcoming Zen-based server CPUs codenamed Naples -- the chips will support a massive 32 cores and 64 threads -- and promised that APUs (accelerated processing units) pairing Zen cores with a GPU (graphics processing unit) will launch in the second half of 2017. The latter move should allow Zen to expand into the notebook market.
Zen, whose launch has been slightly delayed to early 2017 from late 2016, is promised to deliver a 40% improvement in instructions per clock cycle (IPC) over the Excavator cores used in current desktop and server CPUs, while delivering similar power consumption. In an AMD demo, an 8-core, 16-thread Summit Ridge CPU outperformed a comparable chip in Intel's recently-launched Broadwell-E high-end desktop CPU line.
Two caveats: A chipmaker's own benchmarks and demos can often be misleading --- just take a look at Nvidia's recent dispute with Intel -- and by the time Summit Ridge launches, the Broadwell-E line may have been succeeded by chips based on Intel's newer Skylake architecture. Still, after years of seeing Intel's most advanced architectures run circles around AMD's, the test is a welcome sight for both AMD fans and anyone wanting to see a more competitive PC CPU market.
Aside from what seems to be very good engineering work -- the Zen team was led by the highly-respected Jim Keller until he recently left AMD for Tesla -- Zen benefits from the fact that Intel's historical manufacturing process lead has been narrowed by the foundries AMD and many other Intel rivals rely on. Like Broadwell and Skylake, the first Zen parts will be made using a 14-nanometer manufacturing process.
Moreover, Intel is now slowing the pace at which it rolls out CPU architectures based on new processes. Whereas the company historically launched two architectures per process, it plans to launch a third 14-nanometer architecture (Kaby Lake) this fall, before rolling out a 10-nanometer architecture (Cannonlake) about a year later. This change of pace could eventually allow AMD, aided by foundry partners Globalfoundries and Samsung (SSNLF) , to roll out chips based on next-gen process nodes as quickly as Intel, if not sooner.
The Zen reveal is one of several positive AMD stories to arrive this year. The company's console processor business has received a boost from Sony's (SNE) - Get SONY GROUP CORPORATION SPONSORED ADR Report pending launch of a more powerful PlayStation 4, and is expected to get a lift next year from the launch of a more powerful Xbox One.
Meanwhile, its flagging GPU business is benefiting from the launch of its Polaris GPUs, which make AMD more competitive in the mid-range desktop market -- Nvidia (NVDA) - Get NVIDIA Corporation Reportstill dominates the high-end -- and reportedly will be offered as an option in Apple's next-gen MacBook Pros. And in April, the company struck a deal to create a Chinese server chip JV that's expected to yield $293 million in license fees.
Markets have definitely noticed: Following today's roughly 4% gain, AMD's once-depressed shares are up 144% on the year, and at their highest levels since early 2012. With the company still trading for a moderate 1.7 times estimated 2016 sales after factoring in net debt, there might be more room to run if Zen lives up to its promise.