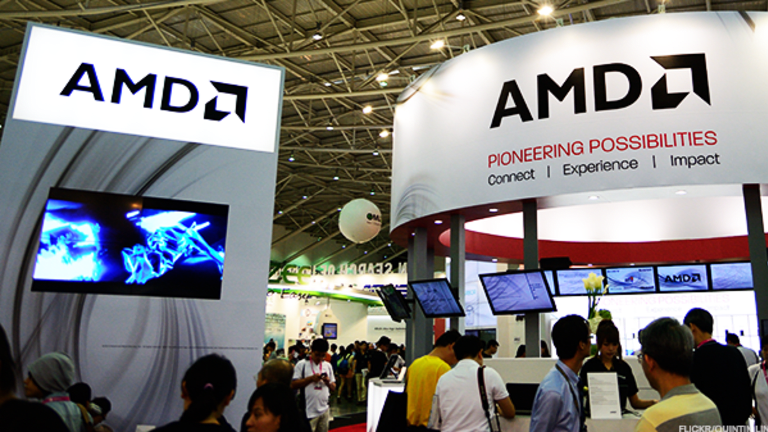 AMD's Strong Guidance Points to Market Share Gains and More Could Be On the Way
As the chipmaker takes aim at markets that Intel and Nvidia have long dominated, its aggressively-priced products simply need to be 'good enough' to find buyers.
Three months ago, AMD Inc. (AMD) - Get Advanced Micro Devices, Inc. Report fell sharply after providing second-quarter and full-year guidance that at the time felt conservative. A couple weeks after that, shares took another tumble in the wake of AMD's analyst day, partly due to disappointment over a cautious 2020 EPS forecast.
The CPU/GPU maker's strong Q2 results and Q3 guidance, along with its full-year guidance hike, certainly point to rosier business conditions than what AMD's prior forecasts suggested. And depending on how upcoming product launches go, things could look better still by year's end.
After the bell on Tuesday, AMD reported Q2 revenue of $1.22 billion (up 19% annually) and adjusted EPS of $0.02, beating consensus analyst estimates of $1.16 billion and $0.00. It also guided for Q3 revenue to be up 23% sequentially, plus or minus 3%. At the midpoint, this implies revenue of $1.5 billion, up 15% annually and above a $1.39 billion consensus.
In addition, AMD says it now expects full-year revenue to be up by a mid-to-high teens percentage, better than a prior (conservative) outlook for low-double digit growth. This is in spite of the fact that AMD forecasts its large semi-custom business, which mostly involves PlayStation 4 and Xbox One processor sales, will be down relative to 2016 due to a mature console cycle. For now, the company is still forecasting a full-year gross margin of 34%, up from 2016's 31%.
Shares rose 10.8% in after-hours trading to $15.64, slightly taking out a 52-week high of $15.55 (set in late February) along the way. Shares continued to gain on Wednesday. GPU archrival Nvidia Corp. (NVDA) - Get NVIDIA Corporation Report  OEMs, budget-conscious gamers and (notably) cryptocurrency miners clearly have much to do with the company's recent top-line performance. Though Nvidia's Pascal-architecture GPUs still dominate the high-end gaming segment, AMD's GPU sales are said to have risen by a "strong double-digit percentage" annually, with both units and average selling prices (ASPs) rising.
Apple Inc.'s (AAPL) - Get Apple Inc. Report  June launch of new iMac and MacBook Pro models sporting Polaris GPUs is certainly helping. So is torrid demand from Ethereum miners: While the most powerful Polaris desktop solution, the Radeon RX 580, featured a $229 suggested retail price when it launched in April, RX 580 cards typically sell for much more than that right now amid tight supplies.
Jim Cramer and the AAP team hold a position in Apple for their Action Alerts PLUS Charitable Trust Portfolio. Want to be alerted before Cramer buys or sells AAPL? Learn more now.
There is a real risk that mining-related demand will plummet (as it did a few years ago) if Ethereum prices fall further and/or if mining becomes less profitable due to a surge in the number of people doing it, something that could lead the aftermarket to be flooded with used Polaris cards. But if that happens, AMD might be able to keep its GPU momentum going with the upcoming launch of PC GPUs based on its next-gen Vega architecture.
Two Vega products that respectively target creative pros and AI developers, the Radeon Vega Frontier Edition and the Radeon Instinct MI25, recently began shipping. And a flagship desktop gaming GPU, the Radeon RX Vega, is due to be unveiled next week at the SIGGRAPH graphics conference. If the RX Vega can deliver performance that's within striking distance of Nvidia's high-end GeForce GTX 1080 Ti GPU -- never mind its flagship Titan Xp GPU -- it should meaningfully expand AMD's addressable market. Nvidia will inevitably counter with GPUs based on its new Volta architecture (arriving first for servers), but the launch date for Volta-based PC GPUs is still unknown.
More of What's Trending on TheStreet:
Healthy uptake for AMD's Ryzen 7 and 5 high-end and mid-range desktop CPUs are also providing a lift, and -- with many big PC makers launching Ryzen systems ahead of the back-to-school season -- likely had much to do with the company's Q3 guidance. With Ryzen chips pretty competitive with comparable Intel Corp. (INTC) - Get Intel Corporation ReportCore i5 and i7 CPUs on a price/performance basis for many demanding applications, AMD's PC CPU sales also managed to rise by a "strong double digit" annual clip. ASPs ticked lower sequentially due to lower notebook processor pricing, but rose "significantly" annually.
The August launch of AMD's top-of-the-line Ryzen Threadripper CPUs should act as another growth driver. Intel is countering with its new Core i9 desktop line, but the most powerful Core i9 chips aren't due until October. AMD is also set to launch notebook chips that pair a Ryzen CPU with a Vega GPU in time for the holiday season; no launch date has been given yet. Around the same time, Intel will be launching CPUs based on its next-gen Coffee Lake architecture.
Together, Ryzen and Polaris demand led sales for AMD's Computer and Graphics segment (PC CPUs + GPUs) to rise 51% to $659 million, with the unit swinging to a $7 million operating profit (its first profit in three years) from an $81 million loss. That more than offset a 5% drop in Enterprise, Embedded and Semi-Custom revenue to $563 million on account of lower console-related sales; the segment's operating profit fell by 50% to $42, partly due to high server CPU R&D spend.
The customer receptions for Vega, Ryzen Mobile and AMD's just-launched Epyc server CPUs will do much to determine whether AMD can top its revised full-year guidance. And there are certainly question marks surrounding each product line.
Vega has to contend with the giant lead that Nvidia, backed by a huge GPU R&D budget, has amassed in the high-end gaming GPU market, and in time an anticipated Volta launch. Ryzen Mobile will not only have to deliver good price/performance relative to rival Intel chips, but also competitive battery life (a long-time priority for Intel's notebook efforts). And Epyc will have to deal with Intel's extensive new Xeon Scalable CPU line, as well as the advantages Intel maintains in areas such as complementary products, software ecosystem and brand/reputation, all of which matter to enterprises.
A Stock Analyst Thinks Apple's iPhone 8 Release Will Resemble a Snake Eating a Pig
But there are also reasons to be cautiously optimistic, given AMD should have room to undercut Nvidia and Intel product lines that have held monopoly-like positions (and seen the related pricing benefits). There are also some other selling points: For example, Ryzen Mobile's integrated GPUs are likely to outperform Intel's integrated GPUs, and Epyc comes with good raw specs and supports features on single-CPU servers that Intel has traditionally reserved for multi-CPU servers.
And given its relative size, AMD doesn't need these products to challenge Nvidia and Intel's leadership positions in the markets they target. It simply needs them to be competitive enough to take meaningful share with the help of aggressive pricing.
The company's latest numbers, and what they signal about products launched this winter and spring, suggest it's already having more success at producing those kinds of share gains than it has in years.
Watch More from TheStreet:
Sorry Zuckerberg, Elon Musk Still Thinks Artificial Intelligence Is a Huge Problem