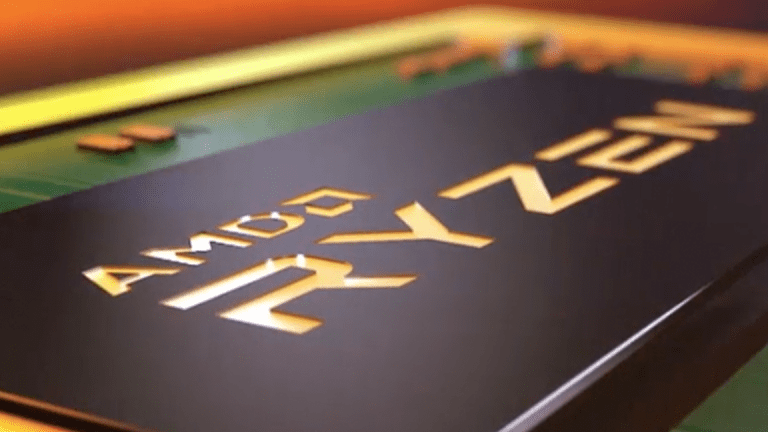 AMD's Results and Guidance Provide Reasons for Cautious Optimism
The chipmaker is finally taking some PC and server CPU share, and cryptocurrency miners and Apple are providing a nice lift to its GPU sales.
Once one gets past some confusing accounting changes, AMD's (AMD) - Get Report Q4 report and earnings call were fairly encouraging. Particularly in terms of what they signal for its server CPU and (for now) PC GPU businesses.
AMD reported Q4 revenue of $1.48 billion (up 34% annually) and adjusted EPS of $0.08, topping consensus analyst estimates of $1.41 billion and $0.05. The company also guided for Q1 revenue of $1.55 billion (plus or minus $50 million), which is well above a $1.25 billion consensus.
Guidance wouldn't have been as far above consensus, however, if AMD wasn't switching to ASC 606 accounting starting in 2018. By affecting the timing of revenue recognition for certain semi-custom (console processor) orders, CPU and GPU sales to channel partners and R&D/licensing deals, the switch serves to boost Q1 sales and lower Q4 sales, albeit without having a big impact on full-year revenue.
On the earnings call, CEO Lisa Su suggested console processor revenue timing lifted Q1 guidance by about $100 million. But as AMD is eager to note, the guidance would still imply 32% annual sales growth if ASC 606 had also been used in the year-ago period. That's a little better than a consensus estimate for 27% sales growth based on the old ASC 605 accounting rules.
AMD shares initially fell sharply following its Q4 report, but gradually recovered its losses as investors digested the net impact of the accounting change. They closed after-hours trading up 0.6% to $12.95.


AMD landed plenty of PC and server design wins last year.
Possibly keeping shares from rallying for now: In spite of the Q4 beat and healthy Q1 outlook, AMD is only guiding for "double digit" 2018 revenue growth. The pre-earnings consensus already called for revenue to rise 11% in 2018 to $5.93 billion.
Gross margin, which was at 34% in 2017, is expected to be above 36% this year. Operating expenses, though due to rise in dollars, are expected to drop as a percentage of revenue to 28% from 30%.
Contributing to the (potentially conservative) sales outlook: AMD expects semi-custom revenue to drop this year due to console cyclicality. Microsoft's (MSFT) - Get Report Xbox One and Sony's (SNE) - Get Report PlayStation 4 are now more than four years removed from their original launches, and unlike in 2016 and 2017, AMD isn't expected to get a boost from the launch of a 4K-capable Xbox or PlayStation sporting a more powerful processor.
Declining semi-custom sales led AMD's Enterprise, Embedded & Semi-Custom (EESC) reporting segment to post Q4 revenue of $522 million, below a $535 million consensus. However, the segment still managed to see 3% sales growth thanks to growing sales of AMD's Epyc server CPUs. Though trailing Intel's (INTC) - Get Report dominant Xeon franchise -- it had a very strong Q4 -- in areas such as product line breadth, software support and complementary offerings, Epyc's competitive specs and aggressive pricing, together with novel encryption features and support for features on single-CPU servers that Intel reserves for larger servers, have won it some fans.
Given how long it takes enterprises and cloud providers to qualify new server platforms, it's still early days for Epyc's sales ramp. However, Su said AMD "closed dozens of new server deals" in Q4, and forecast there will be "significant revenue from Epyc" during the second half of 2018. She added AMD's goal is to achieve a mid-single-digit server CPU unit share by year's end.
Microsoft and Baidu (BIDU) - Get Report have begun offering cloud clients access to Epyc-powered servers, and (since patches meant to address hurt the performance of Intel CPU for certain server workloads) the Meltdown and Spectre security threats gives Epyc a fresh selling point. "It normally takes three quarters for anything in the datacenter to kick in and we are seeing evidence of Epyc and datacenter graphics hitting, all goodness for AMD," remarked tech analyst Patrick Moorhead in response to AMD's report.
Meanwhile, AMD's Computing & Graphics (C&G) segment, which is driven by PC CPU and GPU sales, had a stellar quarter. Sales rose 60% annually to $958 million, easily beating an $863 million consensus. Solid demand for Ryzen desktop CPUs helped -- with Intel having reported its desktop sales fell 8% in Q4, it looks like Ryzen took meaningful share -- as did growing desktop and notebook GPU shipments to Apple (AAPL) - Get Report .
Cryptocurrency miners also provided a lift. Su noted about one-third of the $140 million in sequential sales growth seen by the C&G segment stemmed from crypto mining. With many popular GPUs still in short supply, AMD should also get a healthy Q1 boost from miners. Su states AMD is ramping GPU production in response to graphics card shortages, while adding tight graphics memory supplies remain a challenge.
It's not a given, of course, that crypto demand will remain this strong as 2018 progresses. Even if for the time being, the fact that Ethereum (the cryptocurrency mined most frequently via GPUs) hasn't seen the kind of selloff that Bitcoin (far more likely to be mined via ASICs) has witnessed has helped prop up demand. Crypto uncertainty, along with the expected console processor declines, are likely the main reasons AMD's full-year sales guidance is pretty cautious.
There are some additional risks, however. Intel, which launched a limited number of 8th-generation desktop and notebook CPUs in the second half of 2017, is expected to soon launch dozens of additional 8th-gen chips. With the 8th-gen chips that have launched to date often delivering 25%-plus performance gains over comparable 7th-gen chips in benchmarks, that spells tougher competition for Ryzen. Even after accounting for the upcoming launch of 12-nanometer Ryzen chips that will deliver moderate performance gains (past remarks suggest around 10%) relative to existing chips relying on a 14-nanometer process.
Also: Nvidia (NVDA) - Get Report , whose Pascal-architecture GPUs still claim the performance crown in the high-end gaming market and also have an edge against AMD's Vega-architecture GPUs in power consumption, is expected to launch gaming GPUs based on its newer Volta architecture in the coming months. AMD might not have a major response until GPUs based on its Navi architecture (possibly not due until 2019) arrive.
But overall, AMD's results and guidance offer reasons for cautious optimism. Until we see new Intel and/or Nvidia products start putting a major dent into its top line, or until we see crypto mining demand collapse and the graphics card aftermarket to be flooded with supply as a result, the company has a credible formula in place for posting double-digit 2018 sales growth.
Jim Cramer and the AAP team hold positions in Nvidia, Apple and Microsoft for their Action Alerts PLUS Charitable Trust Portfolio. Want to be alerted before Cramer buys or sells NVDA, AAPL or MSFT? Learn more now.
More of What's Trending on TheStreet: