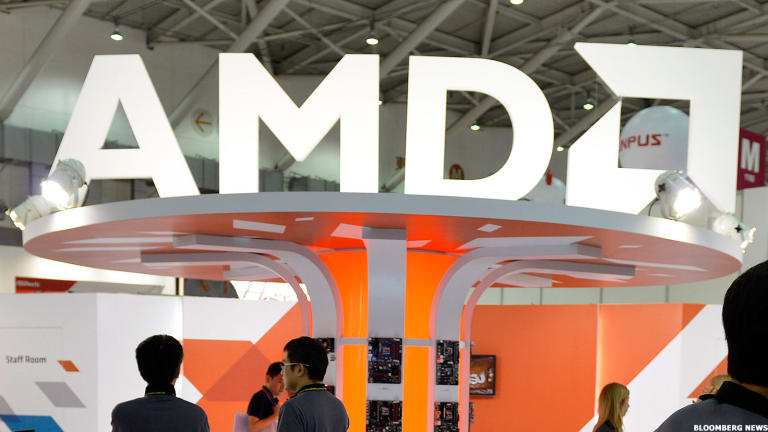 AMD's Newest Products Confirm Its Turnaround, But Predicting the Future Isn't Easy
The chipmaker's newest server and graphics chips look promising, but Intel and Nvidia aren't standing still, either. Thus it's choosing to guide cautiously.
To call Tuesday's analyst day a big one for AMD (AMD) would be quite the understatement. Over the course of a few hours, the company announced its most competitive server CPU in years, its first product for a highly anticipated GPU architecture and a 16-core monster of a high-end desktop CPU. And it revealed its long-term financial targets.
The market's initial reaction has been negative. Shares fell over 11% on Wednesday, after rising 11.5% yesterday ahead of the analyst day following a fresh report that Intel (INTC) would be licensing AMD's GPU intellectual property. Not surprisingly, AMD declined to comment on the Intel report.
Wednesday's selloff clearly has a lot to do with disappointment -- following a massive 15-month run-up that saw shares rise from under $2 to near $13 -- over the fact that AMD is only promising its 2020 EPS will be above $0.75. What markets might not fully appreciate, however, is how much caution is baked into this target due to the difficulty of gauging the future sales of AMD's newest platforms as they deal with inevitable countermoves from Intel and Nvidia (NVDA) .
AMD's own long-term outlook.
AMD's Epyc server CPU (formerly codenamed Naples) might be its most anticipated new offering. Epyc puts four 8-core chips inside of the same package to provide 32 cores and the ability to handle 64 simultaneous instruction threads. Like the very popular Intel Xeon E5-2600 series CPUs it takes aim against, Epyc can be used in single and dual-processor servers.
AMD reiterates that Epyc's 32 cores exceed the 22 provided by the most powerful Xeon E5-2600 part, and that it delivers 122% more memory bandwidth and 60% more PCI Express lanes for communicating with things like solid-state drives (SSDs), Ethernet adapters and accelerator cards. And it's safe to assume that AMD will price Epyc to undercut to Intel's high-margin offerings. With cloud giants having all but standardized on the Xeon E5 line, AMD makes a point of noting that cloud storage provider Dropbox is evaluating Epyc.
Editors' pick: Originally published May 17.
But Intel is just a few months away from starting a big Xeon refresh, replacing two CPU platforms (codenamed Grantley and Brickland) based on its Broadwell architecture with one platform (codenamed Purley) based on its newer Skylake architecture. The most powerful announced Skylake Xeon chip features 28 cores, but a benchmark leak suggests a 32-core chip could also arrive.
Notably, Intel is revamping how it segments and brands Xeon CPUs. Instead of placing chips within its Xeon E3 (low-end), E5 (mainstream) and E7 (high-end enterprise server) lines, they'll now be placed within processor families labeled Bronze (entry-level), Silver (low-power), Gold (mainstream) and Platinum (top of the line). Intel argues this approach gives it more flexibility to address customer needs -- for example, it can now sell cloud firms using the E5 line chips with features previously reserved for the E7 line.
Whereas AMD has only one Epyc CPU for now, Intel offers dozens of Xeon CPUs optimized for various needs, as well as provide custom parts to major cloud clients. It's also able to provide many complementary solutions, such as Xeon Phi co-processors for handling analytics and machine learning workloads, a high-speed server interconnect fabric known as Omni-Path, SSDs based on the company's Optane next-gen memory and packages that pair a Xeon CPU with an FPGA that can be programmed on the fly to support new algorithms. In addition, Intel's server dominance has led software giants such as Microsoft (MSFT) , Oracle (ORCL) and VMware (VMW) to optimize their products for Xeon CPUs.
Thus while Epyc's specs look promising, taking significant share from Xeon isn't simply a matter of putting out a CPU with some good benchmark scores. And with Intel's Data Center Group (DCG) a company priority, the battle won't get any easier in the future. In February, Intel forecast DCG's R&D spend would rise 25% from 2015 to 2017. It also signaled that in the coming years, new manufacturing processes will be deployed on server CPUs before they're deployed on PC CPUs.
On the GPU front, AMD unveiled the Radeon Vega Frontier Edition, the first graphics card based on the Vega GPU architecture. When it ships in late June, the Frontier Edition won't target gamers -- it looks as if a high-end Vega gaming GPU will be unveiled on May 31 at the Computex trade show -- but rather at high-end systems used by creative pros, researchers and developers. It competes against Nvidia's Quadro workstation GPU line. Another product, known as Radeon Instinct, targets server AI workloads and will compete against Nvidia's fast-growing Tesla server GPU line.
AMD claims the Frontier Edition can deliver 13 teraflops of single-precision performance, which slightly beats the 12 teraflops delivered by Nvidia's flagship Titan Xp gaming GPU. But the Titan XP is based on Nvidia's Pascal architecture, which launched in the spring of 2016. Gaming parts based on Nvidia's newer Volta architecture might arrive by year's end, given that the first Volta server GPU will ship in Q3.
The upshot: Vega should make AMD more competitive in a high-end GPU market that Nvidia has dominated in recent years, and will likely exert some price pressure, but there's a good chance that Nvidia holds onto its leadership position. We'll know more when benchmarks comparing Vega gaming GPUs with high-end Nvidia parts arrive.
For its recently-launched Ryzen CPU line, AMD unveiled Threadripper, an "ultra-premium" desktop chip that features 16 cores and can handle 32 simultaneous threads. Though its clock speed hasn't been shared yet, one can assume Threadripper will easily outperform AMD's current flagship desktop CPU, the 8-core Ryzen 7 1800X (sells for $499), and chances are that it will also beat Intel's 10-core Core i7-6950X (sells for over $1,500).
Butthere are reports that Intel will unveil new Skylake-based high-end desktop CPUs at Computex, including a 12-core chip known as the Core i9-7920X. Regardless, products such as Threadripper and the i7-6950X are niche items, albeit high-margin ones thanks to their steep prices. More important for AMD's bottom line is the second-half launch of notebook APUs that pair a Ryzen CPU with a Vega GPU. And to a lesser extent (given Intel's business PC dominance), the launch of Ryzen PRO CPUs aimed at corporate buyers; desktop Ryzen PRO chips arrive in the second half, and notebook chips in the first half of 2018.
For every promising product AMD has announced, there are still important question marks attached. How much will enterprises and cloud providers warm to Epyc? How successful will Vega be in the lucrative high-end gaming market? How much share will Ryzen take in a notebook market that now accounts for 60% of PC sales?
At this point, AMD can't provide firm answers to those questions anymore than the rest of us. That uncertainty appeared to weigh heavily on the conservative 2017 guidance the company provided with its Q1 earnings report, and seems to be weighing on its long-term outlook as well.
At the same time, if it turns out that AMD's offerings see a better reception than what's implied by its measured guidance, the market's reaction should be very favorable.