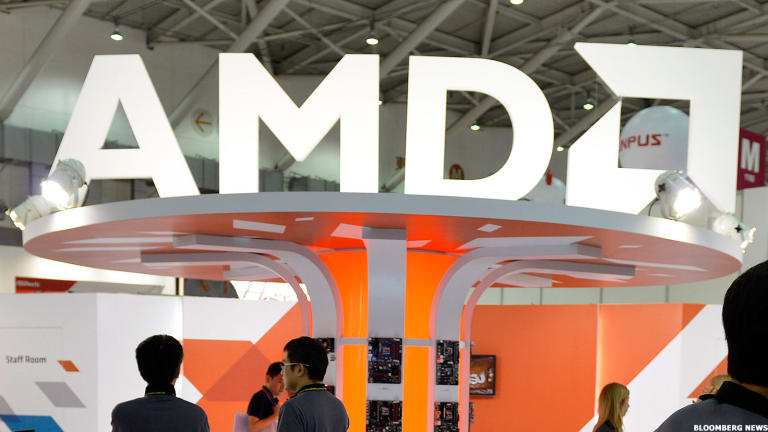 AMD's Stock Plunges on Uninspiring Guidance
AMD provided an outlook that beat consensus estimates, but fell short of the high hopes bulls have for new product launches.
There was little said in either AMD Inc.'s (AMD) - Get Advanced Micro Devices, Inc. Report Q3 report or earnings call to raise alarm bells about where the company stands. Results beat expectations (though there is an asterisk attached), guidance was a little above consensus and management provided upbeat comments about key CPU and GPU product ramps.
But after soaring from less than $2 per share in early 2016 to over $14 by February and staying near that level since, the market's expectations for AMD have long been above consensus estimates. And relative to this expectations, AMD's numbers (its guidance especially) were a bit of a letdown. One that probably has much to do with the strength of Intel Corp.  (INTC) - Get Intel Corporation Report and Nvidia Corp.'s (NVDA) - Get NVIDIA Corporation Report product lines.
That still doesn't arguably justify the 10% pre-market selloff on Wednesday. But revenue-wise, the story here is more complicated than it might look at first glance.
Jim Cramer and the AAP team hold a position in Nvidia for their Action Alerts PLUS Charitable Trust Portfolio. Want to be alerted before Cramer buys or sells NVDA? Learn more now.
AMD reported Q3 revenue of $1.64 billion (up 26% annually) and adjusted EPS of $0.10, topping consensus analyst estimates of $1.51 billion and $0.08. Growth was driven by a 26% sequential and 74% annual sales increase for AMD's Computing and Graphics segment, which covers its PC CPU and GPU offerings, to $819 million. Revenue for AMD's Enterprise, Embedded and Semi-Custom segment, which covers (among other things) game-console processor and server CPU sales, was up 46% sequentially (seasonality) but flat annually.
And while AMD guided (due to seasonally weaker console processor demand) for Q4 revenue to be down 15% sequentially, plus or minus 3%, that still implies a range of $1.34 billion to $1.44 billion, above a $1.33 billion consensus and spelling 26% annual growth at the midpoint.
Importantly, both of AMD's main product reporting segments got a Q3 revenue boost from a patent-licensing deal that had been undisclosed to date. With AMD 8 months removed from suing LG, Vizio and chipmakers MediaTek and Sigma Designs Inc. (SIGM) for patent infringement, it's possible that the company settled with one of those firms. And while AMD isn't forecasting a similar IP-related boost for Q4, CEO Lisa Su stated on the call AMD has "a pipeline of IP deals" it's pursuing.
Possibly worrying investors a little bit: Su mentioned on the call that AMD expects "some leveling off" of GPU demand from cryptocurrency miners, and that it has begun seeing a restocking of graphics card channel inventory that had been depleted by heavy mining-related demand. But a crypto market slowdown has generally been expected -- especially since Ethereum, the cryptocurrency that has done the most to boost GPU sales this year, has cooled off some following big early-2017 gains and also seen major increases in mining difficulty.
Also: Some analysts signaled disappointment with AMD's Q4 gross margin guidance of 35%. Though above a year-ago GM of 32%, it's only flat relative to Q3 even though console processors, which carry relatively low margins, will account for a smaller portion of total sales. Q3 GM rose from a Q2 level of 33% and a year-ago level of 31% thanks to the IP licensing deal and the launch of higher-margin CPUs and GPUs.
But Q4 sales guidance seems to be the main concern. With AMD having...
Recently begun OEM shipments of its Ryzen desktop CPUs (they gradually launched over the course of 2017) in volume.
Launched its Vega high-end GPUs in Q3, and forecast they'll ramp with OEMs in Q4.
Begun shipping its Epyc server CPUs -- like Ryzen parts, they're based on AMD's new Zen CPU core architecture -- to cloud service providers, ahead of major Q4 OEM launches.
Forecast its Ryzen Mobile notebook processors -- they pair a Ryzen CPU with a Vega-architecture GPU -- would begin shipping in Q4 for consumer systems.
...investors were expecting a cheery fourth-quarter outlook. They didn't exactly get a miserable outlook, but it does look as if Intel and Nvidia are keeping more of a lid on AMD's share gains than many bulls had hoped.
Following the launch of its first 8th-gen Core desktop and notebook CPUs -- they include desktop chips based on the company's new Coffee Lake architecture -- Intel is on much better competitive PC CPU footing than it was to start the year. While AMD's top-of-the-line Ryzen Threadripper desktop CPUs often claim a performance edge on comparably-priced Intel Core i9 CPUs (based on the older Skylake architecture), benchmarks often showed "mainstream" 8th-gen desktop chips beating comparably-priced Ryzen chips. Likewise, 8th-gen notebook CPUs should provide tough competition for Ryzen Mobile both in terms of CPU performance and battery life, though there is a good chance AMD will have a GPU performance edge.
Meanwhile, benchmarks for AMD's flagship Vega 64 gaming GPU suggested it's competitive with Nvidia's GeForce 1080 GPU (launched in the spring of 2016), but can't match Nvidia's 1080 Ti and Titan Xp GPUs. Tests also found the Vega 64, as well as the slightly less powerful Vega 56, to be much more power-hungry than Nvidia's high-end gaming GPUs.
Epyc, for its part, is doing battle with Intel's new Xeon Scalable server CPU line. AMD does have some selling points in this fight, such as competitive pricing (Intel has long enjoyed very high Xeon margins), novel memory encryption features and support for features on single-CPU servers that Intel has normally required customers to buy dual-CPU servers to obtain. But Intel claims a much broader product line, stronger developer support and an array of complementary solutions, such as its Xeon Phi accelerator cards, Omni-Path high-speed interconnect fabric, 3D Optane next-gen memory and programmable chips (FPGAs) that can be built into CPU packages. Epyc should gain some traction, but getting large orders from enterprises and cloud giants will take time.
In the first half of 2018, AMD will be able to improve its PC CPU competitiveness some by launching CPUs based on a 12-nanometer GlobalFoundries manufacturing process (current Ryzen chips rely on a 14-nanometer process). And in 2019, it's expected to begin refreshing both its CPU and GPU lineups with chips based on a 7-nanometer process that should yield major performance gains.
But Intel and Nvidia aren't standing still either. Further Coffee Lake CPU launches are expected in the coming months, and they'll be followed at some point in 2018 by chips based on Intel's 10-nanometer Cannon Lake architecture. Ice Lake, Cannon Lake's successor, might arrive in early 2019. Nvidia, for its part, is expected to launch high-end PC GPUs based on its new Volta architecture -- already used by Nvidia's Tesla server GPU line -- in early 2018.
AMD is likely to remain a battleground stock in the coming months as debate continues over just how much share the company's big CPU and GPU refreshes can deliver. There's little doubt that Ryzen, Vega and Epyc have left AMD much stronger competitively than it was a couple years. There's also little doubt that AMD's two main rivals, each of which possess much larger R&D budgets, aren't willing to cede ground without a fight.
More of What's Trending on TheStreet: