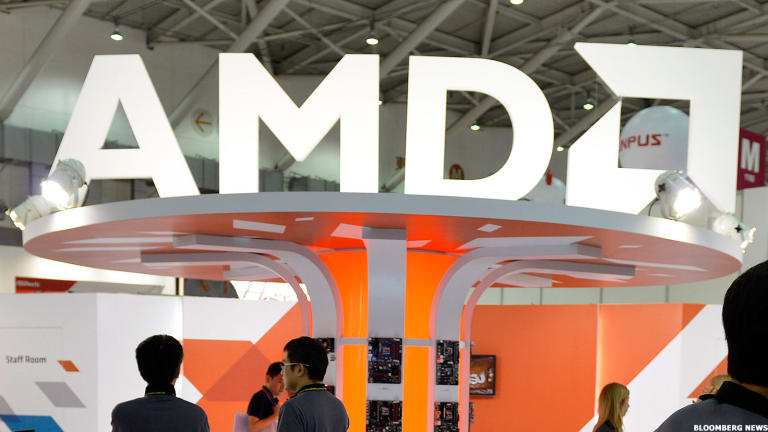 AMD Rallies on Analyst's Big Double Upgrade; What Its Stock Chart Says
Bank of America upgraded shares of the chipmaker to 'buy' from 'underperform on Thursday due to its opportunity compared to rivals Intel and Nvidia. Meanwhile, AMD's chart looks good, too.
Bank of America upgraded shares of the chipmaker to 'buy' from 'underperform on Thursday due to its opportunity compared to rivals Intel and Nvidia. Meanwhile, AMD's chart looks good, too.
Bank of America analyst Vivek Arya said Thursday that it's "better late than sidelined" to buyshares of chipmaker Advanced Micro Devices (AMD) - Get Report, upgrading the stock by a full two notches to "buy" from "underperform."
The analyst also more than doubled his price target on the shares to $15 from $7.
The upgrade sent AMD shares jumping 8.9% to $10.40 in afternoon trading on Thursday. AMD shares have soared about 260% year-to-date.
"We largely missed the surge in AMD stock this year as we were too concerned about its historically weak execution, high debt level, and competitive risks vs. giants [Intel (INTC) - Get Report] and [Nvidia (NVDA) - Get Report]," Arya said. "However, our proprietary PC gaming and AI/Deep learning industry analysis suggest AMD's growth markets are still in early stages, with AMD beginning to steadily reclaim market share."
TheStreet's Jim Cramer recently picked AMD as a top takeover candidate for 2017, saying it would be smart for chipmaker Micron Technology (MU) - Get Report  to acquire AMD. A deal between the two semiconductor makers could boost Micron's exposure to fast-growing markets like gaming, allowing the company to escape the maturing cell phone and tablets markets.
Meanwhile, here's what TheStreet's resident chartist Bruce Kamich had to say about AMD on Thursday:
At RealMoney, we have been bullish on AMD for some time and recently looked at the charts for Jim Cramer. With AMD being upgraded on Wall Street and making new highs for the move up, another look wouldn't hurt.
In this daily chart of AMD, above, we can see a strong rally this year that has shifted into a higher gear in the past month. AMD is comfortably above the rising 50-day and 200-day moving averages. You always want to trade in the direction of the slope of these two moving averages. The On-Balance-Volume (OBV) line is a cumulative running total of volume -- adding the number when AMD closes higher and subtracting when it ends lower on the day. The rising OBV line tells us that buyers of AMD have been aggressive. The trend-following oscillator called the Moving Average Convergence Divergence or MACD for short is also bullish.
Here is the view from 35,000 feet -- a ten-year weekly chart of AMD. AMD is ready to break out of a nine-year base pattern. Really impressive! A weekly close above $10, which was the high in 2010, opens up the field for a run up to $20 longer-term.
Bank of America's Arya noted that AMD has worked hard to refinance under new CEO Lisa Su, who was appointed in late 2014. AMD's actions have helped to push out debt maturities and boost cash to $1.2 billion, above minimum levels of $600 million.
The analyst estimated that AMD has a "unique" total available market of $50 billion, stemming from its PC, servers and gaming graphics businesses. In contrast, Intel has a roughly $30 billion addressable market, while Nvidia has a $20 billion addressable market.
"In our view, AMD is the only vendor that can challenge both INTC in PCs/servers and NVDA in gaming/pro-graphics/deep learning markets," he noted.
Nvidia stock was down about 0.5% to $94.55 while Intel stock was lower by 0.2%to $35.42 on Thursday.
Susquehanna analyst Christopher Rolland said, however, on Thursday that AMD's GPUs for gaming aren't up to par with Nvidia's. "In terms of performance, AMD GPUs are similar to Nvidia, with the missing piece: ease of programmability," he noted via email, adding that Nvidia has created a "robust system" surrounding their CUDA programming language for GPUs.
Arya contends that the PC gaming sector is big and fast-growing enough for both firms to benefit.
Despite disagreeing with Arya about AMD versus Nvidia, Rolland suggests that AMD does have the chance to best Intel in the coming year.
"2017 will offer AMD a multi-decade opportunity to approach Intel's manufacturing process," he said. "This is AMD's best and closest shot to become competitive with Intel for both PC and server processors."
Rolland has a "hold" rating and $6.50 price target on AMD shares. Additionally, Susquehanna is a market maker in AMD.
Arya's upgrade comes amid rumors of a licensing deal between AMD and Intel, which would unite AMD's Radeon GPU with Intel's next generation of CPUs, according to Investors Business Daily.Interestingly, Intel currently has a deal with Nvidia, but that agreement is set to expire in March.
For the full year, Arya expects AMD to report an adjusted loss of 14 cents per share, higher than Wall Street's view of a 16 cent per-share loss. In 2017, the analysts project adjusted EPS of 10 cents, above consensus of 4 cents.