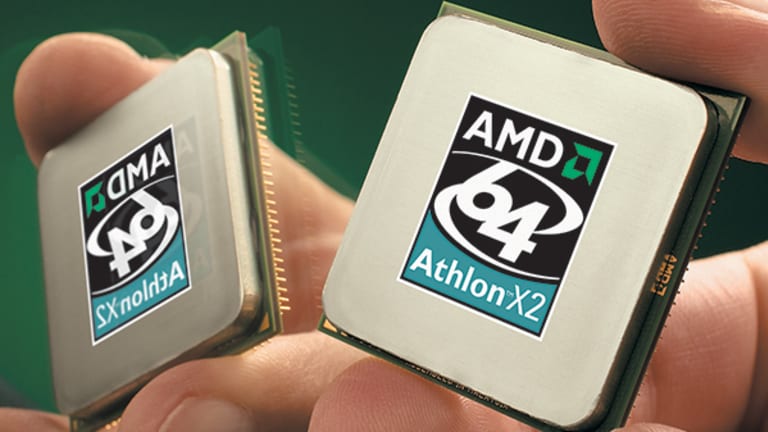 AMD Pops in Early Trading on Double Upgrade From Bank of America
TheStreet's Jim Cramer declared the company a top takeover target for 2017 just one week ago.
TheStreet's Jim Cramer declared the company a top takeover target for 2017 just one week ago.
Shares of Advanced Micro Devices (AMD) - Get Report  jumped 5.2% to $10.06 in early morning trading Thursday after an analyst's double upgrade, just one week after Jim Cramer argued that the company should be an acquisition target.
Bank of America Merrill Lynch analyst Vivek Arya upgraded AMD to Buy from Underperform and more than doubled his price target to $12 from $5 on Thursday. "In our view, AMD likely has the highest risk-reward potential in semis," he wrote, citing price volatility and low GAAP profitability, both of which will likely scare off investors and strong competitors in Intel (INTC) - Get Report and Nvidia (NVDA) - Get Report . In addition, AMD may be undervalued because of its concentrated ownership, with Mubadala Development Company, the Abu Dhabi sovereign wealth fund, holding a 15% stake.
"We largely missed the surge in AMD stock this year as we were too concerned about its historically weak execution, high debt level, and competitive risks vs. giants INTC and NVDA," he wrote. "However, our proprietary PC gaming and AI/Deep learning industry analysis suggest AMD's growth markets are still in early stages, with AMD beginning to steadily reclaim market share."
At The Deal Economy conference on Dec. 1, Cramer identified AMD as a top takeover candidate for 2017 and suggested that Micron Technology (MU) - Get Report buying AMD would improve its lagging stock price. The deal would help Micron gain exposure to fast growing markets, argued Cramer, including the hottest gaming semiconductors, and allow it  to be "less trapped" in cell phones and tablets. Still, Cramer noted, AMD just had a good quarter and likely doesn't want to be acquired.
According to Arya, AMD is "the only semiconductor vendor that we believe can challenge INTC's ~$30bn addressable market in PCs and servers, and NVDA's ~$20bn opportunity across gaming, pro-graphics and deep learning/AI." Its main challenge now, says Arya, is to regain microprocessor revenue market share against Intel; AMD's peaked at 17% in 2006 and now sits at about 2.4%.
In PC gaming, where AMD's main competitor is Nvidia, Arya said "we think the market is growing fast enough to accommodate two suppliers and that both AMD and NVDA can benefit even if market share does not shift between the two competitors."
For the full year, Arya expects AMD to report a loss of 14 cents per share, better than analysts' consensus estimate of 16 cents per share. By 2017, Arya predicts EPS of 10 cents per share, ahead of consensus estimates of 4 cents per share.