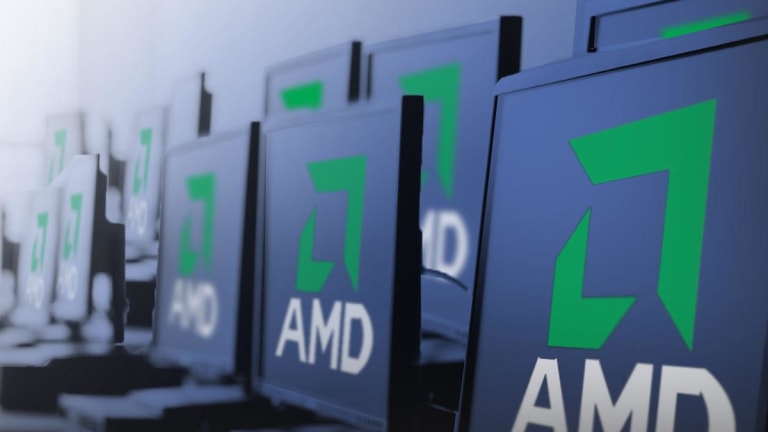 AMD's New Desktop CPUs and GPUs Fare Well Versus Intel, Nvidia in Reviews
Reviews arrived on Sunday for the latest AMD CPUs and GPUs, with the GPU reviews coming two days after a price cut. By and large, investors have to like what they see.
Outside of one area, reviews of AMD's (AMD) latest desktop CPUs lived up to expectations that the chips would comfortably outperform comparably-priced Intel (INTC) CPUs when running demanding workloads.
Meanwhile, a last-minute price cut for AMD's latest gaming GPUs, which also just saw reviews arrive, makes their sales pitch relative to comparably-priced Nvidia (NVDA)  GPUs a little more compelling, at least for some gamers.
Desktop CPU Reviews
On Sunday morning, reviews arrived for AMD's Ryzen 9 3900X and Ryzen 7 3700X desktop CPUs, which sell for $499 and $329, respectively, and are two of the six chips announced to date in AMD's third-gen Ryzen desktop family. And when it came to content-creation and productivity workloads, the chips fared pretty well against Intel's Core i9-9900K and Core i7-9700K CPUs, which list for $488 and $374, respectively.
The strong reviews have helped AMD's shares rise about 2% in Monday trading, in spite of a 0.8% drop for the Nasdaq. Intel's shares are down fractionally, and Nvidia's are down close to 2%.
In AnandTech's review of the AMD CPUs, the 3900X, which has 12 cores and supports 24 simultaneous threads, outperformed the 9900K, which has 8 cores and supports 16 threads, by over 30% when running the Corona 1.3 rendering benchmark, and the 3700X (8 cores, 16 threads) outperformed the 9700K (6 cores, 12 threads) by a similar amount. And when running the multi-threaded version of the Cinebench R15 rendering benchmark, the 3900X outperformed the 9900K by nearly 50%, while the 3700X outperformed the 9700K by nearly 40%.
AMD's chips, aided by their use of an advanced 7-nanometer (7nm) manufacturing process and a revamped CPU core architecture known as Zen 2, also easily outperformed their Intel counterparts when running the multi-threaded version of the popular Geekbench benchmark, and did the same in tests involving activities such as encoding video and compressing ZIP files. In many of these tests, the Ryzen 3900X even managed to outperform Intel's 12-core, Core i9-7920X CPU, which lists for $1,189.
Just as impressively, AMD's CPUs delivered these performance gains while maintaining a power consumption edge. Under peak load, AnandTech found the 3700X and 3900X's CPU packages to respectively consume 90 watts and 142 watts of power. By contrast, the 9700K's package consumed 124 watts, and the 9900K's consumed 168 watts.
Intel's CPUs, which appear set to receive price cuts, did generally have a slight edge in tests involving the use of just one CPU thread. And perhaps more importantly, they maintained a modest performance edge in gaming tests, with the gains typically being larger at lower game resolutions and/or when running one of Nvidia's costliest GPUs.
At the same time, it's worth remembering that these gaming performance differences pale relative to the impact one gets from spending, say, an extra $100 on a more powerful GPU. If gaming is the only demanding workload that a consumer plans to run on a desktop, then Intel's CPUs still have a good value proposition. But the same doesn't hold for anyone also planning to run demanding non-gaming workloads.
In addition to winning over more consumers, the strong value proposition AMD's third-gen Ryzen lineup presents for non-gaming workloads could -- after AMD launches business-focused "Pro" versions of its latest CPUs -- help the company make greater inroads within a corporate desktop market where Intel remains quite dominant. They also bode well for the performance gains that will be delivered by upcoming AMD CPUs targeting desktop buyers willing to pay top dollar for performance. A 16-core, $749, Ryzen CPU (the 3950X) is due in September, and AMD has also signaled that it plans to refresh its Ryzen Threadripper workstation/enthusiast CPU family.
Gaming GPU Reviews
Along with reviews for third-gen Ryzen desktop CPUs, Sunday brought with it reviews for AMD's Radeon RX 5700 and 5700 XT GPUs, the first chips to rely on its new Navi gaming GPU architecture. And just a couple days before those reviews hit, AMD announced price cuts for both products, which were unveiled less than a month ago. The Radeon 5700's suggested graphics card price was cut by $30 to $349, and the 5700 XT's price was cut by $50 to $399.
The price cuts were presumably a response to Nvidia's recent unveiling of its "Super" Turing-architecture gaming GPUs, which deliver a little more bang for the buck than existing Turing products that were sold at or near the same price points. And as reviews demonstrate, the price cuts make AMD's fight against Nvidia a lot more interesting.
In its tests, AnandTech found that the 5700 XT outperformed Nvidia's GeForce RTX 2060 Super GPU, which also sells for $399, by an average of 11%, while underperforming Nvidia's $499 RTX 2070 Super GPU by a mere 5%. The standard 5700, meanwhile, outperformed Nvidia's standard RTX 2060, which sells for $349, by an average of 12%. AMD's GPUs, which rely on a 7nm manufacturing process, were also found to have a slight power consumption edge over Nvidia's GPUs, which rely on an older 12nm process.
On the other hand, AMD's GPUs were noisier and ran at somewhat higher temperatures than Nvidia's. And more importantly, AMD's chips lack specialized processing cores to perform real-time ray tracing -- a demanding graphics-rendering technique that can deliver photorealistic imagery -- and the running of AI/deep learning algorithms to improve game performance.
In addition, for gamers willing to pay up for bleeding-edge gaming performance, Nvidia will still sell the two most powerful gaming GPUs on the market -- the $699 RTX 2080 Super (it launches on July 23) and the $999 RTX 2080 Ti (it launched last year). And in 2020, Nvidia is expected to launch a 7nm gaming GPU architecture (codenamed Ampere) that should deliver major performance and power efficiency gains relative to Turing.
But for now, if one happens to be a more cost-sensitive gamer who doesn't care that much about ray tracing, AMD's Navi GPUs have to look pretty competitive following their price cuts. While Navi is unlikely to eat Nvidia's lunch, it does put AMD on better competitive footing heading into the back-to-school and holiday seasons.
Nvidia is a holding in Jim Cramer's Action Alerts PLUS member club. Want to be alerted before Jim Cramer buys or sells NVDA? Learn more now.