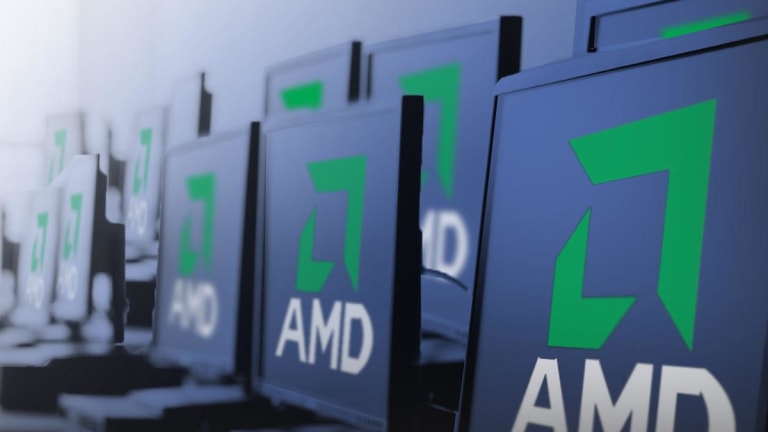 AMD and Intel Unveil Their Latest Chips at Computex: 5 Key Takeaways
AMD's newest desktop CPUs leave it well-positioned to add to recent share gains. Intel, meanwhile, is working hard to strengthen its notebook position.
As expected, AMD (AMD) - Get Advanced Micro Devices Inc. Report had a news-filled keynote presentation at the Computex trade show, one that has led its shares to surge in Tuesday trading.
CPU archrival Intel (INTC) - Get Intel Corporation Report also had a few notable things to share during its Computex keynote, as it tries to both fend off AMD and boost PC upgrade activity.
Here are some key takeaways from AMD and Intel's Computex keynotes and announcements:
1. AMD's New Desktop CPUs Look Very Competitive -- and There's More to Come
Likely the biggest reason AMD's shares are up over almost 12% as of the time of this article: AMD unveiled third-gen mid-range and high-end Ryzen desktop CPUs that appear to match up very well against comparable Intel CPUs on a price/performance basis. The chips launch on July 7 and are priced from $199 to $499; as previously signaled, they rely on Taiwan Semiconductor's (TSM) - Get Taiwan Semiconductor Manufacturing Company Ltd. Report cutting-edge, 7-nanometer (7nm) manufacturing process node and a new CPU core architecture known as Zen 2 that delivers a 15% improvement in instructions handled per CPU clock cycle (IPC).
In a keynote demo, AMD showed the Ryzen 7 3700X, an 8-core, third-gen CPU that will sell for $329, handily outperforming Intel's Core i9-9900K -- it launched last fall, sells for $488 and relies on a 14nm Intel manufacturing process node that's getting long in the tooth -- when running the popular Cinebench R20 content-rendering benchmark. It also showed the Ryzen 7 3800X, a more powerful sibling that will sell for $399, holding even with the 9900K when playing battle royale game PUBG (gaming has been a strong point for high-end Intel CPUs).
Perhaps most impressively, AMD also showed the Ryzen 9 3900X, a 12-core CPU that will sell for $499, outperforming Intel's Core i9 9920X, a 14nm CPU that launched last fall and lists for $1,189, when running the Blender content-creation benchmark by 18%.

AMD's new high-end desktop CPUs at a glance. Source: AMD.
In addition, following AMD's keynote, CEO Lisa Su indicated her company is prepping new products (presumably 7nm/Zen 2 parts) for AMD's Ryzen Threadripper family of CPUs for workstation and enthusiast desktop users, which currently go up to 32 cores and have been quite competitive with Intel's rival X-series CPU. And though there's no guarantee such a product will launch, a 16-core Ryzen desktop CPU was spotted in testing at Computex.
Intel, to be fair, does plan to launch 14nm X-series CPUs based on its new Cascade Lake microarchitecture this fall, and is also launching the Core i9-9900KS, a revamped version of the the 9900K that allows all 8 of its cores to simultaneously run at a turbo clock speed of 5GHz (up from 4.7GHz). But there's no word yet about the 9900KS' pricing or power draw, and also no details yet about specs or pricing for the new X-series chips.
Overall, it looks like AMD's 7nm CPUs position it well to gain meaningful desktop CPU share in the near-term -- particularly since there's still no clarity on when Intel will launch desktop CPUs that rely on its 10nm process node, which is seen as competitive with TSMC's 7nm node. Following the leaking of Intel roadmap slides that don't show any 10nm desktop launches through 2021, there has been speculation that Intel will stick with its 14nm node for desktop launches until its 7nm node, which could be used for PC CPU launches in 2022, is ready. If this ends up being true, it would be quite the positive for AMD, which is busy working on products for 2020 and 2021 that will leverage more advanced CPU core architectures and TSMC processes than the ones used for third-gen Ryzen desktop CPUs.
2. Intel's Next-Gen Notebook Processors Look Good...For Certain Use Cases
While Intel's 10nm desktop plans remain a big question mark, the company announced at Computex it has begun shipping 10nm notebook processors based on its Ice Lake microarchitecture -- they're said to be the first chips for its 10th-gen Core processor family -- and reiterated that systems featuring the chips will be available this holiday season.
Intel also disclosed that Sunny Cove, the CPU core architecture used by Ice Lake, will deliver an 18% IPC improvement relative to the Skylake cores long used by Intel's 14nm CPUs. And it shared benchmarks that suggest the Gen11 integrated GPUs that will be baked into Ice Lake processors perform much better than their predecessors (integrated GPUs have historically been a strength for AMD). Major performance gains for AI-related workloads are also promised.

Some of Intel's selling points for its Ice Lake notebook processors. Source: Intel.
However, Intel also disclosed that the Ice Lake processors it's launching this year will only feature power envelopes (TDPs) of 9, 15 and 28 watts. Likewise, the chips will feature 4 or fewer CPU cores, and carry turbo clock speeds of 4.1GHz or less.
All of this suggests that Intel isn't launching Ice Lake processors for its H-series family -- H-series chips typically have 45-watt TDPs and are often used in gaming notebooks and mobile workstations, and some newer parts feature 8 CPU cores and max turbo speeds of 5Ghz. Rather, they'll be used for Intel's U-series line, which targets ultrabooks and 2-in-1 systems, and its ultra-low-power Y-series line. And even here, it's worth noting that Intel currently sells 15-watt, 14nm, U-series processors featuring turbo clock speeds of up to 4.8GHz.
All things considered, it looks as if Intel's Ice Lake lineup will have a strong sales pitch for many "mainstream" notebook use cases, but won't deliver bleeding-edge performance.
3. The Same Holds True for AMD's Next-Gen GPUs
AMD announced that the Radeon RX 5700 series, the first GPUs based on its anticipated, 7nm, Navi architecture, will launch in July. The company hasn't yet shared specs and pricing for the chips, but did assert that Navi, which uses a new, gaming-focused microarchitecture known as RDNA, will deliver a 25% improvement in IPC and a 50% improvement in performance per watt relative to AMD's existing Vega architecture, whose power consumption has often been criticized in gaming GPU reviews.
AMD also showed a demo in which an unnamed 5700-series GPU moderately outperformed Nvidia's (NVDA) - Get NVIDIA Corporation Report GeForce RTX 2070 GPU, which features a graphics card MSRP of $499. However, it has been pointed out that the game used in the demo, third-person shooter Stranger Things, is one that AMD GPUs have previously punched above their weight on in benchmarks.
Moreover, Nvidia's gaming GPU lineup includes two chips more powerful than the RTX 2070 -- the RTX 2080 and 2080 Ti. And unlike AMD's GPUs, all three of these chips, in addition to the less powerful RTX 2060, feature specialized processing cores to power real-time ray tracing and AI-related processing.
One could also note that for now, Nvidia's gaming GPU lineup relies on TSMC's less advanced, 12nm, process node. It might only be a matter of time before the company joins AMD in launching GPUs relying on TSMC's 7nm node.
Though we won't know for sure until prices are shared and reviews arrive, for the moment Navi looks like it should be a worthy successor to AMD's power-efficient Polaris architecture in the mid-range GPU market. However, like Vega, Navi is likely to face an uphill battle wresting share from Nvidia on the high end.
Nvidia is a holding in Jim Cramer's Action Alerts PLUS member club. Want to be alerted before Jim Cramer buys or sells NVDA? Learn more now.
4. Intel's End-to-End Notebook Strategy Is Compelling
In addition to making Ice Lake announcements, Intel used its keynote to share more details about Project Athena, an initiative (first announced in January) meant to "raise the bar on laptop innovation" with the help of PC makers and other ecosystem partners. Among other things, the company says it wants Athena laptops to deliver "9 or more hours of battery life under real-world performance conditions," and to wake from sleep mode in less than 1 second.
Intel is also pushing ahead with plans to roll out Lakefield, a 10nm solution for small-form-factor devices, later this year. Lakefield relies on an innovative packaging technology known as Foveros to place multiple logic chips to be stacked on top of each other, with one of the chips featuring 5 CPU cores (1 powerful core and 4 low-power cores) as well as an integrated GPU.
Intel is clearly thinking holistically about addressing the needs of various types of notebook users, instead of merely focusing on winning benchmark battles. That, along with its 10nm efforts, could help it avoid seeing major share losses in the notebook market, which has been larger than the desktop market for some time.
5. Few Details Were Shared About AMD's Next-Gen Server CPUs
AMD, which previously said its 7nm Epyc server CPUs (codenamed Rome) will arrive in mid-2019, said at Computex Rome is expected to launch in Q3. And in contrast to its third-gen Ryzen desktop announcements, AMD didn't formally announce its second-gen Epyc lineup or share pricing.
In addition, where AMD previously talked about Rome delivering twice the overall performance per CPU socket as its first-gen Epyc CPUs, as well as four times the performance for floating-point operations, it now says Rome will deliver "up to" two times and four times better performance, respectively.
On the bright side, AMD did show a demo in which a server with two 64-core Epyc CPUs finished a demanding molecular simulation job in less than half as much time as two costly, 28-core CPUs from Intel's recently-launched, 14nm, Cascade Lake Xeon server CPU family. Intel responded to the demo with a video that showed a server with two 48-core Xeon CPUs holding their own against AMD's system, though it's worth noting each of the 48-core CPUs feature two chips crammed within a single package and sport a massive 350-watt TDP.
With Intel not expected to launch its first 10nm server CPUs until some point in the first half of 2020, and with Intel's server CPU business having long enjoyed premium pricing, there are still plenty of reasons to think that Rome, along with a successor platform due in 2020 that's codenamed Milan, will help AMD gain more server CPU share. But more specifics would have definitely been nice.
Watch: Which Technology Stocks Make Better Investments During a Trade War?