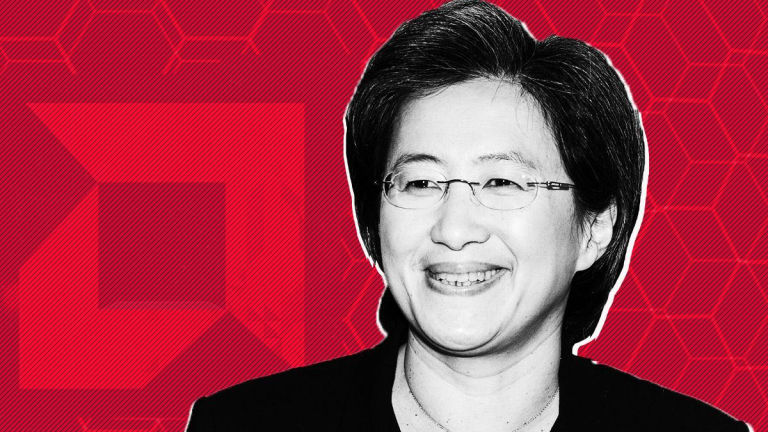 AMD CEO Lisa Su Confident Chipmaker Can Meet Ambitious Second-Half Targets
Despite a weaker-than-expected outlook that sent its shares tumbling, Su told The Street that its new products set it up well for the back half of the year.
Shares of chip maker Advanced Micro Devices (AMD) were tumbling almost 8% on Wednesday morning after the company beat expectations for its second-quarter report, but cut its outlook for the full year, blaming slowing game console sales ahead of the release of new units.
But in an interview with The Street, chief executive Lisa Su said she was "happy with the progress" the company has made with several new products. Although the company now has to have a really big fourth quarter to deliver on even its reduced forecast, Su said the rollout of new products, including a new version of the "Epyc" server chip, sets up the company well to deliver.
"Yeah, it's a steep ramp, but everything gives us confidence for that ramp," said Su, acknowledging there was some skepticism among analysts on the call about just how much AMD can make in the fourth quarter of this year.
AMD reported revenue of $1.53 billion for the three months ending in June, slightly above the average $1.52 billion estimate, and EPS of 8 cents, matching consensus. But its outlook for this quarter calls for $1.75 billion to $1.85 billion in revenue, below consensus for $1.94 billion. 
For the full year, the chipmaker had originally been projecting revenue to rise "in the high single digits" from 2018, but it now expects the revenue to rise only by "mid single digits." 
The main culprit is that console market of Sony undefined and Microsoft (MSFT) video game machines, the PlayStation and Xbox, is "going through a transition," as Su put it, with the current systems now in their seventh year of sales. Those machines' sales have slowed more than expected as gamers anticipate new machines that both companies have announced. The sudden drop-off in sales cut AMD's outlook for the "semi-custom" business unit that produces the processors for those consoles.
Sony and Microsoft have not announced release dates for the new machines yet, which will both use AMD's chips once again, but they are both generally expected in 2020. On Tuesday's conference call, analysts tried to tease out a more specific time frame but Su declined to pre-empt her customers' own announcements. 
AMD also said there was a hit to revenue because the company was prevented from shipping to some customers in China that the U.S. government has put on a list of "designated entities" that may not buy U.S. technology. Huawei is the most prominent example of the ban, which took effect in May, although Su did not name specific customers.
Asked by The Street if AMD is preparing for a worsening of trade and tariffs pressures, Su replied, "Look, it's a very dynamic situation, there's no question China is an important market, and we would like to see the trade issues get resolved," adding that AMD will simply prepare for the fact "it's going to be a dynamic situation."
While gaming and China weigh on results, AMD showed rapid progress in other parts of its business. Its sales of microprocessors for PCs and servers, as well as its sales of graphics processing units, are growing on the order of 20%, year over year. 
Current estimates have AMD making about $2.16 billion in Q4 of this year to hit the reduced forecast. That would represent about 52% revenue growth, year on year, which some analysts on the call seemed skeptical of. Products such as a new version of the company's desktop CPU processor, "Ryzen," were introduced last quarter, as well as a new "Radeon" graphics chip, both using the most advanced chip-making technology in the world, with features as small as 7 billionths of a meter, or 7-nanometer. 
Su told The Street it was a "very busy quarter, and we executed well, and it sets us up for a good second half." She told analysts on Tuesday night's call the company expects to have a robust back-to-school selling season.
In addition to desktop and graphics chips, the company has only just begun to sell some units of its third version of the Epyc CPU chip that runs server computers; a formal debut of the product is planned by AMD in San Francisco next Wednesday.  
Su has not yet disclosed timing for a mobile version of the company's CPUs on 7-nanometer, telling analysts on the call there will be further product announcements "in the coming quarters." 
All that makes for "a lot of moving parts in the business," Su acknowledged in her talk with The Street.
Asked by the Street if the semi-custom business could become more diversified over time, Su replied, "I think you might see that over the next few years, there are other markets where you might see semi-custom be beneficial," without mentioning any specific projects.
Asked by The Street whether the company's stock is still a good buy after its sharp rise -- it is up 67% this year despite today's drop, well above the 25% rise of the Nasdaq Composite -- Su chuckled and said "I don't know if I can answer that question." She noted, however, that "we are very focused on consistent growth, and that's our story, and we are still quite in the early innings of the journey, but we continue to focus on consistent growth." 
Save 76% with our Summer Break Sale. Subscribe to our premium site Real Money and become a smarter investor! Click here today to sign up!
Tiernan Ray neither trades nor owns shares of any companies mentioned in this article.