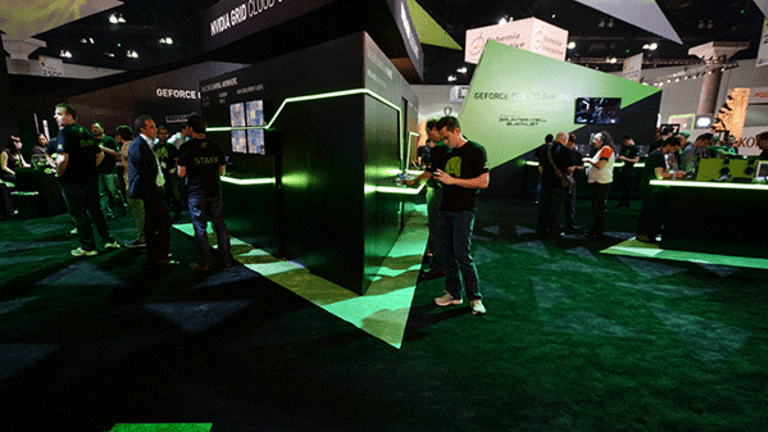 Nvidia and AMD Are Benefiting From Bitcoin and Ether Miners, but for How Long?
Cryptocurrency miners are buying tons of graphics cards but it's worth remembering that something similar happened in 2013.
As interest in cryptocurrency mining sparks GPU shortages, leads shares of GPU vendors to be upgraded and spawns articles on how to create a cryptocurrency mining rig, it's worth taking a trip down memory lane.
In late 2013, skyrocketing prices for Bitcoin and a sister currency known as Litecoin led to major shortages of AMD Inc. (AMD) - Get Report  GPUs that were well-suited for cryptocurrency mining. Stories abounded that year about large-scale mining operations, and the big profits that some of them were racking up.
But the party didn't last long. After peaking in December 2013, Bitcoin shed over 80% of its value over the following 13 months, and didn't really begin staging a recovery until late 2015. The GPU shortages, needless to say, soon disappeared. And with Bitcoin's architecture making mining less and less lucrative for small-scale participants over time, interest in the activity gradually diminished.
Today, to paraphrase an old saying, history isn't repeating, but it is rhyming. Bitcoin mining has made a bit of a comeback as the cryptocurrency's price soars to more than twice its 2013 peak and leads speculators to predict further massive gains are in store. But there's much greater mining interest in a rival currency known as Ether, whose price has risen by more than a factor of 40 since the start of 2017.
Ether's current total value of $33 billion is within striking distance of Bitcoin's $44 billion, and well above Bitcoin's value two months ago. And importantly, whereas Bitcoin mining is now largely done via expensive hardware rigs running specialized ASICs, Ether was designed to only be effectively mined via GPUs. That has opened the door for miners with limited computing budgets to join the fray.
Thanks to these miners, shortages have been reported in recent weeks for mid-range and high-end desktop GPUs based on AMD's power-efficient Polaris architecture. And on Tuesday, Pacific Crest upgraded Nvidia Corp. (NVDA) - Get Reportto Sector Weight after talks with Asian graphics card makers pointed to "surging demand from cryptocurrency miners in China and Eastern Europe since early May."
Pac Crest now expects desktop graphics card shipments to be up 10% to 20% sequentially in Q2, after previously forecasting a 10% to 15% decline due to lower gaming-related demand during the seasonally weak quarter. Both AMD and Nvidia cards are said to be on allocation due to plummeting inventory levels.
AMD shares, which popped two weeks ago after the company confirmed mining activity has boosted Polaris GPU demand, was up 6% to $12.64 on Tuesday. Nvidia, whose mining exposure as a percentage of total sales is lower than AMD's, finished the day down0.2% to $157.09.
Why the massive interest in Ether? It has a lot to do with hopes that the currency's underlying technology, known as Ethereum, will lead to widespread corporate and developer adoption. Though Bitcoin and Ethereum both rely on the blockchain, a distributed ledger that can securely facilitate and record transactions without the need for a third party, Ethereum's abilities go beyond supporting a cryptocurrency (Ether) to executing smart contracts -- code that can enable a variety of secure transactions. Importantly, Ether is used to enable these transactions.
This versatility has led Ethereum evangelists to dream up many uses, from facilitating real estate transactions to accessing healthcare records to securely letting people vote online. They've also led Microsoft Corp (MSFT) - Get Report , JPMorgan Chase & Co. (JPM) - Get Report and a number of other corporate giants to form the Enterprise Ethereum Alliance, which aims to create standards and governance rules for smart contract usage.
Though smart contract do open up intriguing long-term possibilities for Ethereum, adoption is still in its very early stages. And for usage to really take off, companies will need to be willing to dramatically shake up how they conduct and facilitate transactions, relative to how they've done so for decades. In the meantime, Ether is being used even less than Bitcoin to make real-life purchases.
It's also worth remembering that a few years ago, corporate interest in Bitcoin was swelling, as the likes of Microsoft, Expedia and PayPal began supporting Bitcoin payments. You hear less about that today, as hopes that Bitcoin (on account of its lower fees) would replace credit and debit cards as a means of making online purchases have petered out. Instead, Bitcoin backers trumpet its ability to act as a store of value like gold or silver, while providing a level of security and accessibility that precious metals lack.
Likewise, though many financial services firms have predicted big things for the use of blockchain technologies in general, their efforts are still mostly in the experimental stage. And some of these firms aren't supporting the Enterprise Etherium Alliance, but a blockchain consortium known as R3.
Meanwhile, Bitcoin and Ether are now worth close to $75 billion between them. There have already been signs over the last two weeks that the speculative frenzy propelling them to such heights has begun to wane, and if the history of such parabolic run-ups is any guide, recent selling pressure might be a sign of things to come. 
If that happens, odds are that graphics card sales to cryptocurrency miners will go downhill in a hurry as well. Just like they did in 2014.