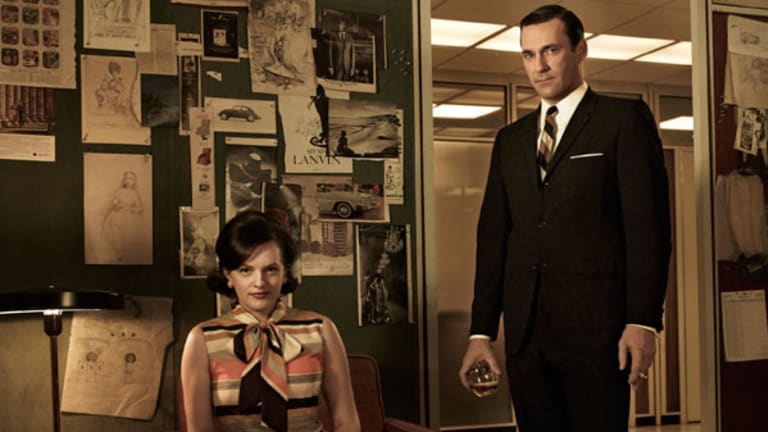 AMC Takes a Gamble Prolonging <I>Mad Men's</I> Season Finale
A final 'half season' did wonders for <I>Breaking Bad</I> but will it for <I>Mad Men</I>?
NEW YORK (TheStreet) -- AMC's (AMCX) - Get ReportAMCX Mad Men aired its mid-season finale last week to what was considered a "soft" 1.9 million viewers on May 25, during the Memorial Day Weekend. However, that  number was in line with the ratings the Matthew Weiner-produced show has recorded during its seven-year run.
When the key Live+3 ratings (measuring new views within three days of airing) were in, that number nearly doubled to 3.6 million viewers by the end of the week.
So does that mean AMC's strategy of splitting seasons of its hit show is working? We won't know until Mad Men finishes for real next year and the ratings come in.
What is known is people don't watch TV the same way anymore.
The traditional TV viewing season followed the school year, airing new episodes from September to the May Sweeps, considered the big yearly payoff. The summer season was a wasteland of repeats and shows that had no chance of any traction.
Now you can watch new "reality" programming year-round. AMC's Breaking Bad aired primarily in the summer while Mad Men was generally aired in mid-spring and into early summer.
Mad Men's success was vital for AMC, legitimizing the network as a destination for quality original programming following years of airing primarily movies and maintaining relatively low advertising revenue. When AMC said it would air the final season of Breaking Bad over two years and then did the same for the final season of Mad Men, many wondered if it marked the beginning of a new trend in in the hunt for a more advertising dollars.

By allowing time for word of mouth to build in favor of Breaking Bad, AMC was rewarded with a viewership for the fifth and final season finale that topped 10 million viewers. For some perspective, the fourth season finale, which aired two years earlier, was watched by 1.9 million people.
Considering the frenzy that accompanied the series finale, 10 million viewers is just a fraction of the highest season finale of all time, the 1983 airing of M*A*S*H on CBS  (CBS) - Get ReportCBS, which pulled in over 100 million viewers. 
A successful program is a one-shot deal. Once that final episode airs, that phenomenon is not going to happen again. The splitting of a season is a calculated response to the admission that the golden calf is dead once the final episode airs. (Although the network will get a piece of the future sales.)
What AMC is really interested in accomplishing is padding its programming schedule for another year. As fans continue to wait for the second half of the final season to air, that is another whole year that AMC is a key player and in the middle of the conversation.
AMC CEO Josh Sapan, speaking to investors at the Bernstein Research Group 30th Annual Strategic Decisions Conference in New York last week, stated the network looks at its ratings numbers as a whole and not on a show-by-show basis.
Sapan reminded investors to focus on total network ratings, as opposed to ratings for any particular show, as a more indicative market of network success and advertising revenue.
Despite the gripes from the viewers of these shows about having to wait another year for what is ultimately half a season, they most likely are the ones who reap the greater reward. When done right, as evidenced by Vince Gilligan's runaway train-style climax on Breaking Bad, viewers can be treated to entertainment of a quality that TV is finally beginning to embrace after decades of formulaic police procedurals and the "color-by-numbers" formatting of network sitcoms.
However producer Matthew Weiner ends up closing out Mad Men, the stage has been set for the next chapter in the trajectory of cable television and America's viewing habits. In what may prove to be a rare accomplishment, behind all the industry maneuvering, storytelling wins.
At the time of publication the author had no position in any of the stocks mentioned.
Follow @sidf8
This article represents the opinion of a contributor and not necessarily that of TheStreet or its editorial staff.