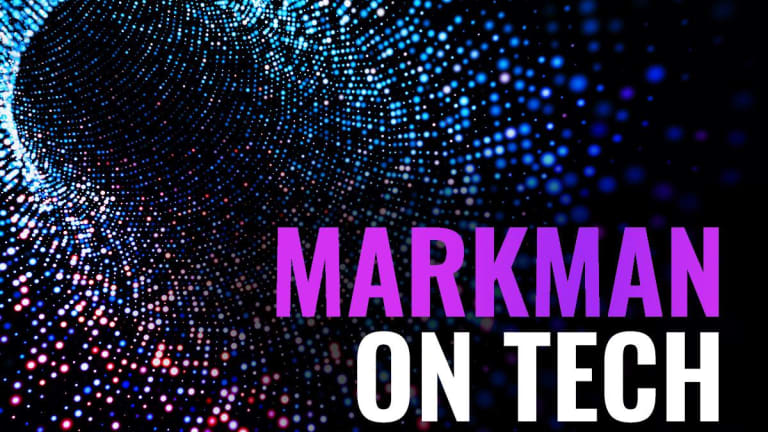 Ambarella Is Poised for a Comeback as Next-Gen Camera Chipmaker for Cars
The chipmaker was too reliant on GoPro as a customer and paid the price. But intelligent, high definition cameras will power the next generation of vehicles, surveillance and logistics systems.
Getting computers to see and understand data is a game changer. Intelligent, high-definition cameras will power the next generation of vehicles, surveillance and logistics systems.
Ambarella (AMBA) - Get Ambarella Inc. Report rose to fame as the maker of the chips behind GoPro's (GPRO) - Get GoPro Inc. Report extreme sports cameras. Now the Santa Clara, Calif., company is broadening its scope to focus on the bigger prize.
And it is positioned to win.
For quite a while, powerful HD cameras strapped to drones and daredevils were the biggest story in tech. The growth of the surveillance and flamboyance state fueled triple-digit earnings gains. Ambarella shares jumped 1,200% from the IPO in the autumn of 2012 through the spring of 2015, and were among the first recommendations I made at the start of my newsletter in April 2014.
Ambarella's innovative video compression was best in class. Its patent-protected, high-margin products sat atop the three hottest areas on the planet: video image creation and sharing, mobile communication and security monitoring.
Then everything came crashing down. Too much of its business came from GoPro.
The pocket-sized HD camera maker listed 17.8 million shares at $24 in a June 2014 IPO. By October, GoPro shares were flirting with $100. The market capitalization flitted near $7 billion. Unfortunately, it was all downhill from there. Several quarters of weak guidance transformed GoPro from a perceived world beater to a niche player. In Dec. 2018, the stock traded at only $4.
Ambarella shares have fared better, though they're still down some 27% from their highs. Its executives recognized in 2015 that the company needed to move beyond pure video processing. To grow, it needed to become a computer vision company. To date, $250 million has been funneled into new silicon that includes both its proprietary video processing and the new CVflow Deep Neural Network AI. Mass production of the system on a chip began during calendar 2018.
Ambarella managers claim the new chips use one-sixth the power consumed by rival products made by NXP Communications (NXP) - Get Nuveen Select Tax Free Income Portfolio Report and Texas Instruments (TXN) - Get Texas Instruments Incorporated Report . They are smaller and can be housed in a single box, making them suitable for a wide variety of automotive, surveillance and robotics applications.
In a conference call with analysts on Wednesday, Dr. Fermi Wang, chief executive officer, offered a glimpse of what is to come. In automotive, the company is targeting OEM and after-market drive recorders, cabin monitors, around view monitors, electronic mirrors and advanced driver assistance programs, a market worth $1 billion.
All of these markets are addressable right now. Electronic mirrors, for example, replace existing glass with smart, aerodynamic camera systems. All of the visual information is sent to monitors inside the car where they can be processed. You can see the beauty, and usefulness of this application in the production-ready Honda e Prototype.
Ambarella announced in December a partnership with Hella Aglaia, a subsidiary of a top-tier German auto parts conglomerate. The companies are working on front-facing vision systems for leading OEMs. The ADAS modules will use AI to help recognize lane markings, animals and bad weather.
It's a big new market, far removed from its legacy businesses supplying cutting-edge chips to drone, sports and security camera makers. Jumping to smart silicon allowed the company to sign a license deal with First Alert, the leading maker of smoke detectors. It will use the chips in its new line of Alexa-enabled doorbells.
Ambarella has no debt, and marketable securities of $359 million on hand. Fiscal 2019 cashflow was positive at $24.5 million. Gross margins ended the year at 60.8%. And 80% of its 750 employees are engineers.
The shares trade at 5.6x sales for a market capitalization of $1.4 billion. Given the potential of the total addressable market, its turnaround and large cash position, the stock is fairly cheap -- though only appropriate for growth-oriented, volatility-tolerant  investors.
To learn more about Jon Markman's recommendations at the crossroads of culture and technology, check out his daily investment newsletter Strategic Advantage. To learn about Markman's practical research in the short-term timing of market indexes and commodities, check out his daily newsletter Invariant Futures.
A Special Invitation: Do you want to learn more about planning for and living retirement from the nation's top experts, including Ed Slott and Robert Powell, the editor of TheStreet's Retirement Daily? Want to learn how to create tax-efficient income in retirement and how to manage and mitigate all the risks you'll face in retirement? Then sign up to attend TheStreet's Retirement Strategies Symposium on April 6 in New York City. For a limited time, you can attend this extraordinary symposium for $149 -- a cost savings of $50 off the general admission price of $199. You can see the full day's agenda, learn about the guest speakers and sign up here for this special event.
Jon Markman does not own any stocks mentioned in this column.