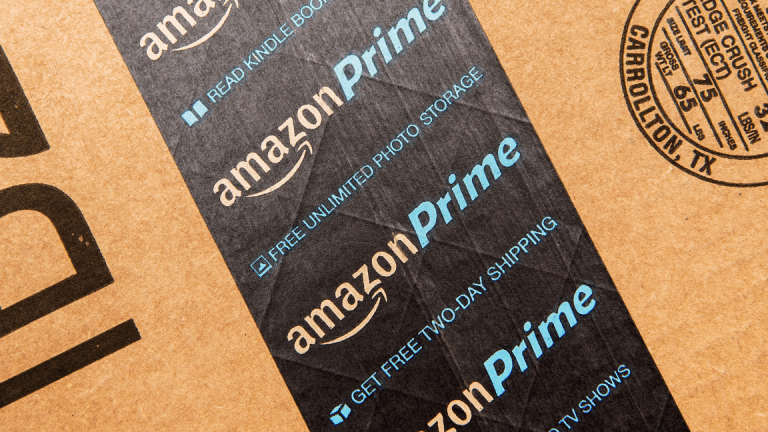 Amazon's Strong Second-Quarter Earnings Look Sustainable, Analyst Says
D.A. Davidson analyst boosts stock's price target to $2,200.
The bonanza second-quarter earnings report from Amazon (AMZN) - Get Free Report represents a sustainable path for the online retail mammoth, according to D.A. Davidson & Co. analyst Tom Forte.
"Investor views on Amazon should change," Forte told TheStreet. "[Amazon does] have the first-party retail effort that is likely to break even, but there are significant [other] profit pools -- including cloud computing, third-party retail commissions and ad sales."
Forte raised his Amazon price target to $2,200 from a previous $2,100 on Friday after the retail giant reported blowout second-quarter results Thursday after the bell. AMZN crushed analyst earnings estimates, thanks to growth in ad sales, third-party sales, the Amazon Web Services cloud-computing division and other higher-margin businesses.
"For the longest time, if you watched any of the interviews with [Amazon CEO Jeff] Bezos, he talked proudly about how they operate low-margin businesses," Forte said. "I think AWS and the other segments got them to rethink that strategy."
Amazon rose as much as 3.6% Friday to $1,880 a share following the earnings beat, but pulled back to close at $1,817.27, up 0.5%. Shares rose after the firm reported a record $2.5 billion in second-quarter earnings, or $5.07 per share -- more than double analysts' consensus EPS estimate.
Net sales also increased 39% to $52.9 billion vs. $38 billion a year earlier. Amazon Web Services (AWS) likewise saw revenues jump 49% to $6.11 billion from $4.11 billion a year ago. 
John Dinsdale, a Synergy Research Group senior analyst, said AWS saw big revenue jumps because the cloud business got a head-start over competitors like Microsoft (MSFT) - Get Free Report , Alibaba (BABA) - Get Free Report  and Salesforce.com (CRM) - Get Free Report  by "building out data centers, operations, international expansion, staffing and a partner network" seven years ago. "It has also had a ferocious focus on putting clients first, and has continued to aggressively reduce prices,: Dinsdale said. "So, it is a combination of strategy, corporate focus, heavy investment, long-term vision and execution."
Several analysts raised their Amazon price targets following the strong quarterly results, citing increased operating efficiency and growth in higher-margin business segments. For instance, Wedbush Securities' Michael Pachter boosted his AMZN price target to $2,100 from a previous $1,800, lauding Amazon's operational efficiencies as seen in the firm's 42.1% gross margin.
Pachter also highlighted growth of third-party seller services, adding that the segment enjoyed a 65% gross margin. Amazon reported that third-party seller services -- for which the company gets paid a commission -- rose 39% year over year to reach $9.7 billion.
"There is a misperception that it's mostly AWS, when in fact third-party seller services is a bigger driver," Pachter told TheStreet. "[Both] of those generates around 65% gross margin, so they are the biggest reasons for the huge gross profit upside."
Maybe this Amazon is ready to overflow its banks.
(This story has been updated with additional quotes and AMZN's closing stock price.)
More Coverage of Amazon, Today's Stock of the Day on Our Premium Site Real Money