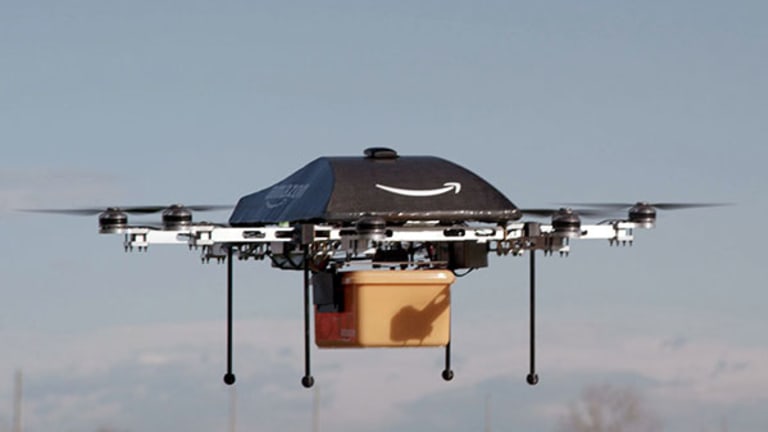 Amazon's Delivery Innovations Will Be Retailers' Worst Nightmares
Amazon is continuously innovating in the delivery space, and traditional retailers should take note.
NEW YORK (TheStreet) -- Amazon (AMZN)  has been making life difficult for most retailers for two decades. Now, the world's largest seller of just-about-anything is changing the way it delivers those goods and its innovations may leave retailers miserable.
It should come as no surprise that Amazon prioritizes deliveries and makes a huge effort to get its products to consumers as quickly as possible. Amazon Prime's two-day delivery promise put even more pressure on rival online retailers to speed-up their operations, forever changing "consumer expectations about commerce," said Morningstar analyst RJ Hottovy in a phone interview.
Bryan Ashenberg holds Amazon in his Growth Seeker portfolio. Read his analysis on the company's latest numbers here.
Most famously, perhaps, Amazon is testing delivering merchandise by drones. The Federal Aviation Administration has yet to approve such an operation, but if it does sanction the use of drones for commercial deliveries, it could cut Amazon's delivery time to 30 minutes, or less.
"Customers love fast delivery," Amazon senior communications manager Kelly Cheeseman said in an e-mail. "Since day one, we have been building the infrastructure to support super-fast delivery and customers love our delivery offerings whether it's two-day delivery through Amazon Prime, same day delivery or Prime Now, our ultra-fast 1-hour delivery service."
Amazon is also holding a patent for a delivery system called anticipatory delivery." It's designed to allow Amazon to predict a consumer's future purchase and prepare it in advance for shipping -- even before the customer clicks on the word "buy." Amazon would keep the merchandise in either a nearby warehouse or on a truck before the purchase is made. 
The patent was granted in 2013, but Amazon has not publicly announced any actual integration of the method. Nonetheless, the notion of anticipatory delivery seems like the most likely experiment to become a reality, said Erik Gordon, a professor at the University of Michigan's Ross School of Business.
"That's just forecasting on steroids," Gordon said in a phone interview from Ann Arbor, Mich. "We forecast demand in the aggregate--we try to figure out how many books to print, how many pickup trucks to make in advance. We've been forecasting in the aggregate since forever. They're a baby step away from [anticipatory delivery.]"
As Amazon gets better at forecasting, it makes sense the company would move into anticipatory delivery, Gordon said. The process might begin with a purchase of a particular book on Amazon. Afterward, the website sends a confirmation email of the purchase along with recommendations for other books. As that recommendation algorithm gets better, it only makes sense to get the products ready for delivery.
Amazon's most recent move in the delivery space is its patent application for creating 3D printed products in a truck as the merchandise is being delivered. This would allow Amazon to deliver products even faster. It would also alleviate the need to stock a large amount of inventory, because the products could be printed as needed.
But even 3D printing trucks do not surprise Gordon.
"If you said you heard Amazon was working on telepathy, telepathically sending a book, that wouldn't surprise me," he said. "Bezos basically is saying don't look to me for stock buybacks and dividends, look to this company to be on the innovative edge, the innovative edge of fulfillment."
Even for a company as experimental as Amazon, remember patented ideas do not necessarily become a reality. Nonetheless, Amazon's patents signify the time and energy it is devoting to delivery innovation. 
"I think the key takeaway is Amazon is thinking about logistics and delivery so far ahead of the curve and anybody else that no matter what direction [delivery] goes in the future Amazon is going to have thought about it and be a big part of it," Morningstar's Hottovy said.
"The fact that they are on their eighth or ninth generation of testing drones shows how much thought they've put into it, and even if it doesn't turn into anything, I think it shows their commitment to logistics and improving customer experience," said Hottovy.
--Written by Rebecca Borison in New York
>Contact by Email.