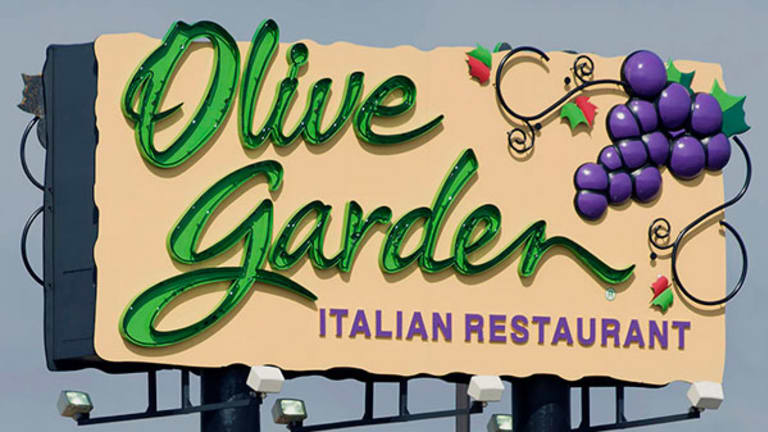 Can a Marriage Be Made Between Amazon and Olive Garden? Darden Is Testing It
If you can't beat 'em, join 'em.
Amazon (AMZN) - Get Report knows no bounds.
On an earnings call on Tuesday, June 27, Darden Restaurants Inc. (DRI) - Get Report CEO Eugene Lee said the company is testing Amazon (AMZN) - Get Report Prime delivery with some of its brands.
"The only way Amazon is in our world right now is through Amazon Prime delivery," Lee said, in response to an analyst's question about the negative impact the casual dining operator might experience from the $13.7 billion Amazon-Whole Foods Market (WFM) merger.
"We have a test going on with them," Lee continued. "We'll continue to partner with them and see if we can make that work. We constantly sit around here thinking about 'how does Amazon have an impact on our business?' Our research tells us that guests still want to come to restaurants."
And rest assured, despite the perception on Wall Street that millennials don't dine out anymore, Lee said 30% of the company's customers are millennials.
It is unclear what brands Darden is testing with Amazon Prime delivery. The company operates 846 Olive Garden restaurants, 490 LongHorn Steakhouses, 67 Yard Houses, 56 The Capital Grilles, 37 Bahama Breeze locations, 41 Season 52s, 18 Eddie V's eateries and 140 Cheddar's Scratch Kitchens, which it gained from its March, $780 million acquisition of the previously privately held company.
Olive Garden offers delivery and takeout options through its Olive Garden To Go service, which likely helped to drive its 4.4% same-restaurant sales growth in the fourth fiscal quarter shared Tuesday and its 2.6% increase in the full year.
On the call, Lee said Darden is testing third-party delivery with "multiple purveyors" at Olive Garden and that its "competitive advantage" with that sole brand is that most of its To Go customers order takeout and delivery for large parties.
Darden reported fourth-quarter earnings of $1.18 a share, compared to Wall Street estimates for $1.15 a share. Fourth-quarter revenue of $1.93 billion was higher than the $1.87 billion consensus. Total same-restaurant sales rose 3.3%, excluding Cheddar's results.
For the full year, Darden reported earnings of $4.02 a share and revenue of $7.2 billion. For fiscal year 2018, the company expects earnings of $4.38 to $4.50 a share and total sales growth of 11.5% to 13%.
Shares of Darden rose 4.23% to $93.89 in early trading.
Visit more of today's top business news here.