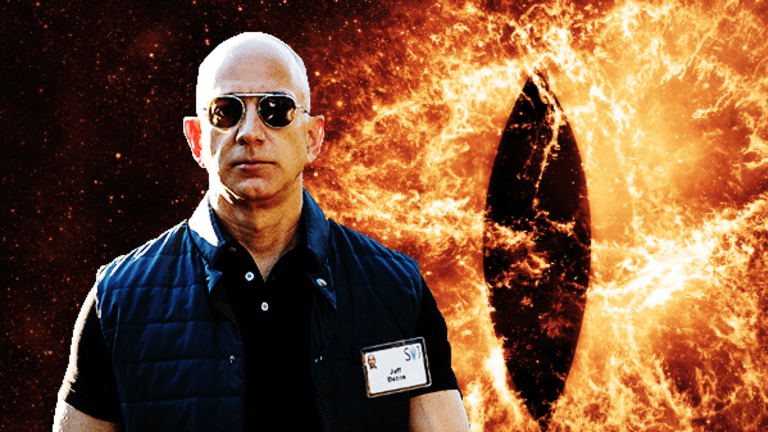 Amazon Will Leave Carnage as It Steamrolls Through Grocery Industry
Amazon will run over many in the grocery business.
Here are Jim Cramer's top thoughts on some of the biggest stories of the week over on RealMoney.
We all see the breakdowns. The retailers. The industrials. The consumer packaged goods. The rails. The airlines. The oils.
At what point do we say "OK, it's going to be everything. It's all going to come down?"
You know, I have pondered this kind of juncture so many times, that all I can say is you are looking at a market that doesn't know how to value itself.
Let's use the foods as an example. For most of the last year, food companies have been valued at the price that one of the least organic growth -- and organic, for that matter -- companies will pay: Kraft-Heinz (KHC) .
Ever since the aborted Unilever (UL) deal, we know that nobody's too big to be spared from this colossus that has no growth whatsoever and needs to purchase it, and then hone it, and then have a little more cash flow to raise the dividend or do another deal.
But along comes Amazon (AMZN) , and Amazon wants to offer the consumer a fabulous deal. That's pretty much what it does for a living: have enough scale that it can lower prices and still make a lot of money. There's a model for that: Walmart (WMT) .
Amazon has been out-Walmarting Walmart for ages, in all but one aisle: the food aisle.
Now, with the closing of the Whole Foods (WFM) deal, it's ready to take on Walmart, too.
Why not? Walmart's where the money is. Walmart has almost $500 billion in revenue, and it's the nation's largest grocery store.
Amazon won't cede any market to anyone.
Of course, now the big issue is how are they going to offer such low prices? The answer? Squeeze everyone who Kraft-Heinz was supposed to be buying. Why not? What's it to them? These food companies are like book publishers to Amazon. They are made to be squeezed.
And the others, who sell groceries? They are now collateral damage to these two giants duking it out.
Now, back to stocks. What do you see on your screen? The shrinking of the Kraft-Heinz premium right before your eyes. Now, these stocks are going to where they belong, given that even the best of them has low single-digit organic growth.
Then, if it turns out that things aren't so bad, they will be bought back.
Now, the ETF selling pressure plus the individual selling pressure will create bargains. Not all of these companies compete directly with Amazon or Walmart, and not all of them sell into them, but there's still a good chance that their stocks are in the miserable ETFs. So bargains get created. But they are barely worth even thinking about until real damage like Thursday's gets wrought.
Is this playing out in every group that's turning down? Is there some sort of price war breaking out everywhere?
Not really. Lots of cycles are strong. There are lots of places that have nothing to do with Amazon and Walmart. They simply aren't nearly as visible as the companies involved in this titanic tussle, because they aren't in our faces.
There are plenty of breakdowns, for certain. We know that. It is August-September. I have been saying that for months. This is a tough time to invest.
More of What's Trending on TheStreet:
Amazon Is on the Verge of a Colossal Breakdown After Whole Foods Deal
United Airlines Will Feel Hurricane Harvey's Impact - How Brutal Will It Be?
Editors' pick: Originally published Aug. 28.