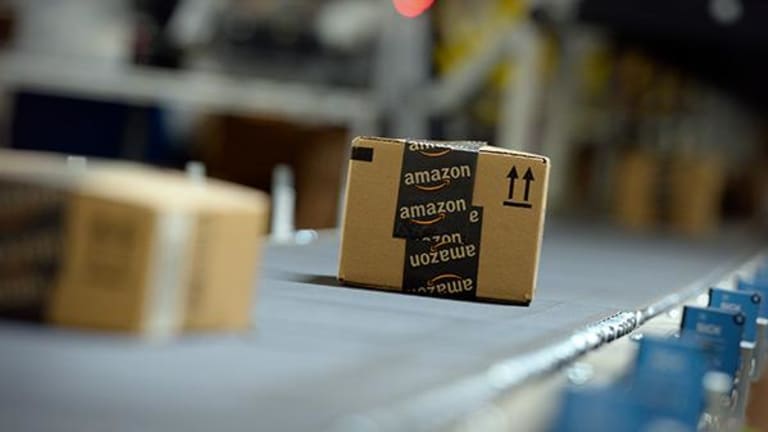 Amazon's New Service Explains It All
Is this even a fair fight anymore?
Let the shopping frenzy begin.
In announcing on Thursday, June 30, its third annual Prime Day, set for July 11, Amazon.com Inc. (AMZN) - Get Report said its deals are going to be bigger, the hours to shop longer and the shipping time for most customers a lot shorter.
In addition to its Prime members getting 30 hours to score bargains on its site, compared to 24 hours last year, and deals on hundreds of thousands of items, versus 100,000 in 2016, the e-commerce conglomerate also said it is now offering same-day and one-day delivery to 5,000 cities and towns in the U.S.
This time last year, Amazon had not yet launched next-day shipping and same-day shipping was only being tested in 27 metro areas, according to a note published by Wolfe Research on Thursday.
"Amazon continues to push the envelope on delivery times," Wolfe analysts Scott Mushkin and Michael Otway wrote. "While the company may not make free next-day shipping completely universal by the end of this year, we anticipate that Amazon will continue to increase both the number of items and [metropolitan statistical areas] where consumers can receive their goods the next day."
READ MORE: Walmart Denies It Told Truckers Not to Work For Amazon
The Wolfe analysts wrote that the expansion of Amazon's next-day shipping "potentially eats into the advantage that bricks-and-mortar retailers have for consumers searching for immediate need."
This likely does not comes as good news to struggling retailers that have already been forced to shutter massive amounts of stores, such as Macy's Inc. (M) - Get Report , J.C. Penney Co. Inc. (JCP) - Get Report and the decaying Sears Holdings Corp. (SHLD) .
Wolfe said even Walmart Stores Inc. (WMT) - Get Report , which has so far proven to be one of the only major retailers able to stand against the threat of e-commerce shopping, should be worried by Amazon's delivery growth. Some of the discount giant's own delivery services include free two-day home shipping, a discounted pickup-in-store option and its latest, which pays its employees to deliver packages to customers.
"Amazon's actions today may suggest it will be a lot harder for Walmart to curb the losses if it intends to stay competitive," Mushkin and Otway wrote in the note.
While Amazon says it offers "free" next-day and same-day shipping, the service is only available to its Prime members, which costs an annual fee of $99. Prime Day is also only available to its exclusive members, and deals this year will start early, on Wednesday, July 5.
Amazon's shares were up 0.4% to $979.37 early Friday afternoon.
Read more of today's top business news here.