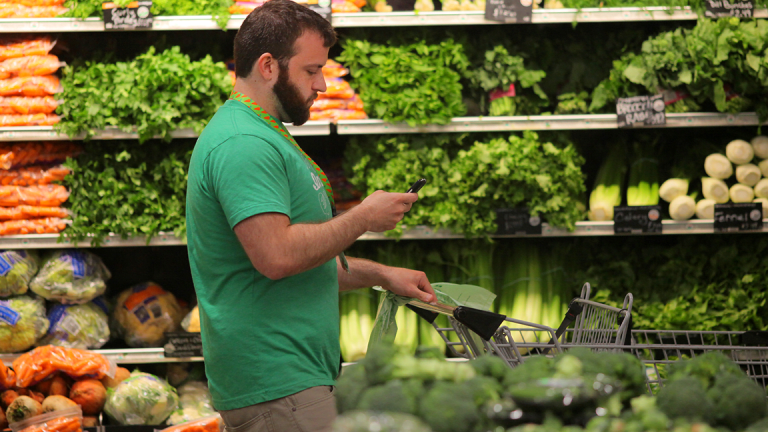 Amazon Doesn't Want to Tell Anyone About Its Top Secret Whole Foods Plans
CFO Brian Olsavsky told analysts mostly what they already knew on the company's third-quarter conference call.
What's in the works at Whole Foods? Amazon.com Inc. (AMZN) - Get Amazon.com, Inc. Report execs, unsurprisingly, are keeping mum.
Amazon closed on its $13.7 billion acquisition of organic grocery store chain Whole Foods on Aug. 28. From that date through Sept. 30, the end of Amazon's fiscal third quarter, Whole Foods sales totaled $1.28 billion, according to Amazon's quarterly earnings report on Thursday, Oct. 26.
While direct comparisons are obviously impossible, during Whole Foods' quarter ending September 2016, sales totaled $3.5 billion, implying sales of about $1.17 billion a month. If there was indeed a sales bump under Amazon's ownership, it may imply that the extra traffic from Amazon's cuts to the prices of avocados, bananas and other food more than outweighed the decrease in revenue from those purchases.
Bye-bye whole paycheck. 
Amazon reported Whole Foods' sales, as well as operating income of $23 million, in the new physical stores section of its income statement. In contrast, online sales totaled $26.4 billion, up 22% year over year. The physical stores component will also include sales from any other instances "where a customer physically buys something in a store," CFO Brian Olsavsky said on a call with analysts, like Amazon's pop-up bookstores.
Olsavsky and fellow Amazon executive Dave Clark, senior vice president of worldwide operations and customer service, masterfully dodged analysts' questions about the future of Whole Foods. Instead, they preferred to tout changes implemented in the two months since the acquisition closed. Those back-slap worthy achievements include slashing prices and selling Whole Foods private label products on Amazon, as well as the previously-announced adoption of Amazon Prime as Whole Foods' customer rewards program, which is currently in the works.
"I've been in meetings with John Mackey and his team, and they're very like-minded with us, customer-obsessed, ready to work together," Olsavsky said. He offered one meager nibble about the future: "Over time I think you'll see more cooperation, working together between Amazon Fresh, Prime Now and Whole Foods...So far, so good."
What about rumors that Amazon is getting into the pharmacy business? Shockingly, Olsavsky demurred. "I can't confirm or deny any of the rumors related to pharmacy or anything else. I will say we see a lot of opportunity with Whole Foods."
Another tidbit: "We'll also be developing new store formats just as we talked about in the past before Whole Foods," in a similar vein to Amazon's pop-up bookstores, the Amazon Go prototype grocery store in Seattle and Amazon's campus bookstores.
"Whole Foods really gives us a fast head start on that and a great base and a great team to work with who has a lot of history and 10-20 years of learnings that we don't have and wouldn't have" in physical retail, Olsavsky noted. "Working together will bring out different strengths to the table."
There are more Whole Foods stores in the works too, but Amazon is "not ready to announce what they'll look like," funnily enough.
Olsavsky did throw a bone with the acknowledgement that "better perspective on the entire quarter" will be available when Whole Foods issues its final 10-K next month.
Amazon's earnings almost took a backseat to the riveting Whole Foods chat. Amazon earned 52 cents a share, far ahead of analysts' expected 3 cents a share. Revenue exceeded the consensus estimate by about 4.3%. Shares jumped 8% to $1050.50 in after-hours trading.
More of What's Trending on TheStreet:
Editors' pick: Originally published Oct. 26.