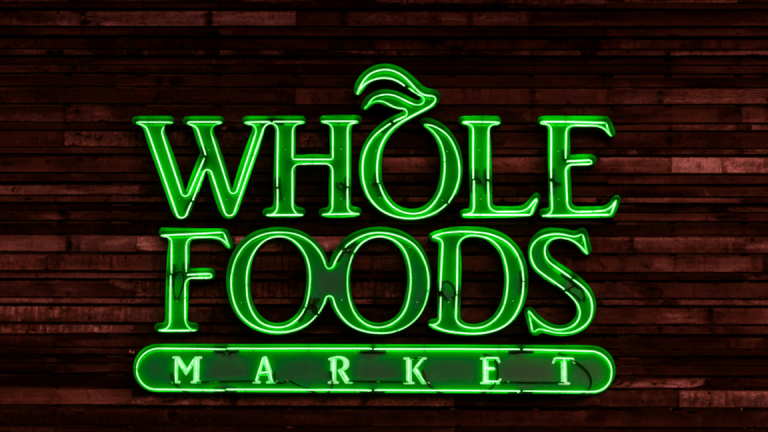 Why Amazon Is Slashing Prices at Whole Foods, Again
Foot traffic analysis by Barclays showed that while visits to Whole Foods spiked in September, they began moderating in October.
Of course Amazon (AMZN) - Get Amazon.com, Inc. Report is cutting prices again at Whole Foods, people still aren't visiting consistently. 
Barclays is out with an update on how Whole Foods is performing since being acquired by Amazon.com.
The firm, which called it "critical" to closely monitor the evolution of the health grocer under Amazon's ownership, recently completed trips to six Whole Foods in five markets to study the widespread concern that food retail will be "Amazon'ed" (Amazon capturing meaningful share while pressuring industry margins).
Foot traffic analysis showed that while visits to Whole Foods spiked in September, they began moderating in October. 
"This data could suggest that WFM traffic benefitted in September from curious shoppers entering the premises (but not necessarily making any purchases) following its acquisition by AMZN, but according to the data, traffic then moderated in October as most shoppers resumed their normal behavior," Barclays said.
Another key takeaway the firm found was that Whole Foods could be reducing labor from its stores.
"At one store, a seafood counter employee indicated that there was less labor in their store and, in our visits, it did seem as if there were fewer employees," Barclays noted. "In addition, we noticed a sign in a different store that advertised a phone number for customers to call if they needed employee assistance."
If these occurrences are in fact part of an initiative to reduce the amount of labor at stores it could allow for lower prices at Whole Foods, representing a negative impact on the rest of the industry, Barclays said.
Also, the firm found that Whole Foods has yet to exit its apparel business.
"We noticed significant price reductions two weeks ago in the apparel category - notably for yoga apparel. The category was fully stocked and no longer on promotion, so it does not seem like WFM is imminently exiting the category." 
More of What's Trending on TheStreet: