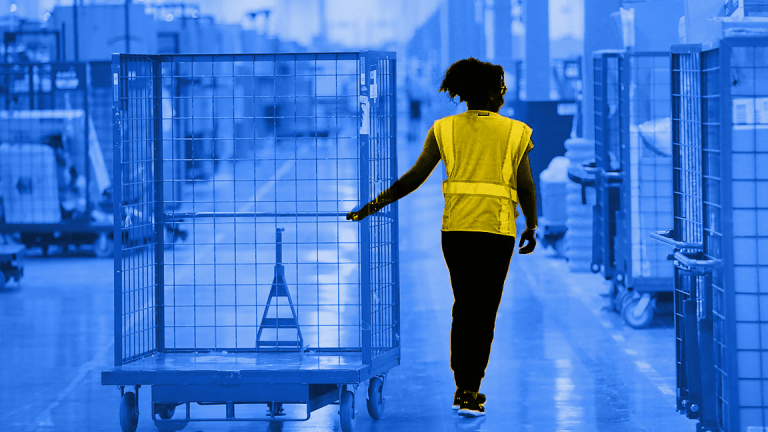 Amazon Warehouse Employees' Message to Jeff Bezos -- We Are Not Robots
Amazon employees risk termination if they sit down on company time, two workers say.
Amazon.com Inc. (AMZN) - Get Free Report has mastered convenience, fast shipping and exceptional customer service and, in doing so, some of its warehouse workers say the e-commerce behemoth has made their lives hell.
On Sept. 20, the Huffington Post U.K. reported that some workers at an Amazon fulfillment center in Rugeley, England, take home less than the minimum wage, despite working 10-hour shifts, after paying a daily €8 ($9.53) "bus benefit" to one of the e-tailer's third-party partners. To be sure, Amazon said employees can choose to commute to work however they please.
While fulfillment center workers in the U.S. are paid around $11 an hour or higher, according to Glassdoor, well above the national minimum wage of $7.25, the hours are still long; the work, strenuous, and the expectations, according to some, unrealistic.
TheStreet interviewed two former Amazon warehouse workers and one current employee from three separate fulfillment centers in New Jersey. Here's what they had to say.
From a current employee at Amazon's Florence, N.J., warehouse, who spoke to TheStreet under the condition of anonymity.
"I feel that Amazon sees its employees just as bodies and does not truly value the work they do," the employee said.
The employee, a "fulfillment associate" and "ambassador," works 10 and a half hours a day, four days a week, and is given two 15-minute unpaid breaks and one 30-minute unpaid lunch break.
The worker claimed that Amazon does not allow its employees to sit while on the clock and that workers have been fired for doing so. An Amazon spokeswoman denied this claim and TheStreet could not verify it.
"People are focused on how much their feet, legs, backs hurt them from the strain," the employee said. "Breaks should be much longer, especially since they believe in nobody resting or sitting unless it's break time, even if there is nothing to do or your job is done."
An Amazon spokeswoman wrote in an email to TheStreet on Friday, Sept. 29, "Employees are able to sit if they feel the need to at any time and we have multiple break areas within a short distance to employee work areas."
On its website, Amazon writes that fulfillment associates help pick, pack and ship customer orders; must be able to lift up to 49 pounds; must be able to stand and walk for 10 to 12 hours and may be required to use "radio frequency scanners" and powered equipment, like a forklift, to receive and move products.
The employee claimed to have received a recent promotion, taking on the title of an ambassador. The worker said the position was a disappointment as it came with more responsibility, such as training new hires, but no additional pay. Amazon confirmed that the "promotion" does not come with a raise but that workers are made aware of this before they are offered it.
Amazon does give its employees a 50-cent-per-hour raise every six months and the chance to receive a monthly bonus, based on personal attendance and exceeding production goals. The worker said the Florence warehouse is, on average, expected to push out 600,000 items a day.
"A lot of times we exceed goals but our productivity rate is not high enough to get a full bonus which doesn't make sense," the worker said. "We meet and exceed our goals constantly and as a reward we get a 'congratulations' or 'swag bucks,' which is basically Monopoly money that we can use in the Swag Store [which sells Amazon merchandise]."
For competitive reasons, Amazon declined to go into detail about the goals the company sets.
From a former employee at Amazon's Carteret, N.J., warehouse, who spoke to TheStreet under the condition of anonymity.
The former employee claimed to have "clocked 15 miles a day" while working 10 and a half hour shifts, four days a week, as a "water spider," a person who supplies the people who pack products to be shipped to customers. Sometimes, the person said that Amazon would force employees to work a fifth day during the week - allegedly called "mandatory overtime."
Amazon declined to comment on record about overtime shifts.
The former worker said at least one Amazon manager is always manning the floor, ready to write up employees on an Apple Inc. (AAPL) - Get Free Report iPad, and reprimand them if they fail to pack 120 items per hour - the alleged goal set by Amazon. If a worker does meet the goal, the former employee said a manager will instruct them to "do 140." If they don't meet the goal, they could have to work the extra fifth day.
The former employee said if workers don't take on the "mandatory overtime" shift, 10 hours can be cut from their vacation time to make up for it. Amazon declined to comment on record about this claim.
"They know exactly who you are and what you are doing at all times," the person said of managers. "Sometimes you can sit for 30 seconds and not get caught. Sometimes one minute and not get caught."
This former worker, too, claimed that employees are not allowed to sit on company time. "Caught" could mean that a manager will yell at an employee and then "write something" on their iPad that goes into his or her record, according to the person.
"You can be released at any time," the former employee said. "They won't even tell you that you're fired. One day, you just show up and your ID card doesn't swipe into the building."
The person claimed to have left Amazon this summer amicably and would consider going back if money got tight. "It's a job, it's not a career," the former employee added.
From Vincent Tortora, a former worker at Amazon's Robbinsville, N.J., warehouse.
"It was definitely a demanding job," Tortora told TheStreet.
Tortora was employed as a water spider and a "stower," people who stow inventory, at Amazon from April to July of this year, when he said he left to take a job as a butcher. During his time in the warehouse, Tortora said he worked 6 p.m. to 4 a.m. EDT, Monday through Thursday, and received two scheduled 15-minute breaks at 8:15 p.m. and 2:30 a.m., one unpaid and one paid, and one half-hour unpaid "lunch" break at 11:10 p.m.
"Water spidering, I was exhausted," Tortora said. "Stowing not so much. I feel like the company itself, with rates you need to hit and all that, treats you like a robot. The managers and people in charge don't."
Tortora said while water spidering, he gauged on his smart phone that he'd "walk a minimum of 25,000 steps in one shift alone, dragging heavy pallets down an entire floor and lifting heavy boxes on their racks." Although less physically exhausting, as a stower Tortora carried the fear of being written up if he didn't scan fast enough, he added.
The New York Times recently provided an inside view into how Amazon's Florence fulfillment center operates, in which it deploys robots to work alongside employees, relieving some of their work. But, the employees that The Street interviewed agreed that even with robots, the work is no less exhausting.
"Amazon's fulfillment centers offer great, full-time jobs and an opportunity for employees to learn new skills and help further develop a career," Amazon said in a statement to TheStreet on Friday, Sept. 22. "Like most companies, we have performance expectations for every Amazon employee and we measure actual performance against those expectations. Fulfillment center roles are active positions that involve standing, walking, lifting and bending."
The company added that it provides its workers with a host of benefits from day one, including health insurance, a retirement savings plan and company stock. In the email statement from Amazon on Friday, Sept. 29, the spokeswoman also wrote: "Throughout the year, Amazon has provided monthly bonuses to tens of thousands of qualified hourly employees across the U.S. based on achieving their goals."
While the U.S. Department of Labor's Wage and Hour Division requires that a company pay its employees at least the minimum wage for each hour they work, it does not detail requirements for worker breaks under the Fair Labor Standards Act.
Other employee complaints have morphed into lawsuits, fines.
On Jan. 12, 2016, the U.S. Department of Labor Occupational Safety and Health Administration slapped Amazon's Robbinsville fulfillment center with a $7,000 fine for not reporting "26 instances of work-related injuries and illnesses." Upon an investigation into the warehouse's working conditions, the department found that "the company exposed employees to ergonomic risk factors, including stress from repeated bending at the waist and repeated exertions, and standing during entire shifts up to 10 hours, four days a week and sometimes including mandatory overtime shifts."
Briana Henson, one ex-employee, took Amazon to court, claiming she was unjustly fired for having a disability.
Henson, a "picker" at Amazon's Robbinsville warehouse from June 9, 2015, to July 15, 2016, sued Amazon in March 2017 for $75,000 in the Superior Court of the State of New Jersey in Burlington County. She alleged in court papers that after she was diagnosed with carpal tunnel syndrome in early 2016, she requested a transfer, to avoid the heavy lifting needed to be a picker.
On July 11, 2016, Henson said in court papers that she was denied the chance to take on another position and Amazon put her on paid leave. Shortly thereafter, Henson said she got a phone call from an Amazon supervisor who questioned her inability to work. Henson was fired on July 15, 2016, according to court filings. The case is ongoing.
Amazon declined to comment on the case as it is pending.
Nonetheless, Amazon is in high demand as an employer. Last month, crowds lined up outside Amazon's Robbinsville fulfillment center to land one of 1,500 open positions at the company's four New Jersey warehouses. The hiring event was part of the company's larger Amazon Jobs Day, in which it hired 50,000 people nationwide.
Amazon announced last week its plans to create 2,000 new jobs in New York City and open a Manhattan office in 2018. Earlier this month, Amazon revealed it was searching for a second headquarters in North America, where it will employ another 50,000 workers.
Don't miss these top stories on TheStreet:
Mom Was a Harley Rider ('70's), I Ride Today ('17), Will my Girls Ride Tomorrow?