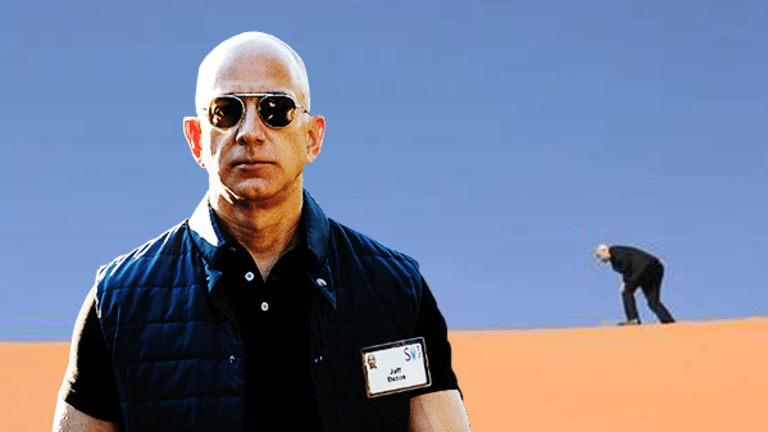 Amazon U.K. Workers Earn Below Minimum Wage After Paying Mandatory Bus 'Benefit'
The Huffington Post U.K. reports Amazon warehouse workers have been seen sleeping under bridges.
Many Amazon.com Inc. (AMZN) - Get Free Report workers at the e-commerce conglomerate's desolate warehouse in Rugeley, England, are reportedly being paid under the country's minimum wage.
The Huffington Post U.K. reported on Wednesday, Sept. 20, that employees staffed at Amazon's "flagship" warehouses in Rugeley, 20 miles from Birmingham, receive an hourly wage of €7.65 ($9.18), but take home just €6.80 after shelling out an €8 daily bus "benefit" forced upon them.
The minimum wage in Rugeley is €7.50 for workers over the age of 25 and €7.05 for those over 21.
The Amazon U.K. "fulfillment center" is home to 1,600 permanent employees and roughly 3,400 temps and is located in the small, rural town of Rugeley. To get there, many employees outside of Rugeley are forced to pay Amazon's third-party partner providing bus services from Birmingham, according to the HuffPost.
The HuffPost said many employees, seen sleeping under bridges waiting for the scarce transportation options they have to get to the warehouse, work 10-hour shifts and receive just one half-hour unpaid break.
An Amazon U.K. spokesman told TheStreet that all of its workers, regardless of age, start at a €7.65 hourly wage or higher with 30-minute paid breaks "and subsidized meals." On its own website, Amazon posts salaries in Rugeley, England, ranging from €8.36 to €7.43 for an "order picker."
"Most people in the UK have to travel to their place of work and pay their own transport costs," the spokesman said. "People who work at Amazon choose how to travel to work, whether by car, bicycle or public transport and during the seasonal period, Amazon is supporting those who travel longer distances to work in its fulfilment centres by helping with car share arrangements as well as providing subsidized coach travel if that is the best option for them."
A recruitment agency, PMP Recruitment, identified the bus service as a "benefit," when seeking new hires for Amazon, but told the HuffPost it would amend its wording.
Read More of What's Trending on TheStreet: