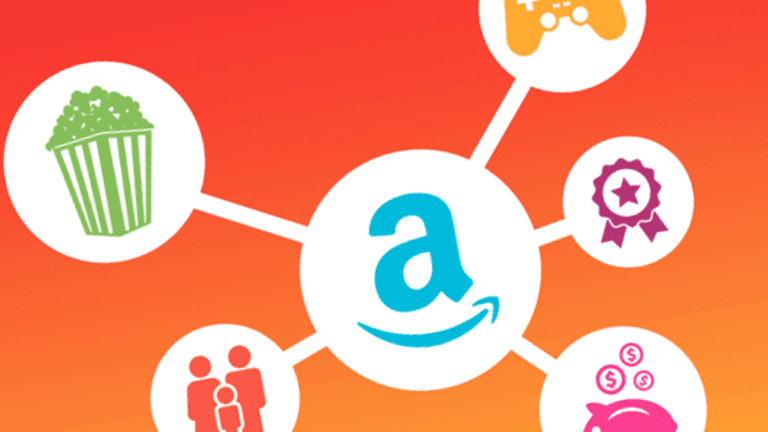 Publish date:
Amazon Tries to Create Another Blockbuster Sales Event With Launch of 'Digital Day'
The online retailing giant debuted its first 'Digital Day' Friday as it looks to score another big single-day sales event like its Prime Day.
The online retailing giant debuted its first 'Digital Day' Friday as it looks to score another big single-day sales event like its Prime Day.
Amazon.com (AMZN) - Get Report is looking to squeeze one last drop off of holiday cheer out of consumers before the close of the year with its launch of Amazon Digital Day on Friday.
The online retailing behemoth is rolling out this single-day sales event with steep discounts of up to 80% on some of the digital content posted on its site. The move is an attempt to set up another blockbuster single-day sales extravaganza to rivals its Prime Day event that it held earlier this year, and also give it a last-minute goose to its fourth-quarter revenue.
Amazon's Digital Day features discounts of 80% on selected video game titles, 75% price cuts on various digital comics and 50% price breaks on certain movies, along with other steep discounts on digital content such as music, TV shows and apps.
The retailing giant is apparently betting on consumers looking to load up the devices they received over the holidays with hordes of content.
Investors, meanwhile, will be keeping an eye on whether Amazon's Digital Day will have similar success to the company's Prime Day sales event, which the company began in 2015 to celebrate the company's 20th anniversary. Prime Day 2016 helped Amazon exceed its second quarter revenue and net income projections.
The single-day sales event held in July helped Amazon's web sales reach $2.89 billion in the quarter.
"The second annual Prime Day was the biggest day ever for Amazon, and was also a record day for Amazon devices globally," the company said in a statement. "Compared to Prime Day 2015, worldwide orders grew by more than 60%, orders from third-party sellers with Prime Day deals nearly tripled, and Prime members saved over twice as much on deals."
If Amazon is successful in scoring a last-minute sales push in the fourth quarter, that may help ease investors' fears that arose when the company issued its third-quarter earnings report. At the time, the company issued a fourth quarter revenue forecast that was slightly under analyst expectations.
With Digital Day, Amazon will have three single-day sales events in the fourth quarter, adding to Black Friday and Cyber Monday.
The grandaddy of special online shopping days remains Alibaba's (BABA) - Get Report Singles' Day, a celebration for single people in China that the e-commerce giant capitalized on as a huge gift-gifting occasion.
Alibaba captured a whopping $17.8 billion in sales from its one-day event this year. That figure is more than six times the amount of all of Amazon's web sales in the second quarter, which is when its Prime Day was held.
Singles' Day created a shopping frenzy, racking up $5 billion in sales within the first hour for Alibaba. For the Chinese ecommerce giant, its overall performance for Singles' Day resulted in a 32% increase in its gross merchandise volume compared to the event in 2015.