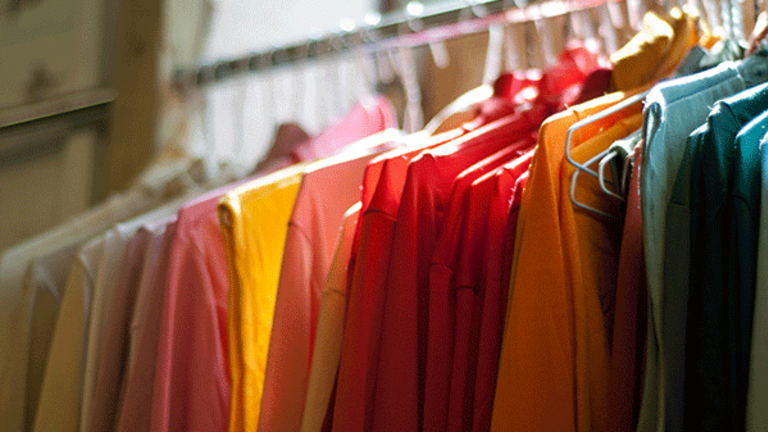 Publish date:
Amazon Targets $14 Billion Opportunity in Apparel, Launches 3 New Private Labels
Amazon continues its takeover of retail with apparel, even prioritizing its private labels in search results.
Amazon continues its takeover of retail with apparel, even prioritizing its private labels in search results.
Amazon (AMZN) - Get Report  is taking advantage of declining foot traffic at brick and mortar stores by making a bigger push into retail. The e-commerce giant has quietly rolled out 14 private-label, attractively-priced apparel brands in the U.S. and U.K. since early 2016, with nine of them being available only to Amazon Prime members, Pacific Crest analyst Edward Yruma wrote in a note on Thursday. The apparel industry represents a $400 billion opportunity overall in just the U.S.
For Amazon specifically, the apparel sector represents a $14 billion-plus opportunity, as well as the chance to add 25cents to earnings per share in 2017, Yruma said. In February, the company reported full-year revenue of $136 billion for 2016, representing a 27% jump from $107 billion in 2015. The firm has an overweight rating and $895 price target on the stock, which was trading up about 13% year-to-date to about $848 early Thursday afternoon. 
Three of the 14 private labels appear to have been launched recently, including bralette-maker Mae and two women's apparel companies, Ella Moon and Paris Sunday. The push into intimates for women is particularly interesting because its pricing is competitive to industry giants Victoria's Secret from L Brands (LB) - Get Report and Aerie from American Eagle's (AEO) - Get Report . For example, a 5 pack of thongs costs $22 from Mae, $28 from Victoria's Secret and $27.50 from Aerie. The firm went so far as to issue a negative view on L Brands because it may no longer be the dominant player. 
In order to push their own private labels, Amazon has started prioritizing them ahead of branded labels in search results, the firm noted. A search by TheStreet for the generic term "bralette" on Amazon returned results that featured 11 bralettes on the top line, with four of them from Amazon private label Mae. "We believe that control of the search box is extraordinarily important and that select targeting of generic search terms can help enhance awareness of Amazon's private-label offerings," Yruma wrote.
Amazon's strategy has been paying off, considering it has doubled its number of private label fashion brands in the past year from seven to 14. Last February, Yruma published a note that Amazon had started selling clothing through the following trademarked brands: Franklin & Freeman, Franklin Tailored, James & Erin, Lark & Ro, North Eleven, Scout + Ro and Society New York. The clothing was all reasonably priced in order to compete with, ironically, other items sold on Amazon by third party retailers. This strategy to build its own private label for a shopping category is one that Amazon has used in a number of other categories, including computer accessories, home goods, pet supplies and grocery. 
The sudden push for private apparel labels in the past year is based on timing, with brick and mortar apparel stores experiencing a loss of business, leaving a mouth-watering opportunity for e-commerce players to step up and gain market share. Pacific Crest argued that this is why Amazon has made apparel a strategic focus. "Growing consumer acceptance of apparel via e-commerce, as well as the high-value/low-volume characteristics, make this an attractive product category," Yruma claimed. "We think that apparel may serve as one of the single biggest incremental growth opportunities in Amazon's retail business."
In addition, adding private labels is a way for Amazon to increase its overall retail margin because apparel gross margin could be close to 2x other categories, the firm wrote in a note last year. Based on data from the last decade, peak gross margin is highest for Amazon's apparel category at 40%, followed by home improvement at 33% and Books at 28%. Furthermore, the firm estimates that private apparel labels give Amazon an estimated 500 basis point (bps)-plus advantage over branded apparel labels in terms of gross margin.
In addition, by offering nine of the 14 private labels to Prime members only, Amazon is luring more people to purchase a Prime membership with these private labels offer clothing at a discount with free shipping and returns. Amazon's ultimate goal is to gain more Prime Members, who are well known to spend significantly more money on the platform than non-Prime members. According to ITG analyst Steve Weinstein, non-Prime members spent less than $1,000 in 2015 while Prime members who became subscribers in January 2014 spent an average of $2.147 and subscribers who joined in January 2012 spent an average of $3,091.
Amazon's 14 apparel brands offer everything from dress shirts, underwear, bralettes and chinos to fashion apparel, which are all categories that encourage repeat purchases and have fewer national wholesale brand competitors, Pacific Crest noted. In addition, by being selective about which private labels to launch, Amazon can pick specific gaps to fill in its apparel offerings. In fact, when Amazon first mentioned the possibility of introducing private labels during a conference in October 2015, it cited a lack of certain items in its apparel section as the reason.
The move to become the market leader in categories on its own site at the expense of third party retailers may be off-putting to some, but it may be one of the most important growth areas in the retail business, Yruma noted. "Amazon is one of the most disruptive forces in retail and technology today," he claimed. "We think it will continue to take market share and also benefit as total share accorded to e-commerce continues to grow"
f