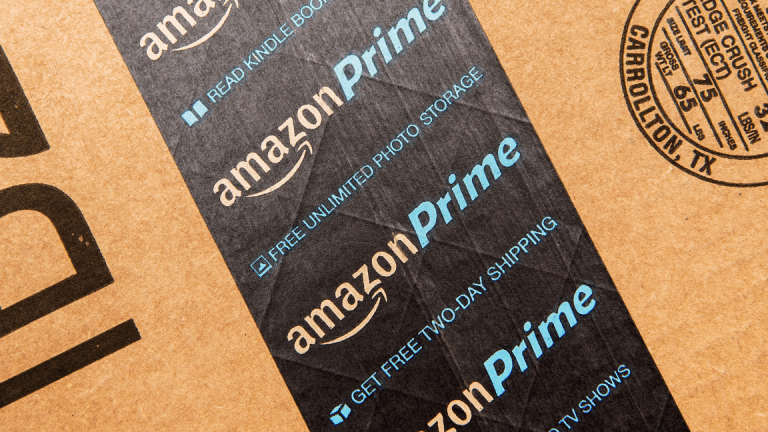 Amazon Soars as Wall Street Eyes $50 Billion Advertising Windfall
Amazon's momentum isn't slowing down thanks to bullish sentiment coming from Wall Street analysts.
Maybe more than any other tech giant, Amazon.com Inc. (AMZN) - Get Report is the king of redefining itself.
The e-commerce behemoth has gone from book seller to everything seller to cloud computing powerhouse to digital media network and everything in between. Now, Wall Street is eyeing what could be the next $50 billion business at Amazon, according to Citi.
We're talking about advertising.
Citi's Mark May sees advertising as a potential $50.6 billion business in the next decade, as more sellers in Amazon's marketplace ramp up their willingness to spend with the e-commerce giant.
That's translating into even more upside in a rally that's propelled Amazon 70% higher in the trailing 12 months. To figure out how to trade shares from here, we're turning to the chart for a technical look.
While Amazon has been in rally mode (along with many of its tech sector peers) for the long-term, the price trajectory we're seeing now is really just an offshoot of the breakout that Amazon kicked off back at the end of October. Since that October push through the $1,050 level, Amazon has been moving higher in a parabolic uptrend.
Simply put, Amazon's rally isn't showing any signs of slowing down here.
That's being confirmed right now by Amazon's relative strength line, which has been making higher highs and lows of its own since that late-October change-in-trend. Simply put, that higher ground in relative strength signals that Amazon isn't just rallying here, it's also systematically outperforming the rest of the S&P 500 in the long-term.
The speed at which Amazon has charged higher in 2018 may feel unsettling to some investors, who feel like a correction must be on the way. But the same could have been said for most of the last year at this point. For traders who want to build a position in Amazon at this point, the best strategy is to pull the trigger as this momentum powers higher, while keeping a good risk-management strategy in mind.
The 50-day moving average has been a decent (if delayed) proxy for Amazon's uptrend since last fall. That makes it a logical place to park a protective stop if you decide to be an Amazon buyer here.
More of What's Trending on TheStreet:
This article is commentary by an independent contributor. At the time of publication, the author held no positions in the stocks mentioned.